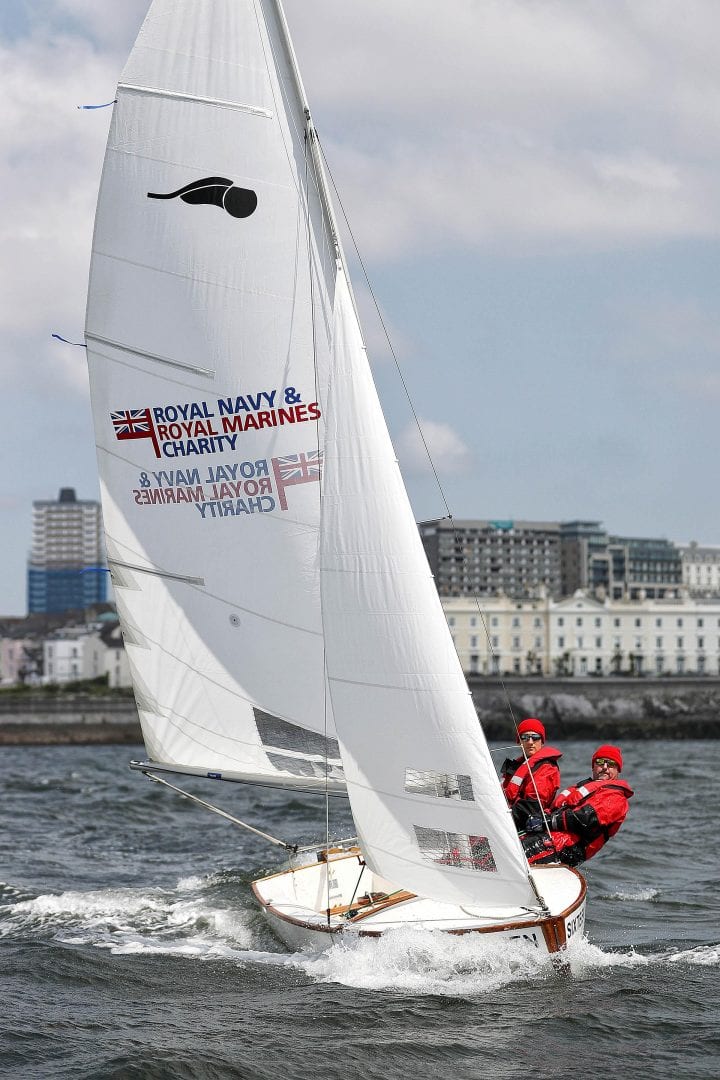 WORLD DINGHY RECORD CHALLENGE
TWO Plymouth sailors are on a mission to break a world record in a 1960's iconic Bosun designed dinghy, and planning to sail over 326 miles across the English Channel from Plymouth to Roscoff, and sailing back again around the Isle of Wight and finishing off in Portsmouth, says Ministry of Defence employee Mark Belamarich MBE, and Leading Seaman Phil Slade.
The pair are scheduled to leave Plymouth on Tuesday at 10am, and arrive in Portsmouth on the 16 June, and will be escorted by the Camber yacht Saie Marias, who will safely oversee and watch the challenge in the world's busiest maritime motorway, said Mr Belamarich.
"This is an iconic designed 14-foot Bosun dinghy of the 1960's, and a robust stalwart of the British armed forces sail training."
Rebecca Saunders, Interim fundraising manager for the Royal Navy and Royal Marines Charity, said: "We are thrilled that Phil and Mark have taken on a challenge of this magnitude to raise awareness, and money, for our Charity. The World Record Attempt is daring and ambitious, and it demonstrates the determination of those in the Naval Service to push their limits and to support the wider Royal Navy and Royal Marines family."
Dinghies are prone to capsizing in gusty winds and this is easily rectified by trained crews. However, at night the righting of an upturned dinghy is a much more difficult,' said Mr Slade.
"Righting a dinghy is relatively easy in daylight, but there are risks at night which include losing touch with each other and getting tangled with ropes and rigging which could end the challenge prematurely.''
Navigation will not be easy because dinghies do not have the electronic aids that a yacht can carry and dinghies do not have the space or the stability to effectively read charts and plot:  We will be relying heavily on our skills and experience," said Mr Slade.
"So much of sailing is visual which you don't realise until you lose that aid, and basic sailing involves constantly adapting to clues on the water and the movement of the sail as to where the wind is shifting –but we will be denied all that, which all makes this an exciting and fulfilling challenge, and the Guinness Book of World records will be a massive challenge for the pair of us," said Mr Belamarich.
"We are taking 5 days of rations, many companies have donated cash and equipment for the challenge, and we are looking to raise £5,000 pounds for Navy and Royal Marines charities."
The current world record is 300 nautical miles, and depending on the weather we are hoping the challenge will take 64 hours at 5 knots, and sailing day and night, added Leading Seamen Slade.
"This is a personal and physical endeavour and testing all our skills for a dinghy world record, and we have to take photographs at key points for evidence and including 2 minute videos every hour, plus GPS readings and tracker evidence, and we're hoping to smash the world record," added Mr Belamarich.
To make a donation for the world record dinghy challenge please go to:   uk.virginmoneygiving.com/camberbosunchallenge
Picture:  Ministry of Defence employee Mark Belamarich MBE, and Royal Navy Leading Seaman Phil Slade
FACT FILE:
Record attempt is for the Longest Distance Sailed in a Double Handed Dinghy, the current record is 555.6 km, which is 300 nm (about 345 land miles).
To beat the record the duo are planning a route for 320 nm (368 land miles).