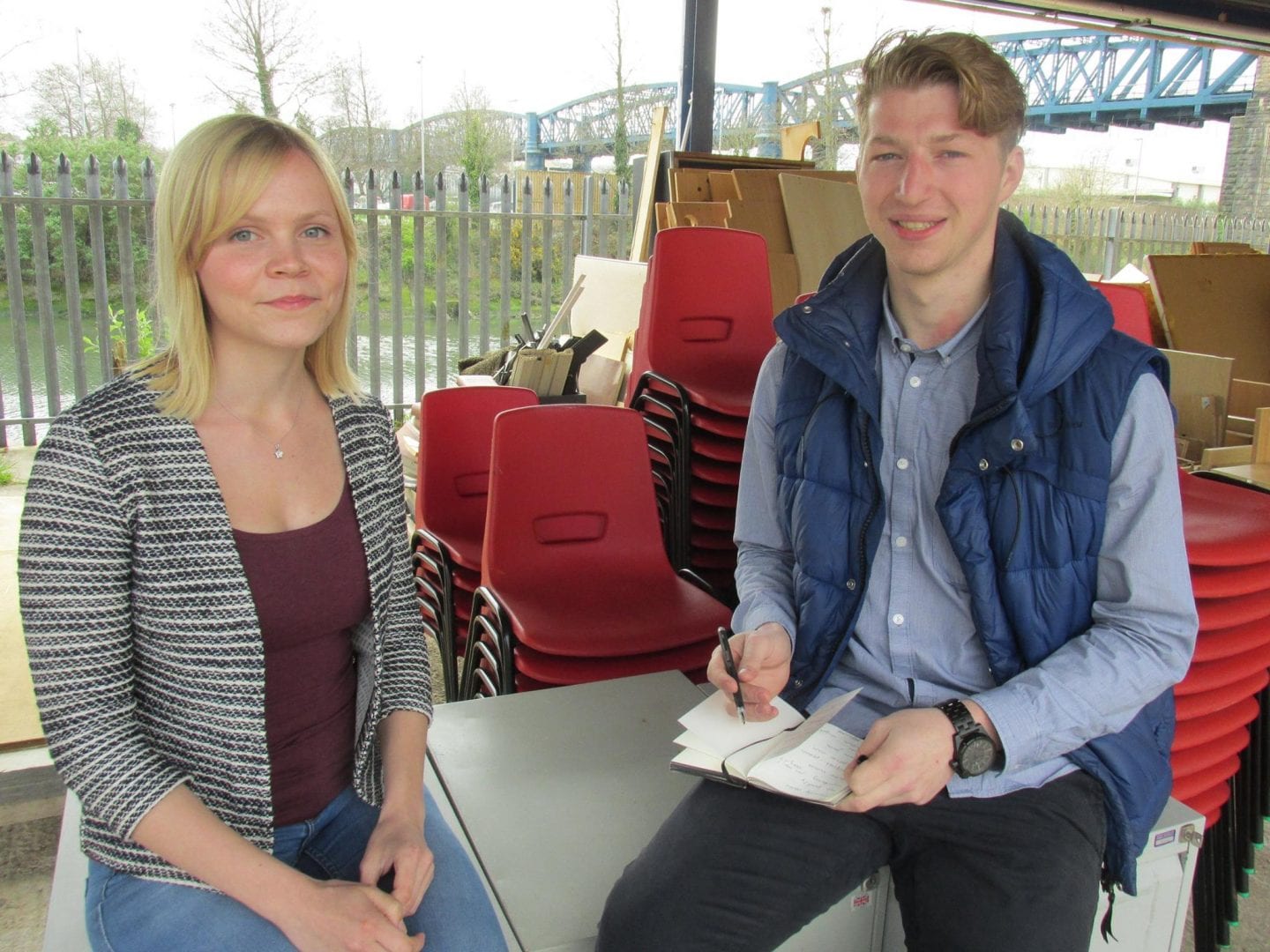 GOING GREEN AT SURPLUS RESCUE
Picture: German students' Charlotte Jander and Johann Rottman on work placements at Surplus Rescue and Dorcas Media.
MANY people from across the globe want to learn the world's first language of choice, English – and especially British English, in the world's oldest market that invented, and delivers English language courses.
Tellus College English student Johann Rottmann on work placement with Plymouth's Dorcas Media, has written his unique take on fellow German Student Charlotte Jander, also on work experience at Surplus Rescue, and investigated why learning English is so important for the EU and global economy?
GOING GREEN AT SURPLUS RESCUE
Tellus College is providing much more than linguistics at its Schools in Plymouth and Portsmouth, but offering real work placement opportunities that are giving students like myself, a better understanding of the British culture and language.
Nowadays, international students can work on placement opportunities like Community Interest Company Surplus Rescue in Plymouth, that assist local companies to reduce waste to landfill and a recycling concept hardly used on the continent.
I'm interested in a career in media, or journalism, and this is my first interview with fellow German student 21-year-old, Charlotte Jander, who talked me through her experiences at Surplus Rescue.
Miss Jander, said: "My time in Plymouth at Meridian, and my work placement at Surplus Rescue, has given me a great opportunity to improve my English Language skills, and learn about administrative work in England, and especially helping to support a local company like Surplus Rescue."
"Tellus Education Group delivers the full packet, in addition to the language school, I loved the evening programmes and weekend activities, and was given a work placement that was specific to my skills set."
"I've been very excited about my work placement at Surplus Rescue – where Recycling is becoming a fundamental topic back home in Germany."
"I learned about the complex problems of a growing industrial sector, and about avoiding waste, and the importance of recycling, and not discharging materials to landfill that can be recycled."
"My new background knowledge, gained here in Plymouth, could help to establish a better understanding in Germany."
Shelly Monk, Director at Surplus Rescue, said: "Charlotte was a great asset to my business and improved some of our administrative works, and we will miss her, but I know we'll keep in touch."
"Giving international students short work placement opportunities is a win for the students to improve their English skills, and a win for local businesses also."
The Meridian School of English was set up in 1979, and offers a wide range of standard and intensive courses for adults and juniors, with Schools in Portsmouth and Plymouth, and part of the Tellus Education Group with offices across the globe.