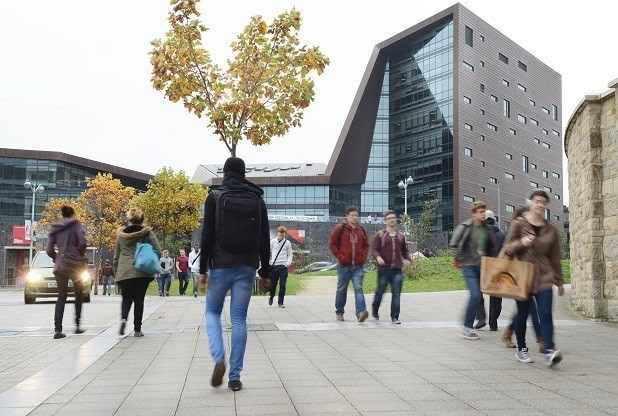 GETTING CLEVER OVER PLYMOUTH'S FOREIGN STUDENT ECONOMY
By William Telford, Business Editor, Plymouth Herald
STUDENT POWER: Overseas students are vital for Plymouth's economy, businesses say
Plymouth businesses have re-booted their campaign urging the Government to remove students from immigration figures – after claiming there has been a drop in the number of overseas students coming to the city.
Henry Hutchins, chief executive of Clever Student Lets, is leading the campaign and said post-Brexit Plymouth is already suffering a fall in foreign student numbers.
He is now writing to all 650 MPs asking them to reverse a decision to count students as immigrants. He also wants visa regulations loosened so overseas students who do come here can spend more time in the UK.
He said the cash generated by one foreign student coming to the UK equates to that of exporting one British-made Jaguar car. "We're running a new campaign to take the student numbers out of immigration figures," he said. "We are already seeing a drop in foreign students.
"And we are being told there is going to be a further tightening of student immigration and visas. People in the industry think that. This is so serious for Plymouth, it's a big spending market."
In April 2017 the Higher Education and Research Act became law, bringing huge changes for universities. The Government rejected a Lords amendment calling for students to be taken out of the target to reduce net migration.
Prime Minister Theresa May had come under intense pressure to change her stance and pull students from the figures, but she refused to budge.
However, since she squandered the Tory Government's majority in June's snap general election, the campaign has been restarted.
Mr Hutchins is also organising meetings with leading figures from Devon and Cornwall Business Council. He said there will be an increasing reliance on overseas students because there is also a decline in UK students.
With graduates now leaving university with £50,000 in debts as "the norm", there are really concerns that young people will eschew going into higher education.
Mr Hutchins said: "There is a swing away from the established student market.
"There is a drop in English student numbers and we have to pick that up from somewhere.
"Universities still have to earn income." He said universities could look to slash the amount of time a student needs to complete a course.
"They could shorten degrees to two years," he said. "There is no reason why they can't do that." For the past three years Plymouth businesses have been leaning on the Government to take international students out of the net migration figures.
Other companies involved in the campaign include Mutley Plain-based Tellus Education Group and the Suzanne Sparrow Plymouth Language School.
Prior to the General Election , and the Higher Education and Research Act becoming law, Mr Hutchins wrote to the then Sutton and Devonport MP Oliver Colvile.
In 2016, Mrs Sparrow raised the issues at the annual conference of industry body English UK South West, at Millfield School, Somerset.
Businesses also wrote to Foreign Secretary Boris Johnson, International Trade minister Liam Fox, Home Secretary Amber Rudd and International Development minister Priti Patel.
The Government said it is committed to bring net migration down below 100,000.
But the Office for National Statistics estimates net migration to the UK rose to 333,000 in 2015, the second highest figure on record.
Read more at Plymouth Herald website: http://www.plymouthherald.co.uk/businesses-worried-about-fall-in-foreign-students-coming-to-plymouth/story-30425080-detail/story.html
(Publicity generated by Dorcas Media)