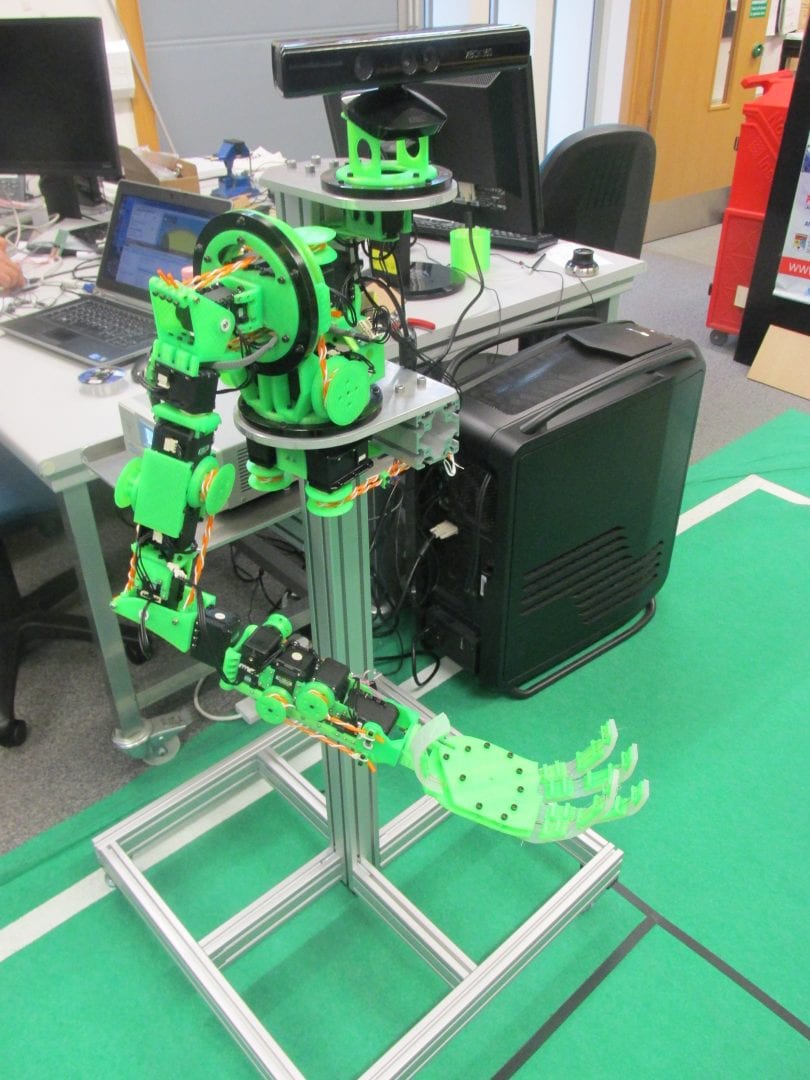 EURO STUDENTS ON THE ROBOTICS FRONTLINE
The robotic arm picker being developed at the University of Plymouth
Picture left to right: Martin Stoelen,  Giuseppe Russo, and Marios Douroukis
A SPECIALISED 'robotic arm picker' is being developed at the University of Plymouth's Centre for Robotics and Neural Systems Faculty that will benefit South West farmers in reducing costs, waste, manpower, and increasing productivity levels.
34-year-old Norwegian Lecturer Martin Stoelen says the support of two Italian electronic teachers on work placement from Mutley Plain based Tellus College – have been very helpful in working on 3d technology for the project.
Mr Stoelen, said: "We are developing a proto-type robotic arm that will be robust, low cost, and mounted on a mobile platform that will pick cabbages, cauliflowers, and other vegetables and fruits."
"The device will drive itself and have a sensitive skin, be tactile, and will only pick crops that are ripe, and cutting down on waste, and reducing labour costs."
57-year-old electronics teacher Marios Douroukis from Trento in northern Italy was on a work experience at the University's Robotics and Neural Systems Faculty for three weeks under the 14.7 billion-euro European Union-funded Erasmus+ programme.
Mr Douroukis, said: "I have really enjoyed my time at the University of Plymouth and working on the robotic arm picker and the team at the lab have been amazing."
"I have improved my English learning skills and the support of Tellus College throughout my stay have made my visit unforgettable."
Giuseppe Russo, aged 47, also from Trento, and a laboratory teacher, said: "The four week course in Plymouth really boosted my English language skills, and my time on work placement at the University and helping research, and working on the 3d technology for the robotic arm makes me very proud."
Each year the Erasmus+programme funds European students to gain valuable work experience at Plymouth and Portsmouth companies, in addition to enhancing their language and other skills.
The seven year-year programme, which has an overall 14.7 billion-euro budget, is delivered in Plymouth by Tellus College, which works with more than 500 businesses in the city and Portsmouth.
Mr Stoelen, added: "The South west is lagging from the rest of the UK in robotic automation, and our robotic arm picker will certainly advance our competiveness in the region."
Over 2,000 international students come to Plymouth and Portsmouth every year to enhance their employability prospects, and improve their English language skills.