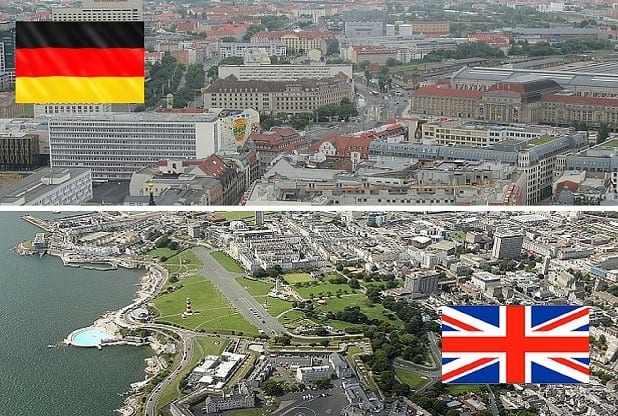 DORCAS MEDIA ATTENDING LEIPZIG BUSINESS SHOW
Herald to report from huge German business conference
By WILLIAM TELFORD, Business Editor, Herald
WEST MEETS EAST: The Herald is to report on how the Germans do business
The Herald is to attend one of the largest business shows in Germany next week, as the city strengthens its links with the East German city of Leipzig (below) following the Brexit vote.
Organisers of MUT (Mittelständischer Unternehmertag) have invited the newspaper to cover the huge one-day event, which is expected to attract 4,000 business leaders from across the country.
The trade fair, on November 3, will also feature about 120 exhibitors, mostly SMEs, and 50 presentations at the massive Leipzig Congress Centre (below).
The 12th MUT congress is aimed at business decision makers, professionals, educational institutions and politicians too.
The programme will have an international focus and deal with topics such as business opportunities in China, the industrializing countries, and Austria.
"The headline of Germany's biggest congress on SMEs will be the economic revolution, often accompanied by the term 'disruption'," a MUT spokesman said. "New products, technologies and services have a greater impact on the market than innovations have ever had."
He said 13 of the 50 speeches will focus on this subject, and added: "For example, Christoph Keese, the executive vice-president of Axel Springer SE, former editor-in-chief and journalist, will confront his audience with menacing-sounding facts which he has researched in Silicon Valley.
As well as the digital revolution, there will also be a focus on business management and marketing.
Other speakers include Dr. Henning Beck, neuroscientist and author of The Biology of Brainstorm, and Dr. Ilona Bürgel, psychologist and author of Welcome to the Bright Side of Work,
The Herald's mission to Leipzig, which will also include visits to other businesses and organisations, comes two and a half years since the paper was invited by Invest Region Leipzig to report on business growth in the city, a rapidly developing regional industrial centre will many parallels with Plymouth.
Since The Herald's visit, several Leipzig businesses and business leaders have travelled to Plymouth, even attending the Devon Business Show at the Pavilions in summer 2016 (German business leaders pictured at the 2016 Devon Business Show, below).
Kevin Kelway, director of Plymouth's Dorcas Media, is also travelling to Germany, and said: "I'm looking to attend a business event in Berlin at the British embassy supporting trade partnerships post-Brexit, and then carrying on to Leipzig to attend the MUT Congress event.
"I set up my PR agency three years ago, and part of my ambition was to foster commercial links with firms in Leipzig – where two German business delegations have attended the Devon Business Show for the past two years."
James Parsons (above, second from right, with other German business bosses at the Pavilions), English-born director of Leipzig-based language school ICC Sprachinstitut, has visited Plymouth several times, attending the Devon Business Show and even signing a key deal with a Plymouth company.
He said: "MUT has developed into one of Germany's biggest business shows with key bosses, innovators, trend setters, and where over 120 exhibitors and over 4,000 visitors are expected to attend."
(Publicity generated by Dorcas Media)