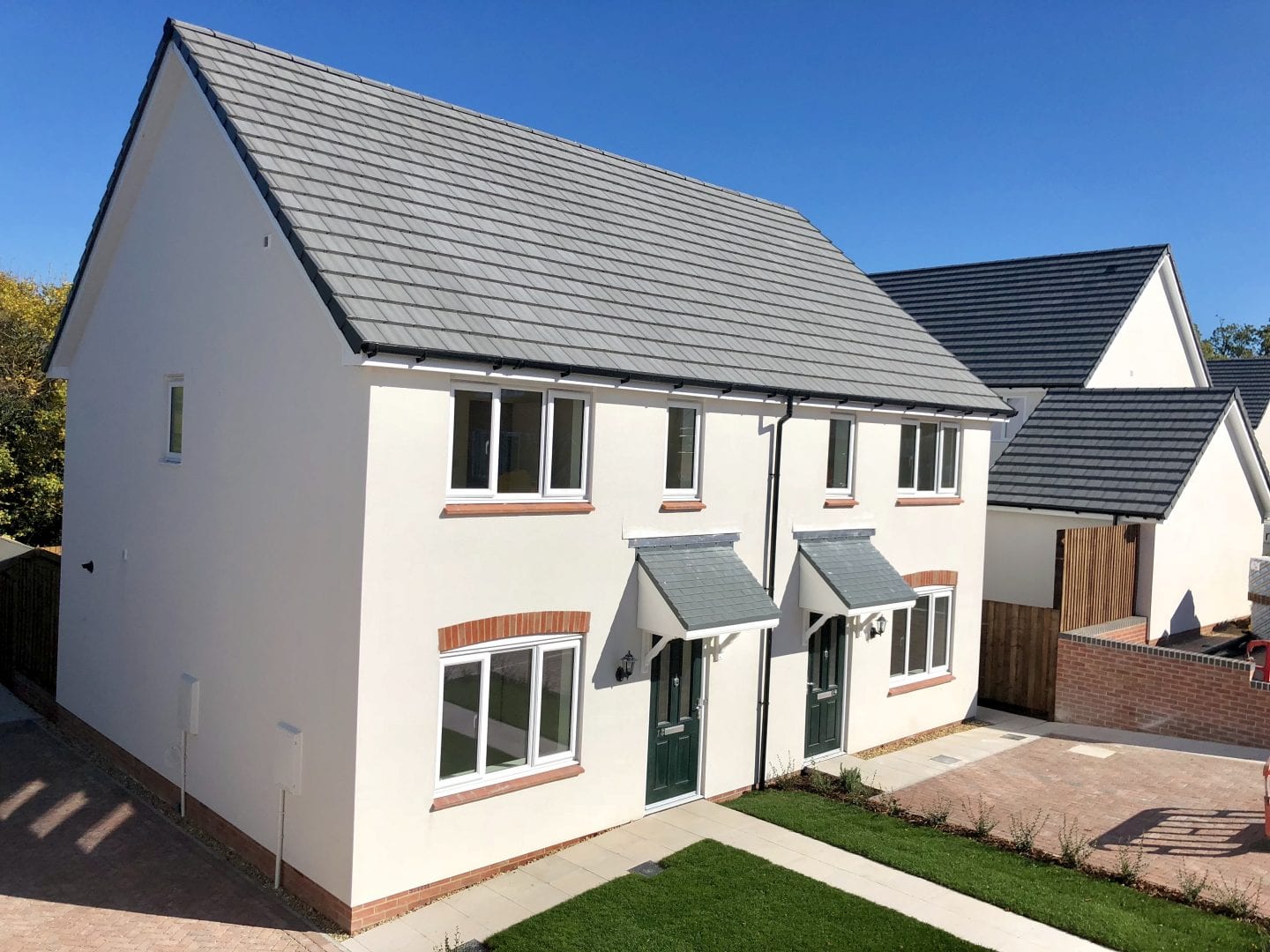 COUNCIL LEADER HAILS SOMERSET HOUSING SCHEME
A new Rentplus, and Tamar Housing development in Puriton offering much needed rent-to-buy homes has officially opened its doors.
Coln Residential, has developed the site at Puriton Gate where 24 much needed affordable Rentplus houses will be allocated for local residents to rent-to-buy, said the Chief Executive of Rentplus Steve Collins.
Mr Collins, said: "This is our first significant Rentplus development in Somerset and providing much needed rent-to-buy homes for local people. Our unique model of high-quality affordable housing in partnership with Tamar Housing will enhance and sustain a vibrant community in Puriton – and the way forward for other projects across Somerset."
The scheme saw 60 homes in Puriton granted planning permission back in the Summer of 2016 by Sedgemoor District Council, following its own survey that affordable housing in the area was badly needed, and that any new development must include affordable houses for local families, said Mr Collins.
24 affordable properties are being made available for rent-to-buy that includes 5 three-bedroom homes, and 19 two-bedroom properties, and all with enclosed rear gardens and allocated parking.
Council Leader of Sedgemoor District Council Duncan McGinty hailed the new development at Puriton Gate, said: "The Council are delighted to be associated with this housing project, which is helping the authority to realise its ambitious plans to accelerate the pace of house building across the district."
"We have every confidence that Coln Residential are building high quality attractive homes, which includes 24 new affordable homes equating to 40% of the overall development," he said.
"Not only are we providing an impressive number of affordable homes, but we are excited to be piloting the Rentplus affordable housing tenure. We know many people aspire to buy their home, but often cannot because of not having the deposit. We believe Rentplus product will help people faced with this obstacle eventually realise their hope of buying somewhere at a price they can afford, in an attractive locality. We anticipate high demand for these new homes," said Cllr. McGinty.
Julie Barnett, Chief Executive of Tamar Housing, said: "Tamar Housing is delighted to offer our first Somerset affordable rent-to-buy homes as part of this quality housing development. The Rentplus homes will give local people the chance to move into a new home at an affordable rent with the opportunity to purchase their home in the future with the help of a gifted deposit," she said.
Ian Liddell-Grainger MP for Bridgwater and West Somerset, said: "Puriton is a wonderful village and we're very pleased with this latest development by Rentplus and its partner Tamar Housing in delivering new rent-to-buy homes in a smashing part of Somerset."
"We are the fastest growing industrial centre in the South West with one of Europe's biggest developments at Hinkley Point, and the Robert Wiseman Dairies delivering milk across the South West, Wales, and Midlands. So, having affordable rent-to-buy homes at this new scheme in Puriton and working in partnership with local housing associations is superb."
"The Rentplus model is unique, and I would like to see more rent-to-buy projects across Somerset, and looking forward in visiting the Puriton housing development very soon," said Mr Grainger.
About Rentplus:
Rentplus was established in 2013. The company is funded by institutional investors, and is the leading provider of affordable rent to buy homes nationally.
The Rentplus model offers aspirant home owners security of tenure with the opportunity to rent and then purchase their own home.
Working with Registered Providers (Housing Associations), local authorities and ALMOs, the Rentplus affordable rent to buy model offers the security of five year renewable tenancies at an affordable intermediate rent, set at no more than 80% of market rent (or LHA) inclusive of service charges. Tenants are given the opportunity to purchase their property at year 5, 10, 15 or 20 and are given a 10% gifted deposit from Rentplus to aid their purchase.
With offices in Plymouth, Milton Keynes and London, Rentplus currently has a pipeline of 10,500 homes across the country. The company currently has affordable rent to buy homes in Palmerston Heights in Plymouth, Sherborne in West Dorset, Lechlade in the Cotswolds, Bicester in Oxfordshire, Cullompton, Plympton, Wembury, Woodbury and North Tawton in Devon, Doddington in Cambridgeshire, Northampton and Earls Barton in Wellingborough with many homes under construction including Mannamead in Plymouth and plans to develop many more across the country.
Tamar Housing manages over 600 properties across the South West region.
Based in Plymouth, Tamar Housing was established in 1966 to provide low cost homes in the city. Tamar Housing is working with Rentplus on innovative affordable housing product, providing rent-to-buy homes across the South West region.
Tamar Housing have developed over Rentplus homes so far and will continue to help provide these much-needed homes in the future. The majority of properties are in Plymouth, but they also have houses in Cornwall, across Devon, Somerset and Dorset.