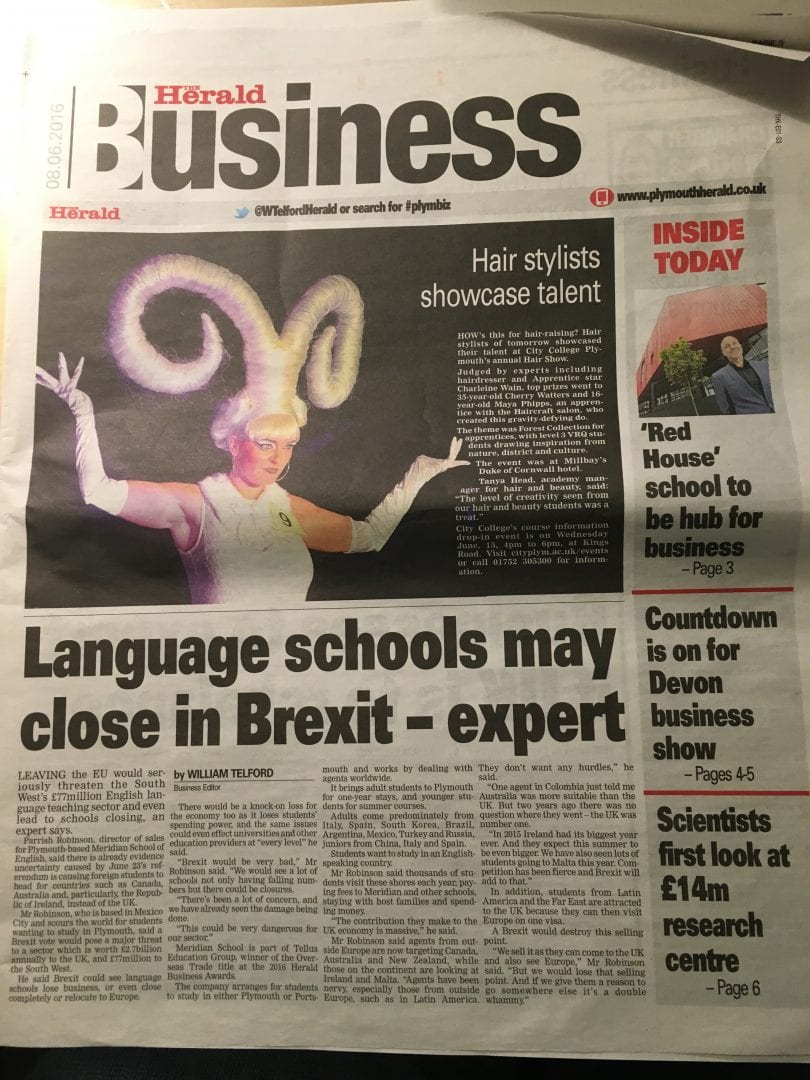 Why Brexit could shut Plymouth's English language schools
By WILLIAM TELFORD, Business Editor – Herald
GOING?: Brexit could cause Plymouth language schools to close
LEAVING the EU would seriously threaten the South West's £77million English language teaching sector and even lead to schools closing, an expert says.
Parrish Robinson (below), director of sales for Plymouth-based Meridian School of English, said there is already evidence uncertainty caused by June 23's referendum is causing foreign students to head for countries such as Canada, Australia and, particularly, the Republic of Ireland, instead of the UK.
Mr Robinson, who is based in Mexico City and scours the world for students wanting to study in Plymouth, said a Brexit vote would pose a major threat to a sector which is worth £2.7billion annually to the UK, and £77million to the South West.
He said Brexit could see language schools lose business, or even close completely or relocate to Europe.
And there would be a knock-on loss for the economy too as it loses students' spending power, and the same issues could even effect universities and other education providers at "every level" he said.
"Brexit would be very bad," Mr Robinson said. "We would see a lot of schools not only having falling numbers but there could be closures.
"There's been a lot of concern, and we have already seen the damage being done.
"This could be very dangerous for our sector."
Meridian School is part of Tellus Education Group, winner of the Overseas Trade title at the 2016 Herald Business Awards (below).
The company arranges for students to study in either Plymouth or Portsmouth and works by dealing with agents worldwide.
It brings adult students to Plymouth for one-year stays, and younger students for summer courses.
Adults come predominately from Italy (Italian students pictured in Plymouth below, Spain, South Korea, Brazil, Argentina, Mexico, Turkey and Russia, juniors from China, Italy and Spain.
Students want to study in an English-speaking country.
Mr Robinson said thousands of students visit these shores each year, paying fees to Meridian and other schools, staying with host families and spending money.
"The contribution they make to the UK economy is massive," he said.
But Mr Robinson (below) said agents from outside Europe are now targeting Canada, Australia and New Zealand, while those on the continent are looking at Ireland and Malta.
"Agents have been nervy, especially those from outside Europe, such as in Latin America. They don't want any hurdles," he said.
"One agent in Colombia just told me Australia was more suitable than the UK.
"But two years ago there was no question where they went – the UK was number one.
"In 2015 Ireland had its biggest year ever," he said. "And they expect this summer to be even bigger.
"We have also seen lots of students going to Malta this year.
"Competition has been fierce and Brexit will add to that."
In addition, students from Latin America and the Far East are attracted to the UK because they can then visit the Europe Union (its flag pictured below) on one visa.
But a Brexit would destroy this selling point.
"We sell it as they can come to the UK and also see Europe," Mr Robinson said. "But we would lose that selling point.
"And if we give them a reason to go somewhere else it's a double whammy."
Read more: http://www.plymouthherald.co.uk/Brexit-shut-Plymouth-s-English-language-schools/story-29365983-detail/story.html#ixzz4ApQ0Rs3f
(Publicity generated by Dorcas Media)