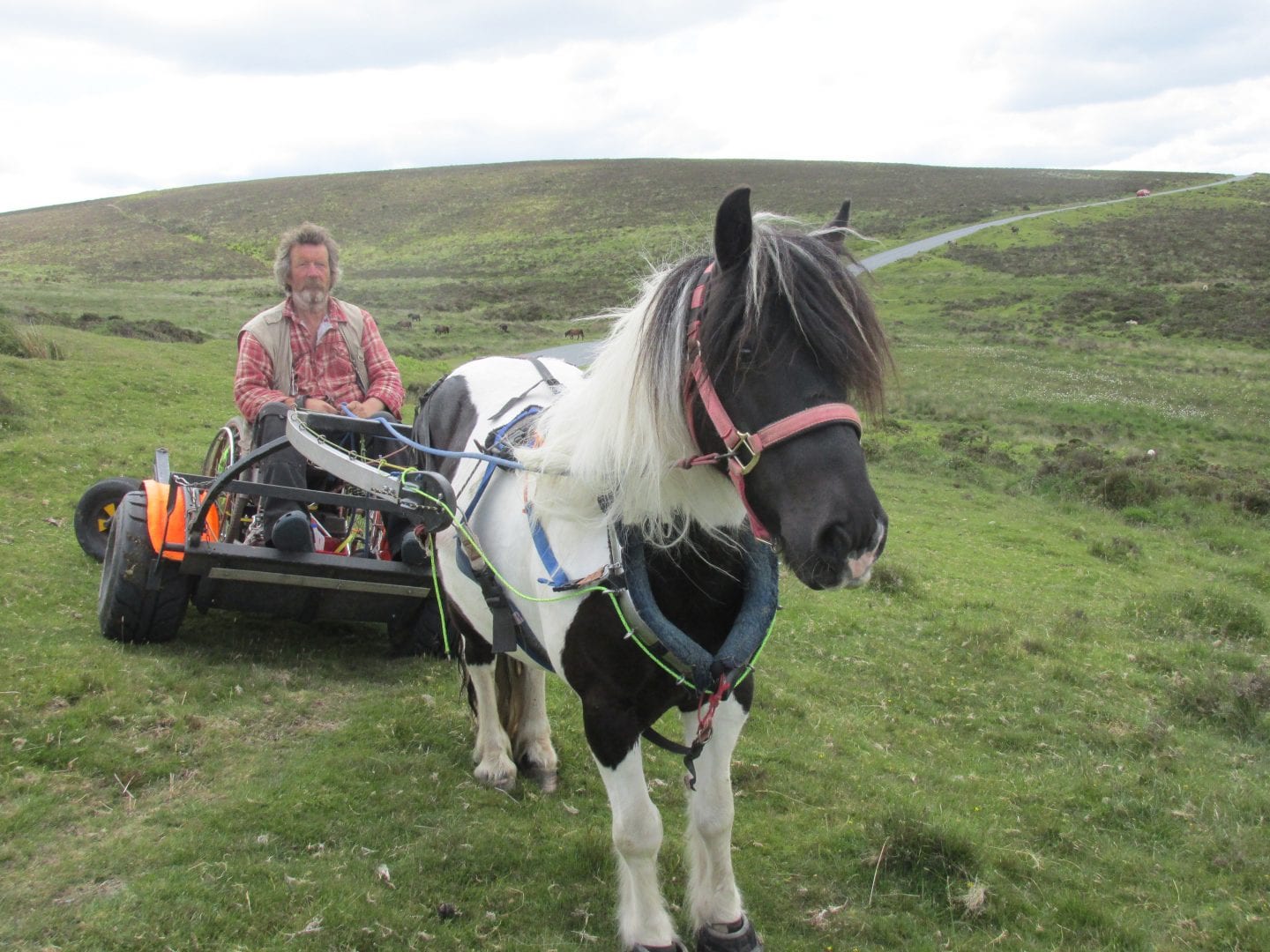 WHEEL CHAIR CHARIOT: ACCESSING ALL AREAS
Picture: Simon and his pony Obama can be seen on Devon roads with his ibex on beaches, roads, and in the countryside.
Simon Mulholland demonstrating how the iBex Chariot works on and off-roads.
Simon is a regular sight on Devon roads.
WHEEL CHAIR CHARIOT: ACCESSING ALL AREAS
A DEVON entrepreneur with a passion for horses and the good-life is running an innovative horse-drawn chariot business called 'Pony Access' that caters for disabled people wanting to spend time in the countryside. The iBex chariot is the brainchild of 60-year-old Simon Mulholland where a simple two-wheeler chair is raised like a chariot, and allows horse lovers in wheel chairs the chance to drive their own horse-drawn vehicles.
Mr Mulholland, of Pony Access, said: "The iBex is robust and safe, both on and off –road, and opening up the countryside for people in wheelchairs. Thanks to its pivoting rear wheel, the iBex has a different centre of gravity to more traditional horse-drawn vehicles, making it incredibly stable across very rough terrain. Assing to the vehicles safety is the harness system, which has a quick-release rip cord operated by the driver or someone on the ground. This instantly detaches the horse from the vehicle in an emergency."
Tellus College student 18-year-old Riccardo Ribelli from Rome, on a two month work placement opportunity with Surplus Rescue CIC and Dorcas Media, gave the iBex Chariot a go for himself to see how it works, 'and I loved it', he said.
Simon Mulholland lives in Exeter, but travels all across the county and a self-professed design addict, and dedicated 15 years of his life to the passion of chariot riding. He can be seen regularly on the roads from Plymouth to Exeter on his iBex horse-drawn vehicles.
Anyone looking for more information about the iBex can contact: www.ponyaccess.com
Thumbs up from Riccardo Ribelli for the iBex Wheel Chair Chariot
Italian student 18-year-old Riccardo Ribelli, from Rome, Italy, trying out the iBex Chariot.