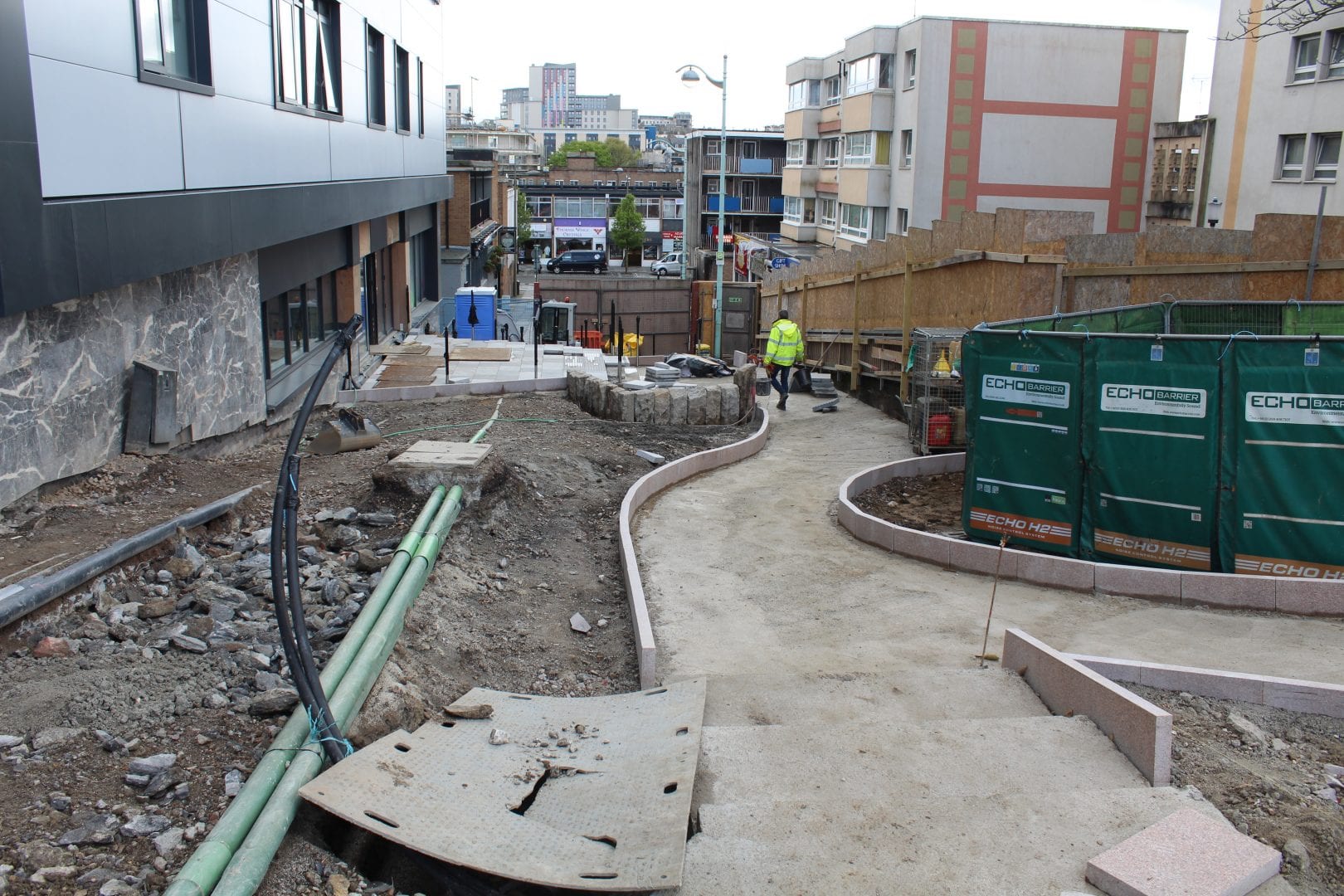 TREE-LINED SERPENTINE WALKWAY NEARLY COMPLETED
WORKS on a new £440,000 pedestrian walkway surrounding Aspire House – and one of the city's new 'digitally smart' post graduate accommodation developments is nearing completion.
The new tree-lined walkway which will gently "snake" its way towards the West End's shops, with new greenery and street furniture.
Teams from developer Pillar Land Securities and Creative Construction have begun "stripping back" in Market Way, next to the new £4.5million Aspire House student apartment building.
The surrounding area was opened up for the Plymouth Herald to see ongoing works, and will be completed by the end of May.
   Joe Taylor and Richard Pillar on site 
Richard Pillar, managing director of Pillar Land Securities, said: "We recognise the angst of local traders and the disruption caused, however this is a major investment in the West End and will result in a significant improvement."
"Whilst we have had to deal with regulatory red tape involved in the delivery of this public realm improvement, we'd like to thank officers, members, and contractors for their commitment in ensuring this project gets delivered in a timely manner."
                     Ray Robins, Richard Pillar, Steve Hughes, and Joe Taylor
Ray Robins, chairman of the City Market Traders Association and Cornwall Street Shopkeepers Association, said: "Traders in the immediate area have suffered, but what they (Pillar and Creative Construction) have done has been unprecedented."
Steve Hughes, chief executive of Plymouth City Centre Company, admitted the scheme had "hit footfall" but stressed: "Traders have found it difficult but this will create a really high-quality gateway into the West End – the prize is worth it."
Joe Taylor, managing director of Creative Construction, added: "The boards (around the site) are starting to come down and over the next week the hoarding will be removed and we'll work behind security fencing, and will be finished by the end of May," he said.
Meanwhile, Aspire House has been shortlisted for 'Alternative Property Investment Project of the Year Award 2018'.
The Michelmores Property Awards celebrate outstanding property and construction projects in Devon, Somerset, Dorset, Bristol and Cornwall, across ten categories.
Shortlisted companies will attend a prestigious Awards Dinner on Thursday 7 June, at the University of Exeter, and being presented by comedian and actor Josh Widdicombe.