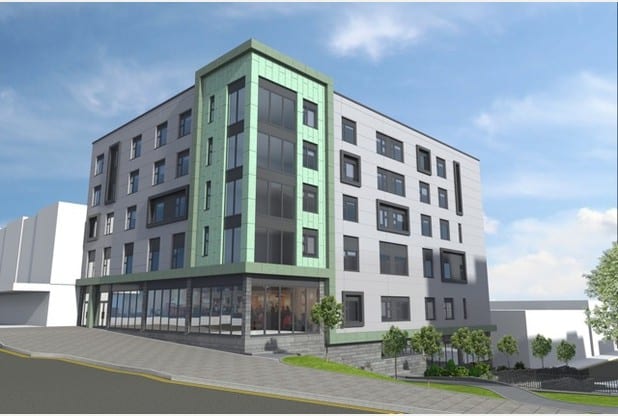 TOWN CENTRE SITE TO BECOME NEW £3.5 MILLION BLOCK OF LUXURY FLATS
By William Telford, Business Editor, Herald
A LUXURY £3.5million block of student flats is planned for Plymouth city centre's disused ex-Comet store.
Developers want to revamp the concrete building, on Mayflower Street, and build three storeys on top to create high-quality apartments for up to 80 people – saying the finished building will be "unashamedly magnificent".
But the flats, some larger than a three-bedroom house and described as being like a "boutique hotel", will only be for wealthy foreign students – who have cash to spend on such up-market accommodation.
Aspire Student Living has just submitted plans and drawings to Plymouth City Council planners and would like to have the building ready by September 2017.
They are also offering £120,000 towards "public realm" landscaping work around the building, particularly the entrance to Market Way, and envisage a commercial occupier, such as a retailer, using the ground floor.
The proposed block is in an area rapidly becoming a hotbed of contruction and development. 
It is close to the new, under-construction, coach station, and the building being revamped into a new central library.
But it also sits in an area where other student flat developments are in the pipeline.
There are already plans to turn the former Good Companions pub site into student accommodation, and to create a 18-floor block for 500 students on what is presently Mayflower House.
Aspire has already turned the former Halifax building society building, on the corner of Maryflower Street and Armada Way, into apartments for foreign students, above Royal British Legion offices.
Aspire is part of Millbay-based Pillar Land Securities Ltd, whose chairman Richard Pillar said: "This is international student accommodation.
"It's a stone's throw from the university and next to the new coach station, it couldn't have been more ideally placed.
"If you are going to build accommodation you build it in the best places.
"And, of course, it will breathe new life into the bottom part of town."
Creative Construction has designed the new building and Mr Pillar said the vision of for it to be "more spacious" than other developments.
"It will have much bigger rooms than anyone is building in the city," he said. "Three-bed apartments bigger than the average three-bedroom house.
"The flats will be unashamedly magnificent, it will be like a boutique hotel, some of the best accommodation in the country.
"It will house 70 to 80 students, but some will share.
"They will have a net spend, per capita, higher than the average family – and will spend it in the community.
"These are wealthy students. Plymouth University is looking to grow its international student intake.
"They have lost out to other cities because they haven't had high-quality accommodation.
"This development will service that."
The Mayflower Street Comet store closed in late 2012 when the electrical retail chain went into administration.
It has been empty thereafter.
But Mr Pillar explained the building was originally a supermarket, and as such has extremely strong floors to enable it to withstand the weight of heavily laden shelves.
Therefore, the building can support three more floors being placed on top.
"It's a great solution for a redundant building," Mr Pillar said.
He said demolishing the ex-Comet store and starting from scratch would have caused too much disruption for neighbouring businesses and residents.
In January 2016, a report revealed Plymouth's student population injects £300million into the city economy every year.
And of that sum, foreign students bring a £34million bonanza to the city annually.
Plymouth University, Santander bank and Clever Student Lets combined to produce A Report Looking into Student Spending and Analysing the Economic Impact it has on Plymouth.
Read more: http://www.plymouthherald.co.uk/Plymouth-city-centre-shop-3-5million-block-luxury/story-28860033-detail/story.html#ixzz424A9nQHD
(Publicity generated by Dorcas Media)