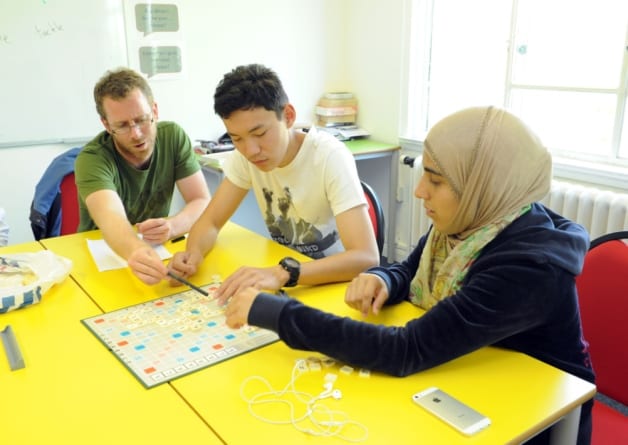 THE WHOLE WORLD COMES TOGETHER AT PORTSMOUTH GUILDHALL
The whole world comes together at Portsmouth Guildhall
The third-storey of the iconic building is home to the Meridian School of English, which attracts students from across the globe eager to improve their language skills.
But far from just sitting in classrooms and reciting verb tables, the students from countries including Italy, Kuwait, Russia and China, are given an immersive experience.
Teacher David Stevens said: 'Rather than just sitting in the classroom learning grammar, they're getting out doing things. You might call it active English.'
There are international dinners, sports activities and trips to London, Brighton, and the Isle of Wight.
The students stay from a week up to 10 months.
Those aged from 11 to 16 mostly come during their summer holidays – the school can accommodate more than 150 at any one time.
Meridian also teaches adults, who take courses all year round.
Neil Pick, who is chief executive of the school's parent company, Tellus Group, said there was a growing market for English around the world.
Mr Pick said the English language was one of its most successful, but overlooked exports.
He said: 'Parents across the globe are continuing to invest in their children's education with English language learning proving to be of growing importance, especially from Europe, China and the Middle East.
'The invisible English sector is worth more than £2.5bn to the British economy and growing.'
Mr Pick said the school's location in the Guildhall was popular.
'Our students love it. They think they're going to Buckingham Palace when they arrive.
'And it fits in with the aims of the Portsmouth Cultural Trust, which wants the Guildhall to offer a diverse cultural experience.'
Meridian runs work experience programmes where people from other countries get the chance to work at a Portsmouth firm – improving their language skills in a practical environment.
And the school has just launched a programme for junior learners which concentrates on two of Britain's most famous exports – Harry Potter and the BBC's Sherlock Holmes series.
The school's marketing director Jennifer Harrison said the programme included film nights, excursions, quizzes based on the books, and even the chance for young learners to recreate a scene from one of the novels.
She said: 'They will have the chance to take a trip on a steam train through the Devon countryside as well as learning all about the author and Sherlock Holmes as a character.'
Mr Pick said the school had also started a three-week 'roll-on, roll-off' course for junior learners.
He said: 'This provides classroom-based learning in the morning and themed activities in the afternoon.
'Each theme takes the young learner on an educational journey through British culture, literature and history.'
Mr Pick said there were also functional classes where the students learnt to master tasks including finding their way around, asking and giving information and asking for advice.
Erzsebet Vargyas, who works at Meridian, said there was always a need for more host families for students.
Ms Vargyas said families were paid for taking in a student and helping them adjust to life in Portsmouth.
She said: 'We like the families to make the students feel like part of the family and have a nice experience in this country.
'It's nice when they can sit down together and have dinner in the evening and sometimes the families also take part in activities.'
Anyone interested in hosting a language student can call Ms Vargyas on (023) 9229 0733.
They made me feel like the most welcome person
LIFE in Portsmouth is a huge change for Russian student Svetlana Novoseltseva.
The 16-year-old is doing a two-month English course at the Meridian School of English.
Svetlana said she was amazed by how open people were here.
She said: 'I was shocked. People here are so friendly, so polite.
'They're always willing to stop their business and help you if you need it.
'And I like how people here treat their animals.
'It is much different to Moscow.
'There, everybody's in a hurry and a bit angry.'
Svetlana said that although she'd had English lessons at school in Moscow for years, it was much better learning the language in an English-speaking country.
She said: 'In Russia, they always explain it in Russian, and you don't really learn.
'The pronunciation is not good.
'Here they make classes more interesting and fun and I like going to school here.'
Svetlana said learning English was important for your career.
Her mum is a composer who writes music to accompany the works of Russian poets, and her dad is the producer.
Svetlana said she was also a musician and played guitar and piano, but wanted to become a journalist or a film director when she finished school.
She is living with a host family in Southsea who, she said, had made her feel at home.
Svetlana said: 'When I came I was scared and confused because I was alone in another country for the first time.
'But they made me feel like the most welcome person.
'It's a really amazing place as well, because you can just walk and in two minutes, you are at the sea.'
I've always enjoyed English since I was a child
THERE'S no doubt about what part of Portsmouth Mohammed Al-Tuwayli likes best.
The 25-year-old student from Saudi Arabia said he felt most at home amid the outlet stores of Gunwharf Quays.
Mohammed said: 'It's quite a beautiful city and I'm really enjoying Gunwharf because I'm a big fan of shopping.'
Coming to Portsmouth has been a huge change of environment for Mohammed.
He normally lives in Saudi Arabia's capital Riyadh where the temperature often hits 50C.
He said: 'We can stand the heat, but sometimes I feel like I'm some sort of lizard and not a human.
'I'm also not used to living in the small houses here.
'Riyadh is a flat city, and many people live in big houses and not apartments.'
Mohammed is doing an eight-month course to improve his language skills.
Mohammed said he wanted to become an English teacher and pass on his language skills to others in Saudi Arabia.
'I've got the ambition to achieve that goal.
'I've always enjoyed English since I was a child, watching movies and reading books. In Saudi Arabia it was a challenge because there are not many native speakers, so this is a great opportunity to speak English and practice.'
Mohammed said he was a keen football fan and used to play in Saudi Arabia with his friends and colleagues.
He said he had been to see Premier League games during his stay.
His favourite English team, however, is not Pompey but another 'blue' team, Chelsea.
But he said he had his doubts about the team's manager.
'I don't like Jose Mourinho's performance. I think he's like a clown.'
Mohammed said there was not much of a sense of community among the Muslims in Portsmouth as there was in Saudi Arabia, which is something he missed. about home.
'The Muslims here are not as together, but I'm trying to get into the community and be a good citizen.
'I'm getting to know people, and they're friendly.'
(Publicity generated by Dorcas Media).