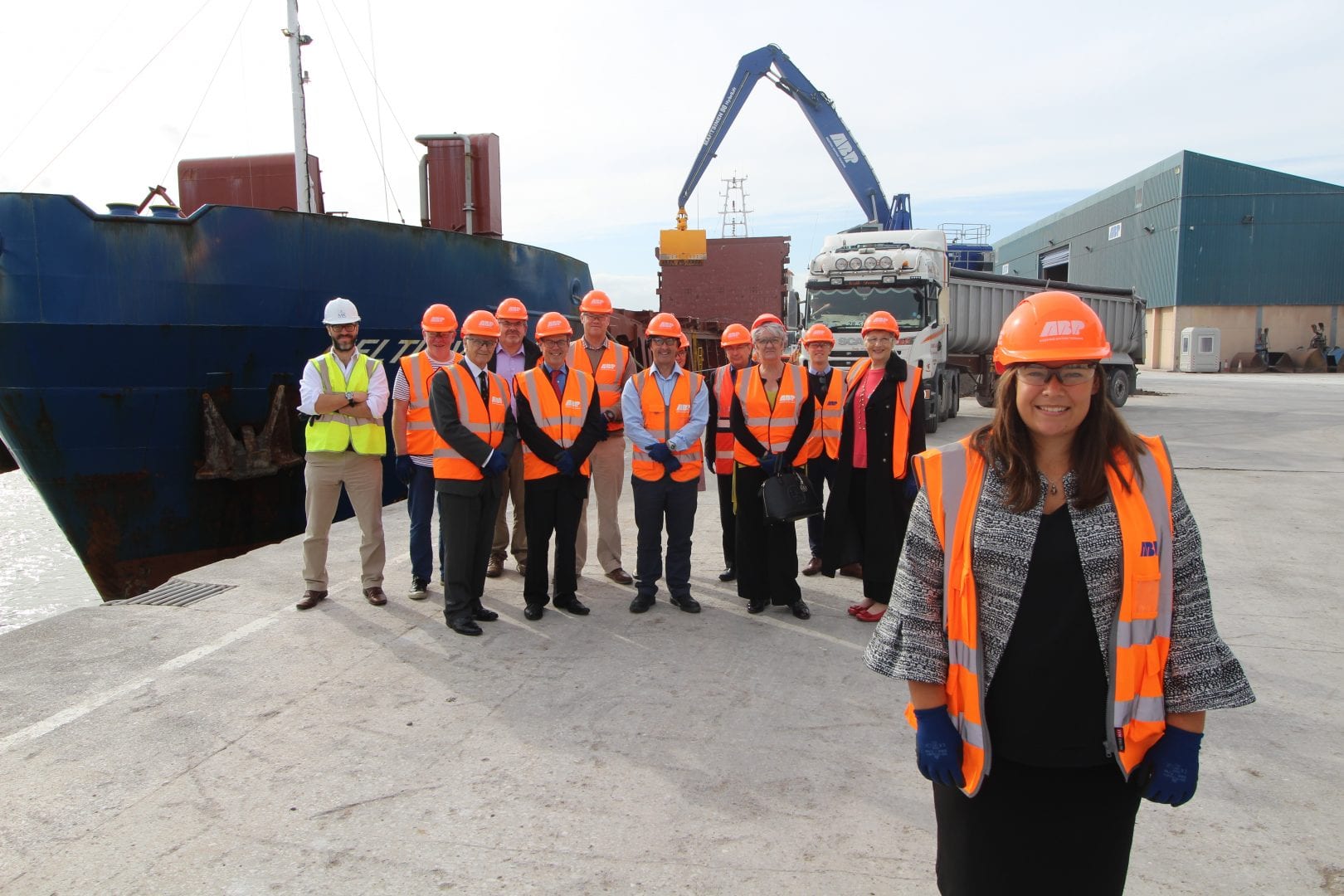 THE STRATEGIC ROLE OF DEVON'S PORTS
Alex Chinchen ABP's first woman Divisional Port Manager
THE UK ports industry is the largest in Europe and the Devon Chamber of Commerce organised with Associated British Ports (APB) – for a business delegation to visit Teignmouth Docks recently.
Many people don't know the critical and economic role that the Teignmouth and Plymouth Ports play in the region for our local manufacturers and businesses, said the Chief Executive of the Devon Chamber of Commerce, George Cowcher.
Mr Cowcher, said: "(APB) is Britain's leading port operator, and Teignmouth Docks handles a wide variety of dry bulks including grain, clay, stone chippings, salt, animal feeds, as well as heavy lifts and warehouse facilities."
"Large and small companies from across the county wanted to see for themselves how Teignmouth Port works, and what opportunities are available to use the installation," he said.
"We also are looking at the challenges of goods being imported from Europe into Teignmouth, and will there be a new regularity inspection system being imposed- as a result of being outside of the European Union?"
"It is important that the Chamber highlights our business jewels in the county, and the significance of Teignmouth and Plymouth Ports, to the strategic well being of the county," he said.
"Part of our visit is to raise awareness, but also to underline how many key companies are using the county's ports to import and export goods," said Mr Cowcher.
Alex Chinchen, Divisional Port Manager, South West Coast, (APB), said: "I'm the first (APB) woman port manager in the UK, and in charge of Teignmouth and Plymouth Ports, and a really good sign of the direction the industry is moving in."

"We've got a long way to catch up to get more women into the organisation and maritime industry, but it's great to be a first," she said.
"I love the variety of my roles that one minute I'm in Plymouth and working with our partner Brittany Ferries, where we focus on customer services, dealing with members of the public, and getting people on and off the vessels, with a quick turn around – and making sure everything is running smoothly."
"And then I'm in Teignmouth which is completely different and doesn't run on schedules, and ships come and go at any time where not much notice is given?"
"We need to be flexible and adaptive, with lots of big infrastructure, stores, crane age, and big volumes of cargo, and the sheer scale which is exciting, and you never know what is going to happen next," she said.
Teignmouth Docks handles nearly 400,000 tonnes every year with Plymouth handling over 250,000 tonnes each year.