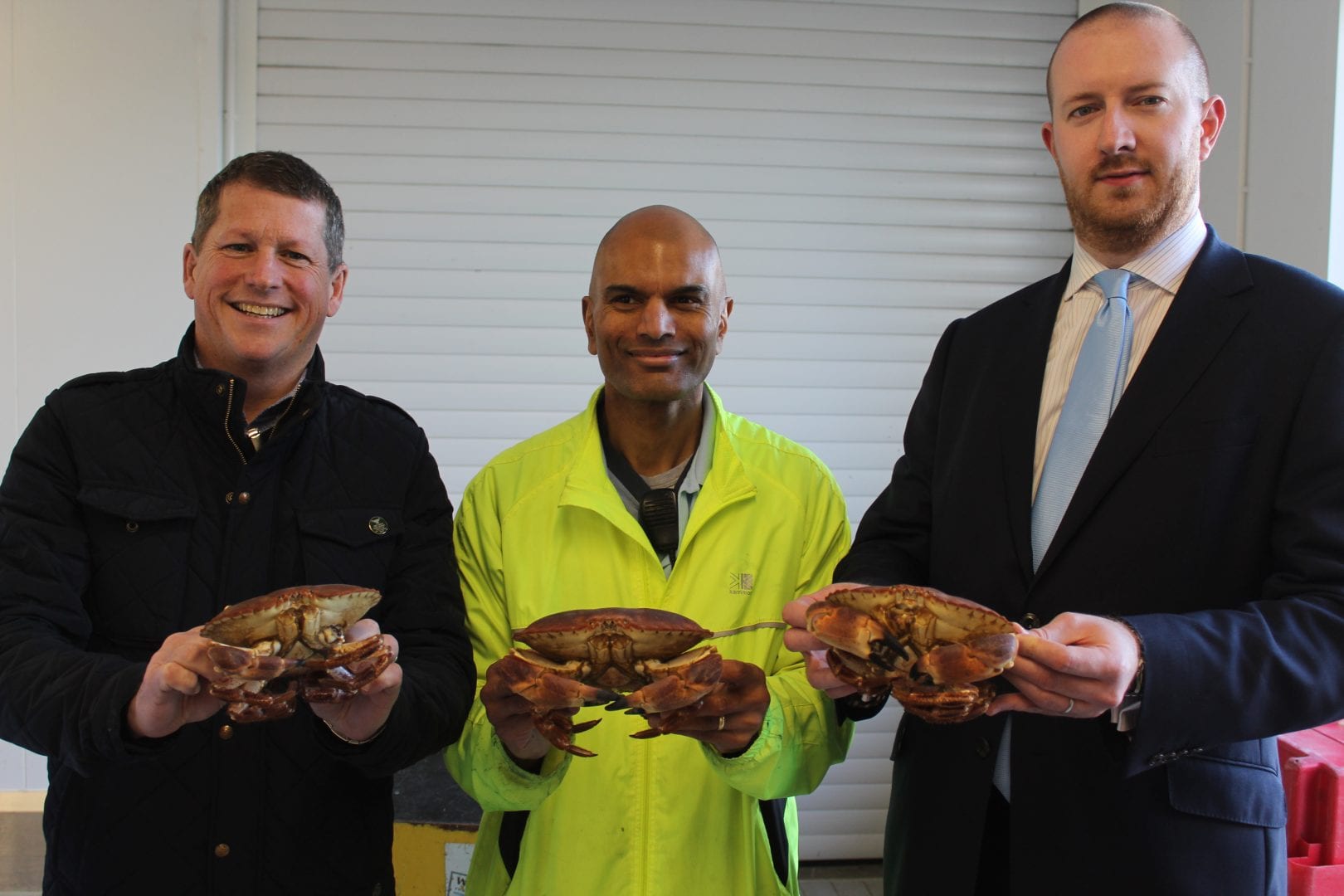 THE CLAWS ARE OUT FOR DEVON CRABS
Picture: Tim Jones, Conrad Luck, and Matt Stevenson
Ever thought why Devon crab is good for you?
Well, the Far East Asian market can't get enough of Devon specialities like the pie crust edged brown crabs, says David Markham, sales director of The Blue Sea Food Company.
Mr Markham, said: "Over 28,000 tons of crab are landed in the UK every year, and over 5,000 tons of cooked and live crabs are exported to countries like China, and Japan – where the crab is valued as a delicacy and huge source of dietary protein."
The Blue Sea Food Company based in Paignton hosted a group of 10 business leaders from across the county in association with the Devon Chamber.
Lisa Glendenning, events manager, at Devon Chamber, said: "Some of our members were very interested in taking up the opportunity to visit one of the region's niche' exporters – and learn more about how some of the UK's finest crab is caught, prepared, marketed, and exported by The Blue Sea Food Company."
The group was given a guided tour of the factory, presentation, and met some of the diverse workers that come from across the UK, Bulgaria, Poland, and especially ex-offenders from HMP Channings Wood Prison, in Newton Abbot.
Trevor Bartlett, managing director of The Blue Sea Food Company, said: "I'm a passionate believer in putting something back in the community and we employ ex-offenders."
"Rehabilitation is about supporting and giving second chances to inmates who want to turn their lives around. Having a job, and place to stay are two of the fundamentals – in stopping prisoners reoffending."
"The Blue Sea Company is also involved in an initiative at encouraging selected inmates to use their business skills in a legitimate way to encourage entrepreneurship through a 14-day course over 14 weeks, he said.
'The Entrepreneur Inside' is a CIC company and successfully completed a pilot programme in Dartmoor Prison last year, where 17 inmates were identified as having entrepreneurial skills and were taken through the basics of running a business, and were given one-to-one mentor sessions by experienced business leaders, advice and guidance.
"Funds permitting, we are looking to run another course at HMP Channings Wood this year, with the aim of providing additional support on release – including accommodation," said Mr Bartlett.
Anyone looking for more information about the Blue Sea Food Company can view their website: www.devoncrab.com