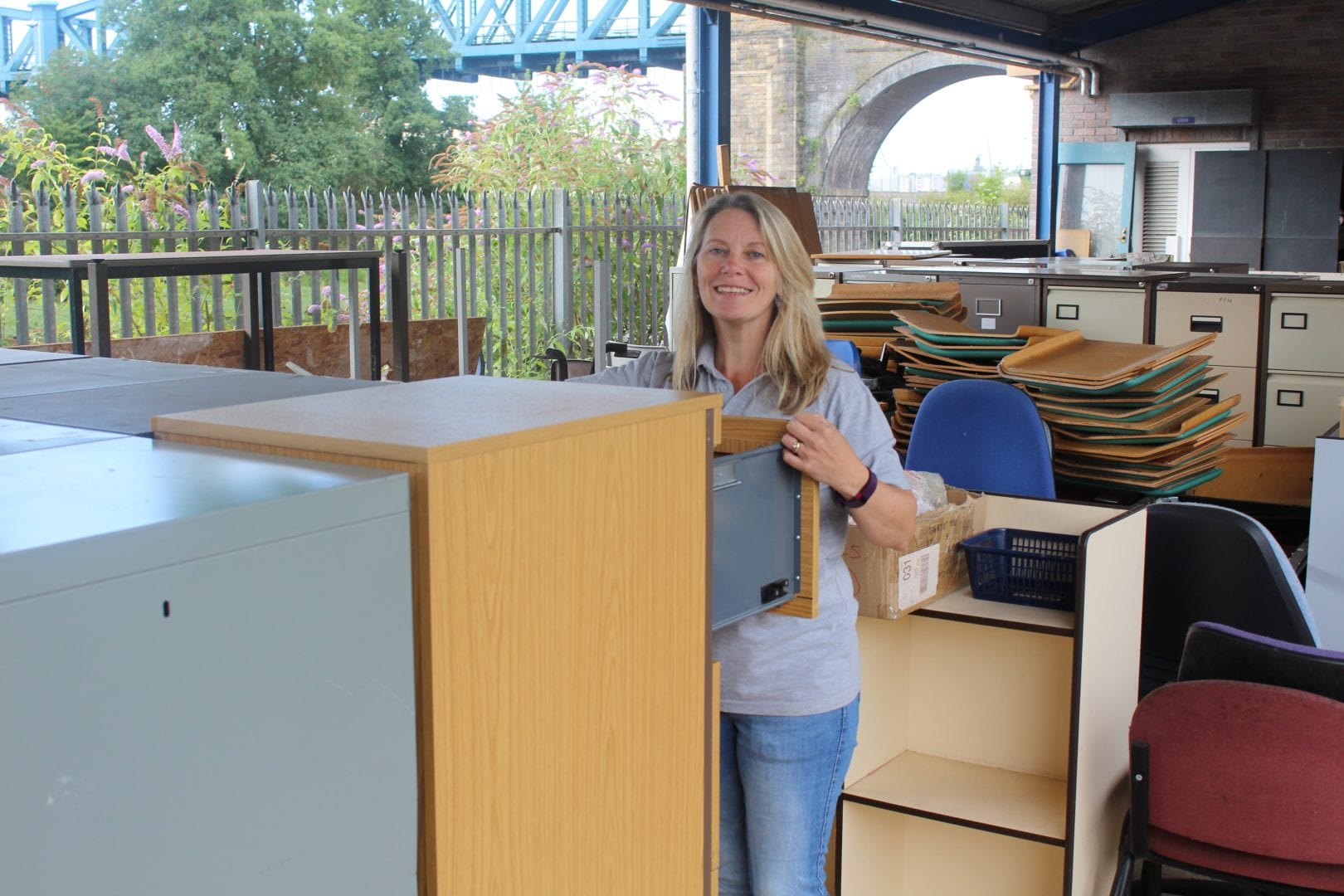 SURPLUS RESCUE CELEBRATING SIX YEARS IN BUSINESS
Director of Surplus Rescue CIC, Shelly Monk
SOCIAL enterprise company Surplus Rescue CIC (Community Interest Company), is celebrating six years in business and launching a new initiative entitled the 'Silver Sheds Project', and is on the lookout for volunteers from the city's retired community.
The Weston Mill-based business recycles and re-homes second-hand office furniture including desks, pedestals, cupboards – and will be soon selling recyclable plywood bat boxes, bird boxes, rabbit hutches, and especially tailor-made boxes for the endangered dormouse, said director Shelly Monk.
Mrs Monk, said: "We have come a long way in six years of business and are looking to expand our team to six volunteers this year."
"Our growing business works with other voluntary organisations, charities, Plymouth City Council, and education providers, but especially our new partnerships with companies like Princess Yachts, Devon & Cornwall Police Constabulary, Persimmon Homes, Devon Contract Waste, National Trust, and Escot Park," she said.
"We are especially proud in launching our new recycling initiative the 'Silver Sheds Project' and are looking for retired people wanting to volunteer and work in our premises, and bringing valuable life and trade skills to our community business, and producing great sustainable products for resale and donation."
"Devon & Cornwall Police K9 units also uses our premises for sniffer dog training and detecting target scents in our many furniture rooms, and a valuable site for the dogs to test, re-train and hone their skills."
"Surplus Rescue CIC can offer charities donations of some furniture for free, and social enterprises can benefit from a further range of discounts."
"Existing companies, new start-up enterprises, schools and colleges buying from us are on the increase, and anyone looking to purchase in bulk can benefit from a scaled discount package," said Mrs Monk.
"Also, the public can visit our site at Weston-Mill and buy direct – anyone thinking of setting up a home office, or who needs study space furniture for children, then our community business can help you do it economically," she said.
The Plymouth company is also looking at working with international companies, and was set up to utilise surplus waste materials left over from construction projects across the South West region, and stop them going into the waste stream and landfill sites."
Surplus Rescue CIC won the Herald's Green Business of The Year award in 2014.
Anyone looking for more information about the 'Silver Sheds Project' or about Surplus Rescue can view on their web portal: www.surplusrescue.co.uk