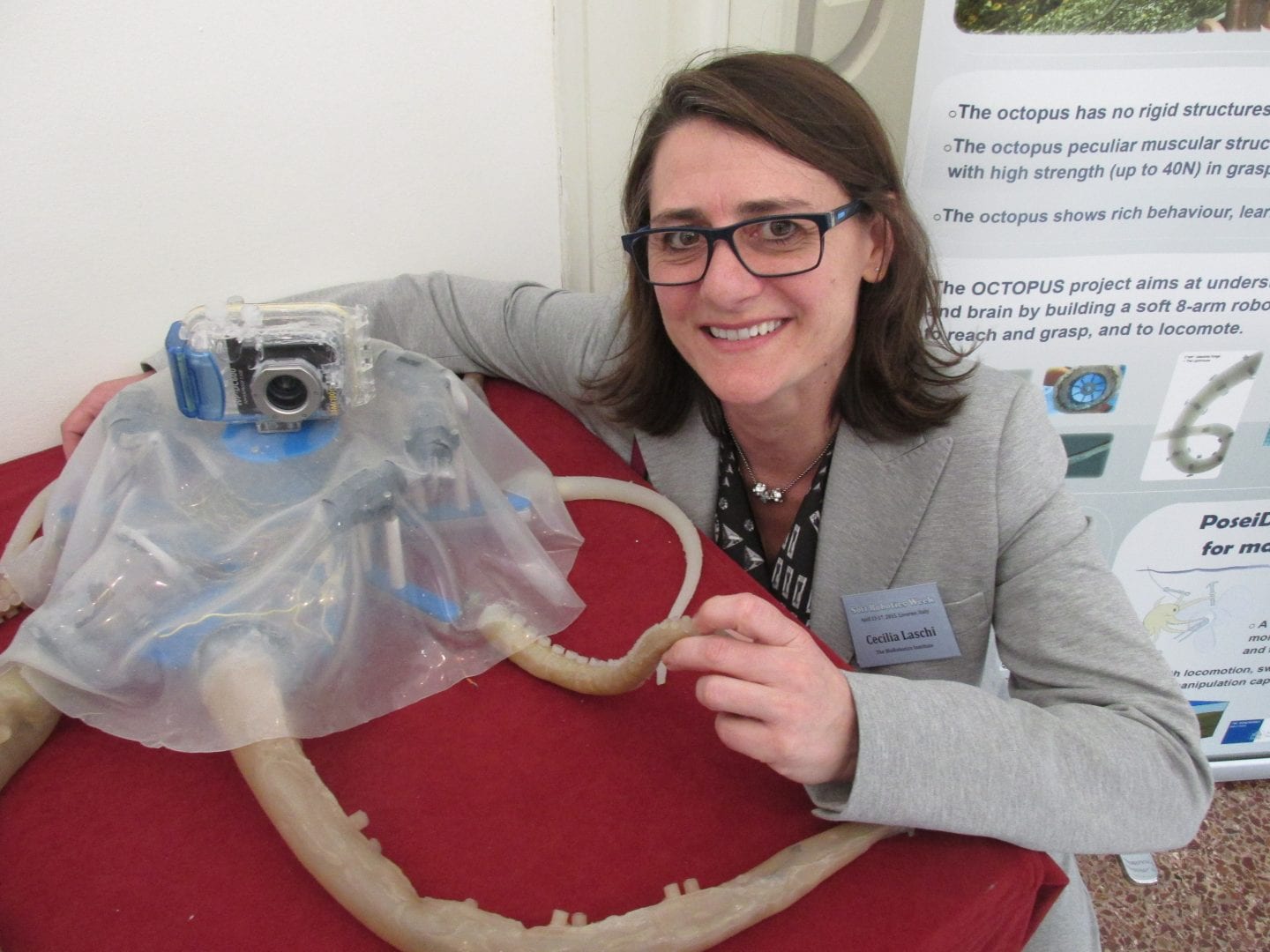 SOFT-TOUCH ROBOTICS THAT REACH OUT TO THE FUTURE
Professor Cecilia Laschi from The Biorobotics Institute at Pisa's Scuola Superiore Sant' Anna
YOU May know what a robot is, but what about a biorobot octopus?
Well, if you're working in Plymouth's marine industries, you might want to find out more.
The Biorobotics Institute at Pisa's Scuola Superiore Sant' Anna is leading the way in developing the cutting-edge technology.
Biorobotics is the use of biological chareacteristics of living things as the base for developing robots.
It means basing biorobot aircraft on insect designs, for instance, or biorobot undersea probes on the characteristics of an octopus.
That's exactly the project associate professor of biorobotics Cecilia Laschi has been working on.
She's developed an undersea robot that moves exactlt like an octopus does, mimicking the cephalopod's means of jet propulsion and utilising 'soft robotics' to create tentacle-like feelers from substances such as silicon.
The idea is to create robots that are not all metallic nuts and bolts, but have soft parts that can grip and grasp and therefore can work on sensitive surfaces, such as underwater coral reefs or on pipelines or ships for example – or in medicine, operating on humans.
Herald business met Dr Laschi at the Robosoft conference on emerging technologies at Livorno, a port city of about 160,000 people a few miles down the coast from Pisa.
The conference was organised by Sant' Anna alongside the Swiss Federal Institute of Technology and the University of Bristol.
Dr Laschi, the conference coordinator, demonstrated her biorobotic octopus at the conference and said scientists are 'very excited' by the potential of biorobotics.
"There are important applications," she said. "A variety of environments they could be used in, particularly the interaction with human beings, in the medical field.
"And in exploration, where it is in contact with the environment, for instance to check the status of corals, taking samples without causing damage, or probing inside a shipwreck, or carrying out undersea maintenance and monitoring.
"It could be used in ocean-ographic exporation and for industry, for example."
She said Sant' Anna's lab in Livorno has been an 'international pioneer' of the technology, and built its small protype octopus biorobot to show what could be achieved.
The institute now wants to find companies that could either fund further development or can suggest applications the technology could be used for, she said.
"We are talking to companies in industry and manufacturing about things that can benefit from using a soft robotic arm, for instance in the food industry or agriculture."
The Business Editor of the Plymouth Herald discovers some parallels between Pisa and Plymouth
(Publicity generated by Dorcas Media)