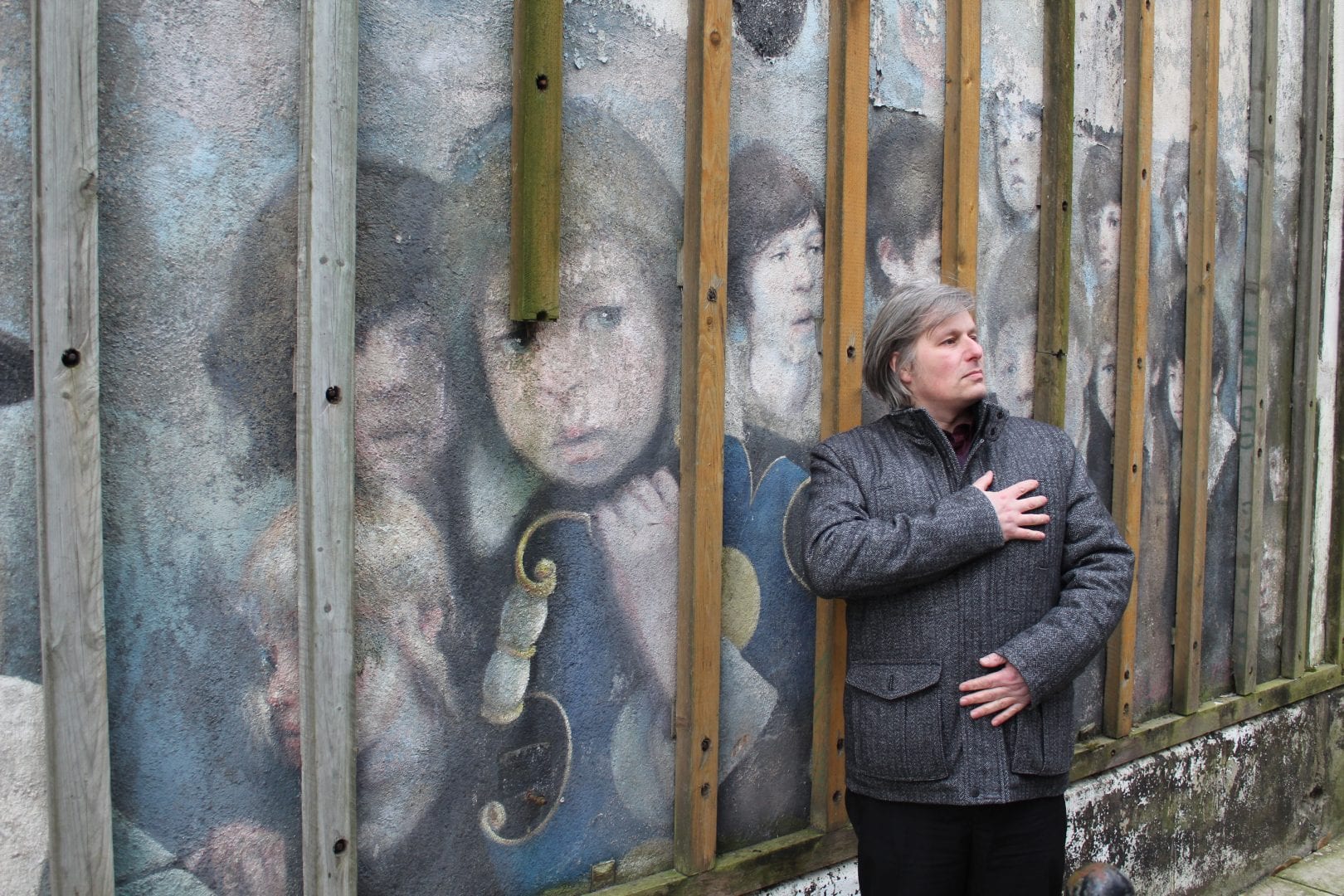 REUBEN LENKIEWICZ MURAL CAMPAIGN GOES INTERNATIONAL
A campaign led by Plymouth business leaders over a week ago has drawn international interest – in saving an iconic part of the Barbican's modern history.
Cllr. Maddi Bridgman, Henry Hutchins, and Kevin Kelway
Over 46 years ago Robert Lenkiewicz wowed the residents' of the Barbican and the people of Plymouth – when he launched his Mural in the summer of 1972.
49-year-old art dealer Reuben Lenkiewicz and son of the famous artist says: "I was so inspired by the coverage in the Plymouth Herald by some of the city's business leaders – that I've formally launched the 'Reuben Lenkiewicz Mural Campaign', and looking to set up a steering committee to fight for its restoration."
Reuben Lenkiewicz at his Father's famous Mural on the Barbican
Mr Lenkiewicz, said: "Saving the Barbican Mural will take three stages that includes a £5,000 feasibility study in seeing what needs to be done, and then raising £500,000 to pay for its restoration by a team of artists and professional restorers, that should take a year to complete," he said.
Within days of setting up a Just Giving drive to raise the £500,000 cash in saving the Plymouth Mural at: https://www.justgiving.com/crowdfunding/reuben-lenkiewiczcampaigntosavetherobertlenkiewiczmural Plymouth Conservative Councillor Maddi Bridgeman – who is part of the steering team in supporting the public campaign to save the artwork -has donated £500 from her councillor's Community Grant for the campaign.
City business leader Henry Hutchins, of Clever Student Lets, said: "We need to raise the cash for the feasibility study, and crucially £500,000 for its restoration – and what a 2020 Mayflower tourist attraction this will generate for the city," he said.
Plymouth campaigner and businessman, Kevin Kelway of Dorcas Media, said: "I grew up on the Barbican and worked with Robert campaigning in the 1990s for local issues. As kids we used to watch Robert on the scaffolding painting, and this piece of Plymouth heritage must be saved."
"He was part of the community I was brought up in, and fighting to save the Mural is saving an old friend – and part of Plymouth's cultural heritage."
Reuben Lenkiewicz, added: "I want local people to be part of the campaign, and anyone looking to join the steering committee can contact me at: http://www.lenkiewiczart.com/
Latest on Plymouth Herald website: https://www.devonlive.com/news/devon-news/lenkiewicz-sons-half-million-pound-1268645