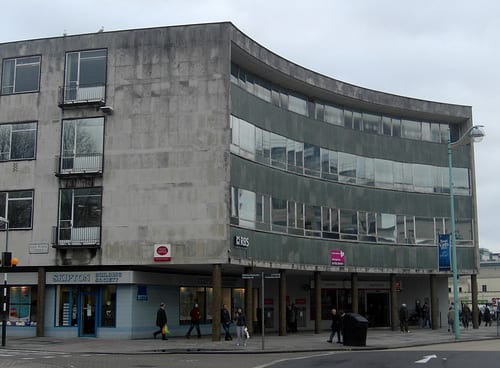 PRIVATE INVESTORS BUY CITY LANDMARK SITE
PRIVATE INVESTORS BUY CITY LANDMARK SITE
ONE of Plymouth's most recognisable post war landmarks Tamar House on the corner of St Andrew's Cross roundabout has been sold-off for a seven-figure sum – by property consultants Vickery Holman, for a new student accommodation development.
The building houses Plymouth's main Post Office, RBS and The Skipton Building Society on the ground floor with RBS also occupying the offices on the first floor with the second and third floors vacant. The upper floors have Planning Consent for conversion to 40 student units.
The tenure is a leasehold for a term of 125 years from Plymouth City Council, and acting on behalf of Gervas Properties Limited, Vickery Holman achieved the sale of the iconic city centre building.
Vickery Holman director, Mike Oldrieve, said: "We started marketing Tamar House during the recession, so we are delighted to have eventually got it over the line. We believe this shows the improvement in the Plymouth market as the economy improves. The property is in a great location and whilst the ground floor shop leases only have a few years to run, this location will always be in demand."
Henry Hutchins, chief executive of Clever Student Lets, who will be managing the site, said: "We are absolutely delighted this building will be made available for high quality student accommodation development, and further highlights the transformation and vibrancy of Plymouth's city centre where people are at its beating heart again."
Acting for the purchasers, John Slade, of Monk & Partners, said: "This transaction demonstrates the current demand for student accommodation and particularly in the city centre, and coupled with the strong retail tenants on the ground floor provides a solid property investment. Furthermore, the property has potential to develop the first floor and to construct additional floors for further student provision."
Meanwhile attention is now turning to St Andrews Court close by where Vickery Holman also have instructions to sell the long leasehold interest in 28,000 sq. ft. of offices, that is another great opportunity for developers or investors – with an eye to an opportunity to refurbish the offices or consider a residential conversion.