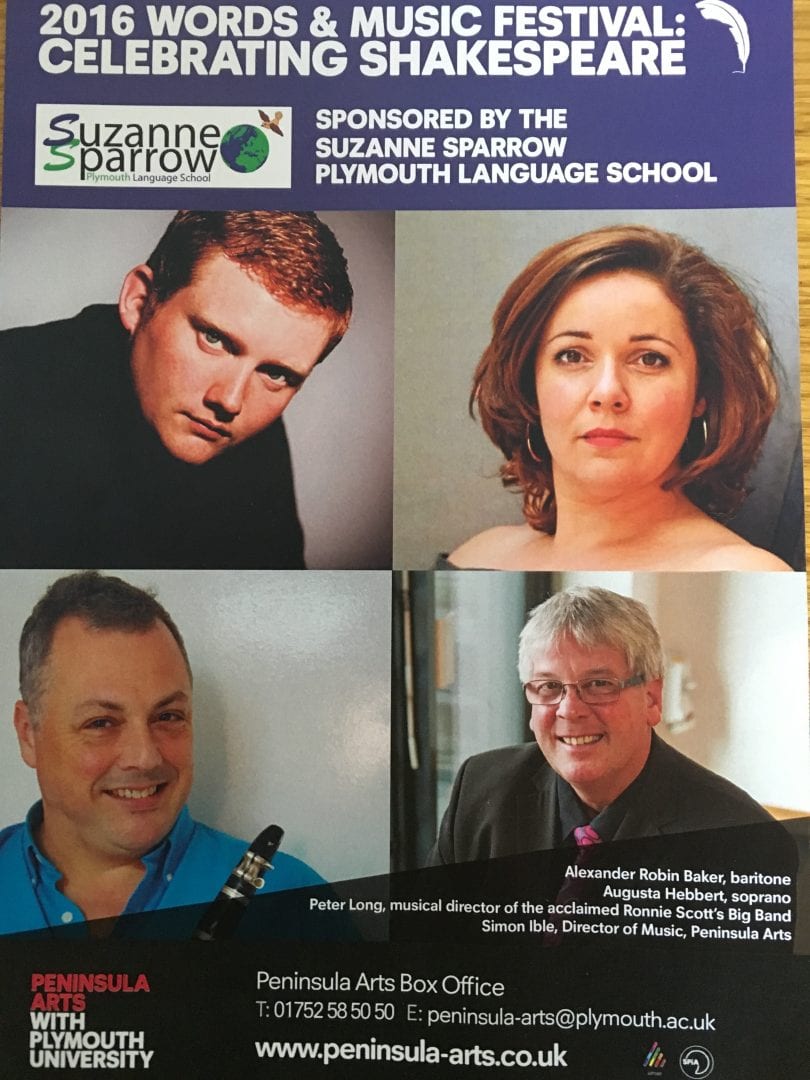 PLYMOUTH CELEBRATING THE 400TH ANNIVERSARY OF SHAKESPEARE
A CITY festival celebrating the 400th anniversary of William Shakespeare's passing – is being commemorated with a series of musical performances, films and talks – at the University of Plymouth.
This is the second year of the 'Words & Music Festival 2016′ and sponsored by the Suzanne Sparrow Language School, and epitomises the magical and mystical sounds of the English language in speech and music, said Dr Suzanne Sparrow.
Dr Sparrow, commented: "Marking the 400th anniversary of the Bard's death, the 2016 Words and Music Festival will carry the theme of celebrating Shakespeare."
The prestigious showcase kicks off on the 20th April with a theatrical adaption of Richard III, alongside screenings of Sir Laurence Olivier's Henry V, there will also be concert recitals, and talks by Peter Hinds, exploring how music, sound and spectacle interacted with poetry in Shakespeare's theatre, added Dr Sparrow.
Dr Suzanne Sparrow officially launches the Word & Music festival on the Friday 22 April at 6pm, at the Sherwell Centre, North Hill, Plymouth.
The Suzanne Sparrow Language School was set up in 1978, and one of the city's oldest English language providers, and founded the Words & Music Festival in 2014.
Anyone looking for more details can email: peninsula-arts@plymouth.ac.uk
Or visit: wwwpeninsula-arts.co.uk
Dr Suzanne Sparrow celebrating the 400th anniversary of William Shakespeare