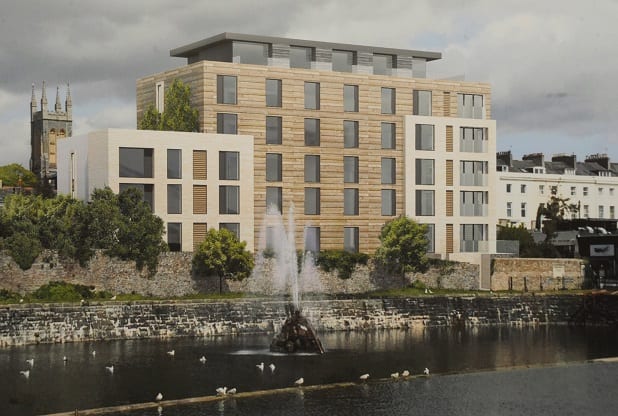 PLANS FOR RESERVOIR HOUSE UNVEILED
PLANS to build a new 21st century home for the (RAOB) Club on North Hill, and associated with the charitable organisation the Royal Antediluvian Order of Buffaloes – is one step closer.
The £7 million 'Reservoir House' redevelopment will also include a post graduate international centre and catering for the growing number of international students selecting Plymouth as their first choice of study, and with it demands for high calibre accommodation, said Richard Pillar, managing director of Pillar Land Securities Ltd.
Mr Pillar, said: "This high quality mixed use redevelopment of the (RAOB) Club will secure a future for its members and patrons with a modern facility for decades to come, and will create over 30 full and part time jobs once completed."
"We have worked flat out with the (RAOB) Club committee and members since 2014 to devise a scheme which will provide a fully refurbished Club over two floors alongside new commercial space that would be ideal for a new cafe occupier, and a post graduate international centre with 66 bedrooms."
Derek Dawes MBE, secretary of (RAOB) Club and Provincial Grand Primo for 2017, said: "Our present site was significantly rebuilt in the 1950s after being bombed in World War Two."
"The (ROAB) Club dates back to pre-war Plymouth from 1922, and plans for a two-floor redevelopment will give us a state-of-the art building that will be fantastic for our club members and we can grow our membership again."
Paddy Beegan, senior manager student services, at Plymouth University International College, said: "Moving to another country can be a very daunting prospect for international students," he said.
"The (RAOB) redevelopment is in a prime location that enjoys panoramic views over the historic Drake's Reservoir and from the upper floors you can see the Hoe and sea beyond."
"It will offer a unique opportunity in Plymouth to give potential international students the chance to view the property down to individual rooms using the latest Virtual Reality technology and give these overseas students a genuine feel of the centre before they arrive," he said.
"But importantly it will give students the opportunity to study for a degree in a purpose built centre on the doorstep of the University's campus,' said Mr Beegan.
Mr Pillar, said: "There is demand for high-end boutique accommodation from overseas learners studying in the city," he said.
"Plymouth is losing out to other UK cities and our international graduate centre will help attract more learners wanting to study in Plymouth because of its location, reputation, and safety."
Local architect Rich Smith of Hand Drawn Home Practice, said: "We have worked extensively in consulting with the local community in drawing up the designs and plans with many one-to-one briefings, collective meetings, and a recent public consultation meeting at the (RAOB) Club."
"Our consultation processes have shaped the scheme and reduced the scale of the building by more than a fifth (23%)," he said.
"Pillar Land Securities are a local based company with a proven track record in working with neighbourhood involvement on projects and through this partnership working have responded to residents' comments and reduced the scale of the building and number of bedrooms from 85 to 66," said Mr Smith.
Mr Pillar, added: Our vision is one of trust with students, parents, local education providers, neighbours, business partners, and working with the local council," he said.
"We have more than 25 years experience in delivering a crafter approach in developing high quality international student projects and local housing schemes – that help generate a lively mix of accommodation within Plymouth."
Winn Scutt, Plymouth historian and former chair of the Friends of Drake's Place, worked with Plymouth University and the Heritage Lottery Fund to restore the listed Gardens and Reservoir.
He said: "This is a fantastic opportunity to enhance the historic setting of Drake's Place with sympathetic, high quality architecture."