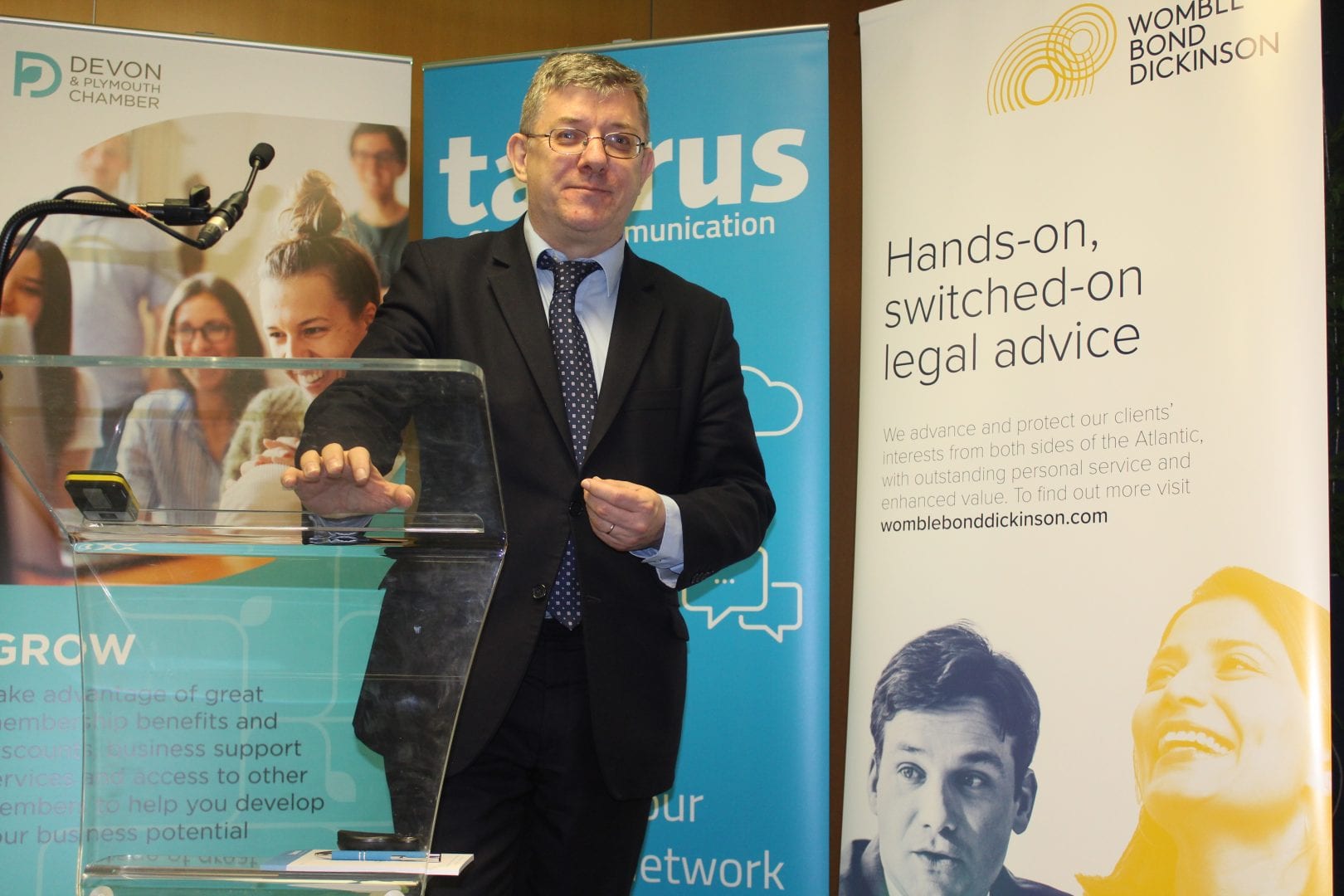 NO DEAL BREXIT THROUGH THE PRISM OF HARRY POTTER
Legal expert Malcom Dowden of Womble Bond Dickinson
South West and UK businesses exist in the world of risk and uncertainty, and the real uncertainty – is the politicians at Westminster, and its convulsing political dramas over Brexit, says Legal Director Malcom Dowden of Womble Bond Dickinson.
International Trade Matters invited Malcom Dowden to give a presentation at the Devon Business Show in Plymouth recently – as part of its international presence at the showcase.
(ITM) International trade specialists Linda Middleton-Jones, Mike Court, and Frances Fawcett at the Devon Business Show in Plymouth.
Mr Dowden, said: "No deal is possible, and is the legal default position. I always get people to think of BREXIT through the prism of Harry Potter – those seeking a "no deal" Brexit have made it the default legal position by planting legislative provisions to guarantee that result."
"Like horcruxes in Harry Potter, all of those provisions have to be identified and dealt with if a "no deal" Brexit is to be avoided," he said.
"For example, the UK government would be able to enter into a customs union with any part of the world, except the EU, because of an amendment that Jacob Rees-Mogg added to the post-Brexit Customs legislation".
"Many politicians talking about No Deal are doing it from an ideological commitment."
"Over 220,000 firms are not ready for border controls and all the necessary paperwork," said Mr Dowden.
Earlier this year, HMRC launched the Transitional Simplified Procedures scheme, aimed at easing imports in the event of the UK leaving the customs union and single market abruptly.
The Transitional Simplified Procedures (TSP) would allow South West companies to import goods from mainland Europe without filling out new custom declarations at the border, and local companies would be allowed to postpone the payment of import duties for one year.
Latest figures show that only 17,800 firms had applied for the (TSP) and less than 10% of the total of 240,000 firms estimated to require the status by the 31st October, when the latest Article 50 extension expires.
Mike Court, International Trade Specialist at (ITM).
Mr Dowden, added: "With locations on both sides of the Atlantic, Womble Bond Dickinson provide the breadth of legal experience and services to meet our clients' needs without losing the intimacy of being connected to our different local communities," he said.
"In periods where there is no leadership, society stands still. Progress occurs when courageous skilful leaders seize the opportunity, and for businesses that prepare and adapt, the positives of Brexit could be the locomotive of change."
Anyone looking for more information about international trading advice, support, and opportunities can view on the International Trade Matters web portal:
www.internationaltradematters.com