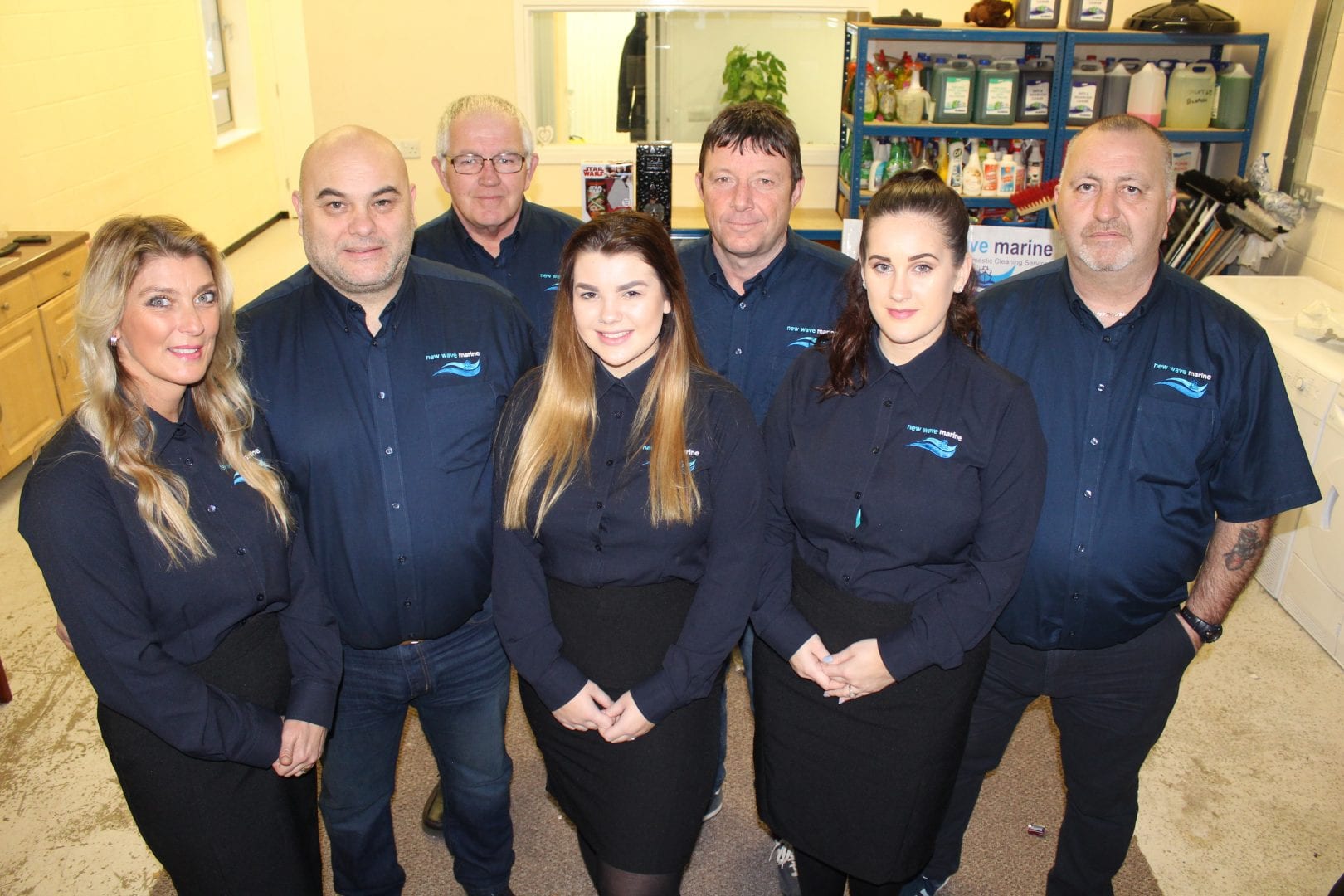 NEW WAVE MARINE SHORTLISTED FOR FAMILY BUSINESS AWARD
THE Team at New Wave Marine are celebrating after being shortlisted for the South West Family Business of the Year Awards 2018, which is being held in Central London in June.
New Wave Marine has been shortlisted by the Family Business United (FBU), which is an award-winning magazine, resource centre and events organization, which champions UK and family businesses across the globe.
Team New Wave Marine
Jason Parsons, managing director of New Wave Marine, said: "Our family business was set up in 2014, and we take great pride in the way our business has grown from strength-to-strength over the last four-years."
"Being shortlisted for this regional and national accolade, and recognising the contribution that a family business like ours is making in the South West region – is a tremendous source of pride," he said.
Darren Negus, operations manager, at New Wave Marine, added: "We are a company that works across the UK delivering in Marine, Industrial, Waste Management, and Domestic cleaning services."
"We have some major growth plans being announced over the next few months, and especially looking at exporting opportunities in 2018."
"Our involvement in the community is very important to the family ethos of the company, and especially our efforts to help raise £38,000 for the 'Blow A Kiss For Fynn' campaign," said Mr Negus.
Meanwhile, Jason Parsons and Steve Oliver have collected over 50 gifts donated from other city businesses to be raffled in a prize draw to support the online campaign for three-year-old Fynn Fleming who lives in Plympton. Gary Parsons, said:
"Fynn Fleming needs a selective dorsal rhizotomy (SDR) operation, which will effectively cauterise the nerves leading his brain to his limbs, helping to stop muscle spasms, and allowing him to walk properly.
The surgery is not available on the NHS – and will cost £38,000, and the team at New Wave Marine have supported a charity dinner, dressed up as Santa's to collect donations from festive shoppers, and led the viral video campaign from business folk to blow kisses in support for Fynn," he said.
Steve Oliver, business development manager, at New Wave Marine, added: "Over 40 companies from around Plymouth have donated over £1,000 in prizes including eating out vouchers, electrical items, books, and many more."
"But some of the top prizes includes a signed pictures from Adele, cast members from the Game of Thrones, and professional British boxer Ricky Hatton MBE, which we intend to auction for the highest bidders on our website," said Mr Oliver.
Anyone looking to buy tickets or bid for signed autographs can visit the company's new web portal: www.newwavemarine.co.uk or email: enquiries@newwavemarine.co.uk
Launch of 'Blow A Kiss For Fynn' campaign