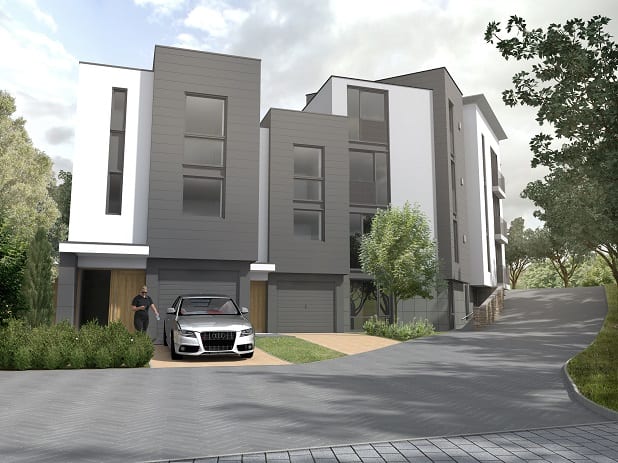 NEW PLYMOUTH HOUSING DEVELOPMENT SET TO BEGIN
The new Hartley Gardens development
Business Editor, William Telford, The Herald
A MULTI-MILLION pound housing development is set to be built on a Plymouth brownfield site as part of an innovative rent-to-own housing model developed in the city.
The former Mannamead Centre, in Eggbuckland Road, is planned to be redeveloped into 29 new homes.
The 1.7-acre site, a former community centre derelict for years, was purchased in January 2015 as part of Plymouth City Council's innovative Plan for Homes.
Contracts are now in place with city-based Rentplus to allow for 13 of the 29 homes to be "affordable rent-to-buy".
The new development, named Hartley Gardens, will eventually comprise one- and two-bed apartments and three-, four- and five-bed houses.
Housing company Rentplus, which has financial backing from private and institutional investors, said it is creating a "step-change in the delivery of affordable housing" nationally with its new model.
It is aimed at helping a new generation of potential home-owners get onto the housing ladder at a time when saving for a deposit is difficult.
Under the Rentplus model, at the end of a rental agreements, tenants have the opportunity to purchase their property and receive a ten per cent gifted deposit from Rentplus to help their mortgage application.
Plymouth City Council has been working closely with Plymouth's Pillar Land Securities and Tamar Housing Society to develop the Hartley Gardens scheme.
Richard Connolly (pictured at rear above with Richard Pillar, Tudor Evans and Chris Benberthy), Rentplus chief executive, said: "The Rentplus homes will be managed by Tamar Housing Society and let to tenants at affordable rents capped to the local housing allowance for a minimum of five-years with the opportunity to purchase in the future with the assistance of a 10 per cent gifted deposit."
Chris Penberthy, Cabinet member for Cooperatives and Housing, said: "This new method for providing more affordable housing has been developed by Pillar Land Securities, Tamar Housing, and Plymouth City Council, and, while we know it will be rolled out nationally, we are delighted to be the pioneering local authority.
"We are committed to ensuring more people in the city have a place they can call home and this development is excellent news for Plymouth."
Richard Pillar, of Pillar Land Securities, said his firm championed public consultation through the design, development, and planning stages.
He said Pillar Land Securities placed sustainable design at the heart of the proposals, resulting in lower energy usage and running costs for homeowners.
He said: "I'm a proud Plymothian and pleased to be partnering this pioneering development with Rentplus and Plymouth City Council.
"The development will benefit the local workforce, supply-chain partners and offer homes to local people with the opportunity to help and support those households into home ownership after a period of subsidised renting."
Architect Richard Smith, of Hand Drawn Homes, said: "It was important to deliver a high-quality contemporary design solution for the houses and apartments, sympathetic to the history of the existing building and surrounding housing."
Joe Taylor, of contractor Creative Construction, said: "We are used to delivering high-quality architecturally-led buildings."
Read more: http://www.plymouthherald.co.uk/Derelict-Plymouth-building-multi-million-pound/story-28968387-detail/story.html#ixzz43dOGunfu
(Publicity generated by Dorcas Media)