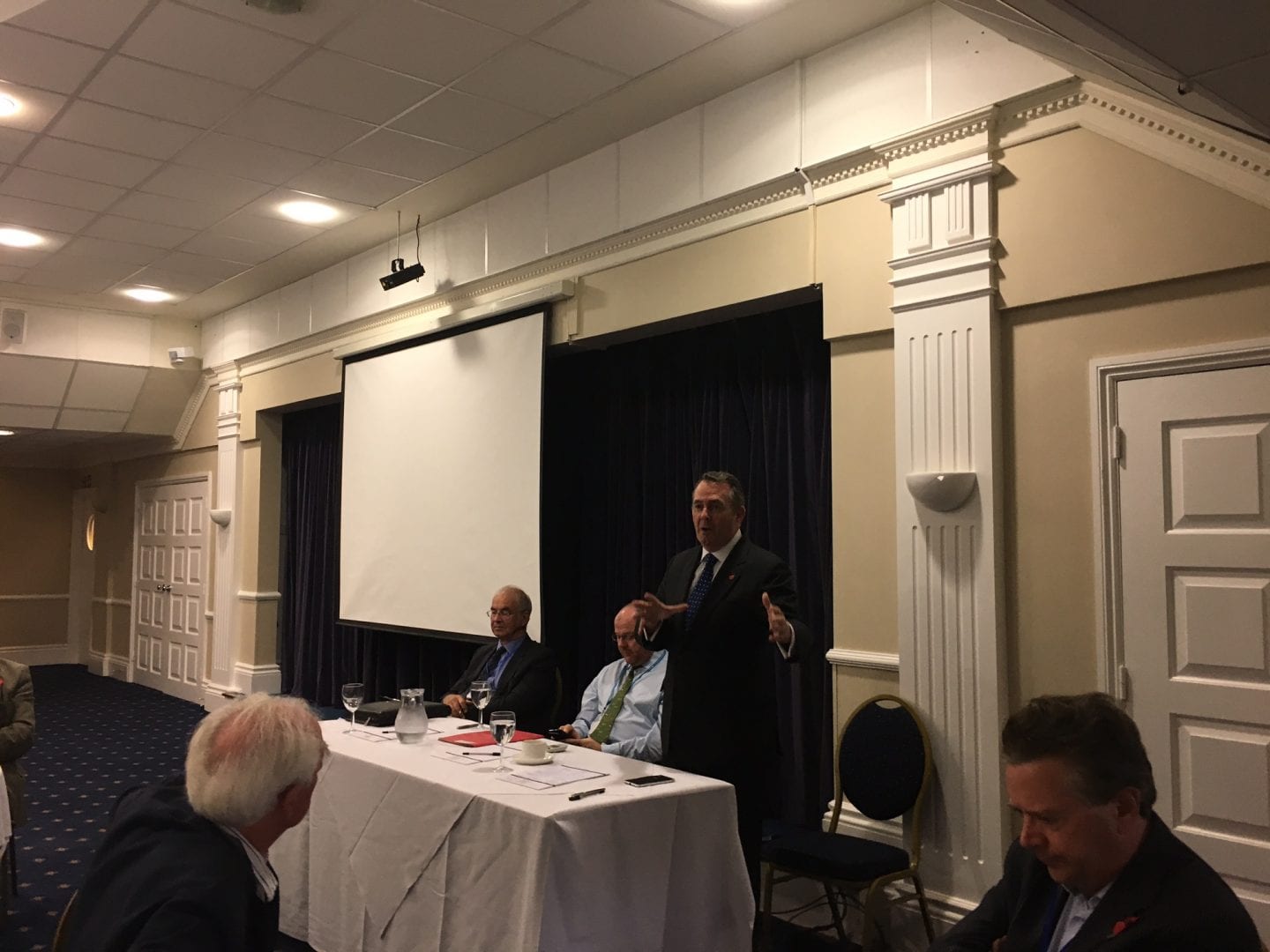 NEW GLOBAL TRADE COMMISSIONERS TO BE ANNOUNCED
Dr Liam Fox warning of the dangers of a Labour Government
Dr Liam Fox was the lead speaker at a major Conservative Policy Forum conference at Exeter's Golf and Country Club – where he updated members from local Constituency Associations from across the South West – on the UK's international trading matters.
His upbeat presentation in front of 80 Tory activists talked about new government policy initiatives that will be announced by Ministers in London over the coming weeks. But also warned, that if Brexit doesn't happen voters will feel 'swindled and cheated' and will see 'an explosion in mainstream politics the country has never seen', he said.
Dr Fox is no 'man of solitude' but a seasoned trade negotiator on a global mission and uplifted many of the delegates who run local businesses in the South West, said Dr Suzanne Sparrow, Principal of Plymouth's oldest English Language School.
Dr Sparrow, said: "The UK's Educational services sector is worth over £17 billion per year compared to the services sector that is worth £14 billion annually, and finally, our educational sector is being taken seriously by boffins in Whitehall."
Dr Suzanne Sparrow at the CPF Conference in Exeter 
The International Trade Secretary said when he first set up his Department over a year ago he was one of only 5, and now 3,450 civil servants are running the DIT, and the most dynamic Departments in Whitehall, he said.
"My Department has three functions improving the UK's business performance in the global market place, investment opportunities, and trade policies – especially taking up our independent role again, at the World Trade Organisation."
"The Government will soon announce 9 Trade Commissioners that will work across the globe and will be autonomous and not micro-managed by politicians."
"We are looking to revolutionise the way we trade abroad, and using our seat at the WTO to open up free trading conditions and arrangements across the globe."
"Our agenda next year is to promote South West and UK agriculture through a number of trade missions – especially in Hong Kong that will see the biggest British presence in a generation."
Dr Liam Fox addressing Tory activists from across the South West
Dr Fox said an announcement will soon be made about an Open Skies Agreement with the US and 'global interests and common sense' will be the deciding factor that will triumph over Brexit negotiations with the EU, he said.
Meanwhile, George Freeman MP, Chair of Teresa May's Policy Board and Conservative Party Forum, said at the South West Forum: "We need a 'New Deal' for the younger generation of this country. We also should also look at 'Mutualisation' of rail services in the South West where stations, rail tracks, trains are all owned by the same company. The shareholders are the customers and the public," he said.
Other speakers at the CPF Conference included George Freeman MP, Ashley Fox MEP, Johnny Mercer MP, Councillor Peter Wharf, Alex Stevens NFU, David Cuthbert, Captain James Portus, and Chairman Alistair McLaren.