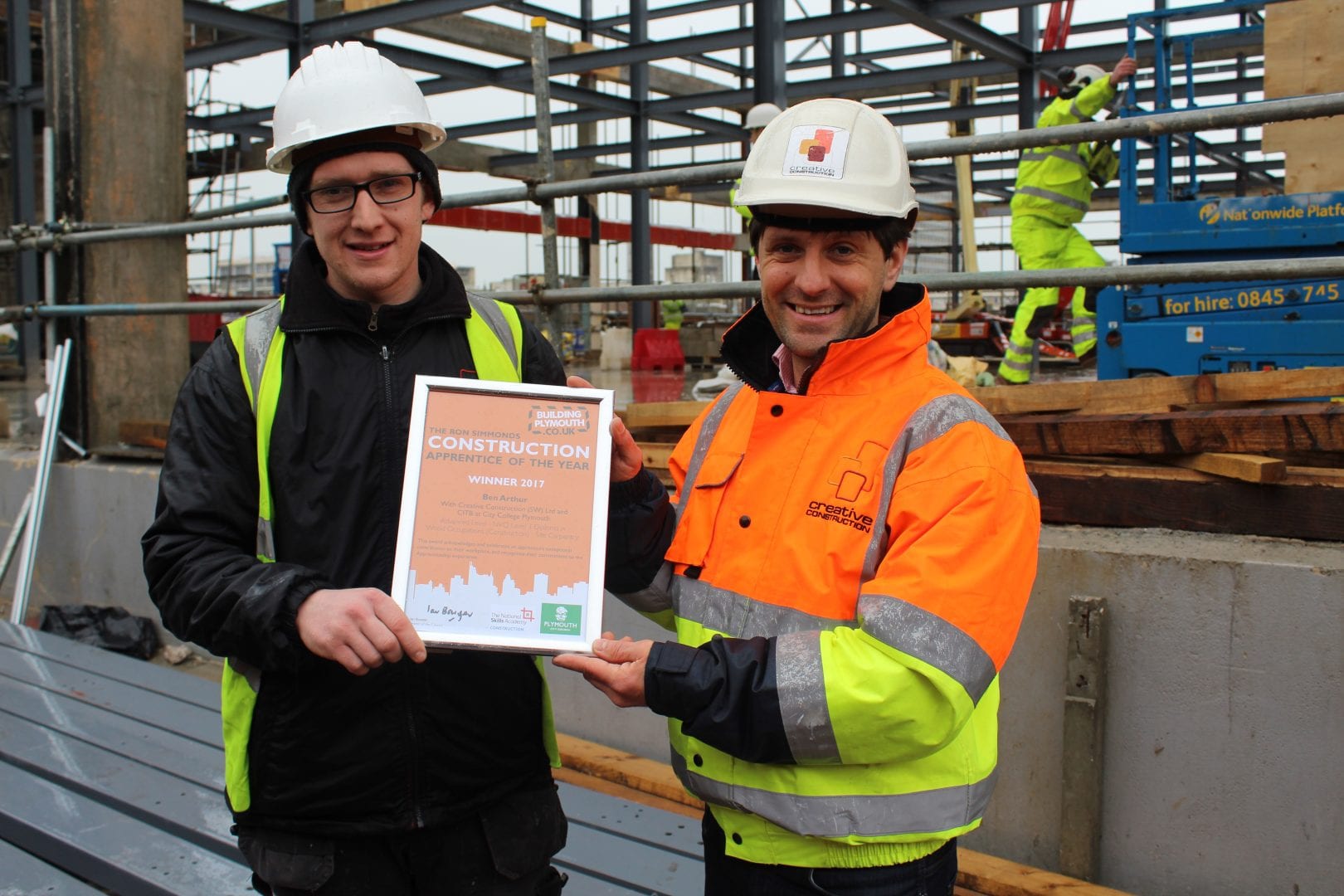 INSPIRING APPRENTICE WINS TOP CONSTRUCTION AWARD
WORK is in full swing on a major new development at the former Comet store in Mayflower Street – with plans for commercial spaces on the ground and lower ground floors, and luxury new student apartments.
A crane was recently moved onto site to erect the new steel frame which has been installed on the lower levels of the existing building utilising the original piles and substructure to minimise the disruption to local businesses and residents', said managing director Joe Taylor of Creative Construction, the designated Plymouth contractor for the project and based near Central Park.
Mr Taylor, said: "Intensive work has started with the outside building being finished in May – and fully completed in Sept 2017."
"We are very excited about Aspire House which is an exciting development, and will be a prominent landmark rejuvenating a run-down part of the city and most importantly creating jobs."
Richard Pillar, director of Pillar Land Securities, said: "The world of of higher education is changing in Plymouth, so too are the needs of the city's student demographic, and with it a new era in spacious student accommodation will be offered by Aspire Student Living."
"All the apartments will come beautifully furnished with spacious storage solutions, super fast broadband, and offering high class features and a fantastic service, and Aspire House will provide a home environment to succeed in."
"Outstanding achievement demands exceptional accommodation," added Mr Pillar.
The design of the six-floor development is a first in the city, and catering for foreign students who have the cash to spend on-upmarket student accommodation where security, location, and strategically in walking distance to the university is an important factor, said Rich Smith, architect at Hand Drawn Home Ltd.
"Local businesses in Mayflower Street are being supported with hoarding adverts and road signage to minimise disruption during the road closure period," said Mr Smith.
Meanwhile, 27-year-old, carpentry apprentice Ben Arthur, was named top Construction Apprentice of the Year at a ceremony in the Plymouth Guildhall that celebrated the achievements of local apprenticeships across the city.
Mr Arthur, said: "It is a great honour and achievement in winning the award and recognises the value of apprenticeships with joined up partnership working to support people like me including; City College, Plymouth City Council, the National Skills Academy and local companies coming together," said Mr Arthur.
5 apprentices are working at our Mayflower Street development and we are very keen in supporting the council's employment and skills plan, but especially proud of Ben in winning the Construction Apprentice of the Year Award, added Mr Taylor.
(Picture: Ben Arthur and Joe Taylor)