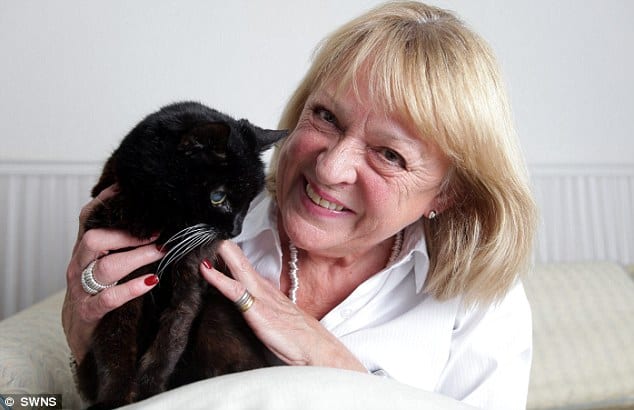 HOME STAY PROVIDER CELEBRATING ANOTHER PURR-FECT ANNIVERSARY
HOME STAY PROVIDER CELEBRATING ANOTHER PURR-FECT ANNIVERSARY
REMEMBER Jill Neale and her 26-year-old black cat called Lewis that made history – in being Britain's oldest domestic feline.
Jill and Lewis became media celebrities, and especially Lewis's sheer stubbornness and ferocious streak in carrying on against all the odds.
Well..67-year-old, Miss Neal from Stonehouse, and a medical secretary, is celebrating another anniversary and over 30 years in providing Home Stay accommodation for international students learning at the Suzanne Sparrow Language School.
Miss Neale, said: "I still miss Lewis, but she had a great life, and made history in being Britain's oldest feline, a record I'm very proud of."
"I've loved the fun and buzz of hosting hundreds of students' in my home over the last 30 years, and made some very special friends."
One of her best friends is retired accounting and sales manager, 64-year-old Ryoko Yonehara, from Chiba, near Tokyo.
Ryoko Yonehara stayed with Jill over 25-years ago, when she studied in Plymouth at the Suzanne Sparrow Language School to improve her English language skills.
Miss Yonehara, said: "One of the most important ingredients when you study English in the UK is not only finding the right language school, but living with local home stay providers that support you while learning here."
"I had a great home environment, and I became close friends with Jill over the last 25 years, and she's visited me in Japan."
"I'm so happy to be visiting the Suzanne Sparrow Language School again, and meeting the team who do such a great job."
Miss Neale, added: "I would recommend to other local people to become Home Stay Providers, where you get amazing support from the school, and it's a great way of earning extra cash."
"But also meeting other cultures, and being part of a wider community and friendship network that stretches across the world."
Anyone looking for more information about being a Home Stay Provider can visit:  www.sparrow.co.uk

Jill and Lewis making feline history – picture courtesy of the Daily Mail
Jill Neale celebrating 30 years being a Home Stay Provider at the Suzanne Sparrow School with Ryoko Yonehara.