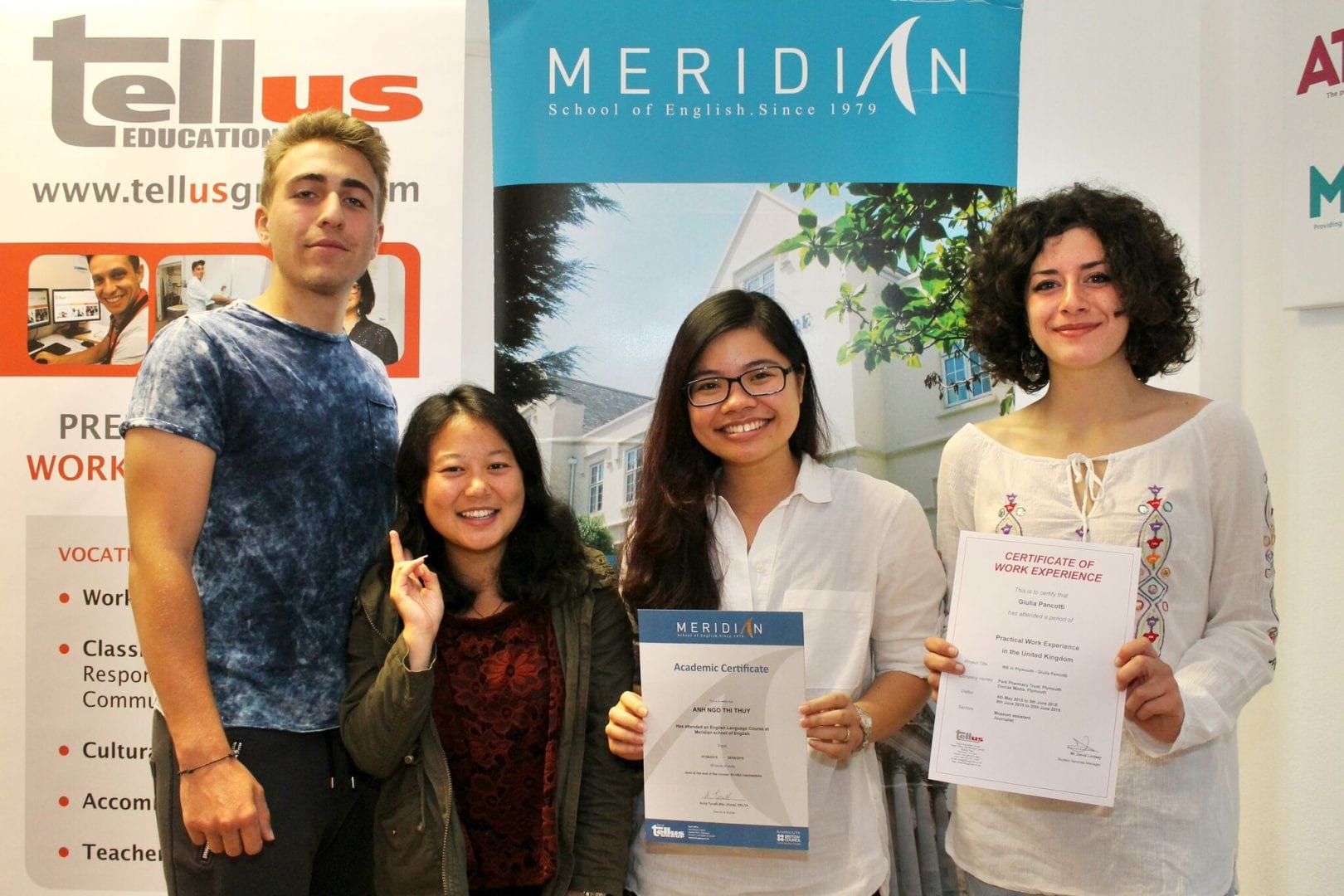 FOUR STUDENTS ON A GLOBAL MISSION
THOUSANDS of students pass through the doors of Tellus Education Group's language schools in Plymouth and Portsmouth every year – and everyone with individual stories to tell.
All are looking to improve their English language skills, and many are looking for work placement opportunities with local employers to gain those vital employability skills that will lead to job prospects back in their home countries.
Every other Friday international students attend well-choreographed certificate ceremonies where Tellus Education Group staff, teachers, and even senior managers – meet and greet learners who have completed their courses in the UK and receive well-earned certificates.
The classes of 2015, are culturally diverse with language students coming from Vietnam and China, with work placement learners from Italy, showing off with pride their completed certificate awards.
26-year-old, Anh Thi Thuy, from Hanoi in North Vietnam, said: "I've spent one month in Plymouth improving my English skills at Meridian that will support my job role back in Vietnam where I'm a Lecturer at the Water Resources University."
"The University was set up in 1959, and offers undergraduate programmes in water resource management, dam construction, irrigation, flood control, environment management, civil construction, and hydro-electricity."
"I've enjoyed my time in Plymouth and I especially love the weather in the UK, and getting to understand the British culture and way of life, people, and the food was very different."
23-year-old, Jing Xi Rui, from the city of Gejiu in China, said: "I've been studying at the Meridian School of English for two months and the courses in Plymouth have definitely supported my English language skills."
"Gejiu is a county-level city and the former capital of Honghe prefecture, in the Yunnan Province in China, and the site of the country's largest tin deposits and its main industry is mining."
"I'm deciding at the moment whether to stay on in Plymouth or go to Australia to finish off my University Education and I'm looking for a career in Business, and a big fan of Yoga."
20-year-old, Italian student Giulia Pancotti from Rome on work placement with Tellus College, said: "I had a great few weeks in Plymouth working with PR agency Dorcas Media where I attended a business show, VIP lunch, had tea with the Lord Mayor, lunch at the Council House, and supported a business delegation visiting from Leipzig in Germany."
"I was very tearful when I left the UK, and made some great new friends in Plymouth, and gained valuable work experience in the local media, and definitely improved my English language skills and looking forward to the future with more confidence."
18-year-old Riccardo Ribelli, also from Rome, agreed: "I'm on work placement at Glamour Icons a Plymouth based fashion company that is celebrating three years in business this year and I'm working on their marketing activities online."
Patriciah Petrie, who owns Glamour Icons, said: "I've had many students from Tellus College over the last 2 years who have benefitted by business, but the students also benefit through improved English language and work skills to add on their CV's."
Kevin Kelway, director of Dorcas Media, added: "For the last two years over 25 students from across Europe have worked at my agency, and all have benefitted from the work placement opportunities and supported my business too."
Tellus Education Group has been successfully providing quality educational services since 2003, and through Meridian School of English since 1979.
Picture left to right: Riccardo Ribelli, Jing Xi Rui, Anh Thi Thuy, and Giulia Pancotti.