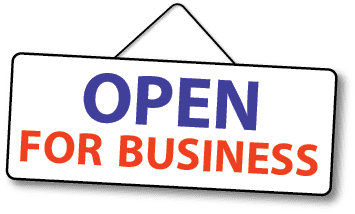 COUNTDOWN TO NORTH DEVON'S OPEN FOR BUSINESS SHOW
Chair of COMBEBusiness Robert Zarywacz and Kyle Chivers of Firethought
OVER 40 businesses from across Devon are taking part in Ilfracombe's fifth annual  'Open For Business' exhibition and conference showcase – taking place at the town's iconic Landmark Theatre, on Friday 2nd March 2018.
The event is being organised by COMBEbusiness that is affiliated to the Devon Chamber of Commerce, and works with companies in the Combe Martin, Ilfracombe, and Woolacombe areas of North Devon.
The chairman of COMBEBusines, Robert Zarywacz, said: "We are living in a changing business world and Brexit may seem a remote process in North Devon, but leaving the EU will have a major impact on our local economy."
"We need to make sure our businesses stay resilient and strong, and adapt to the new challenges, changes, and opportunities that will affect our supply chains, employment, and services sectors."
"Businesses from across North Devon historically punch above our weight, and being affiliated to the Devon Chamber of Commerce is the start of a proactive approach where we want to be recognised for our enterprise, and business contribution in the county."
"The scale of business activity in North Devon is a surprise to those who don't know the area," said Mr Zarywacz.
"While we have many independent retailers and hospitality companies, there are also business-to-business service providers and large manufacturers, with many exporting millions of pounds in the global market place,' he said.
22-year-old, young entrepreneur Kyle Chivers, director of Ilfracombe based Firethought, said: "I set up my media and production business in 2014 from my own bedroom and now work with clients across Europe."
"I'm a director with COMBEBusiness and keen to encourage other young people to look at self-employment opportunities."
"We don't just want to encourage accountants and lawyers, but open up our business organisation to all companies that could be ideas, new start-ups, existing, and large firms."
"I'm very proud that I've recently won a Princes Trust Award recognising my skills and enterprise in business, and it's very important to encourage more young people to look at setting up their own companies with the right mentoring, financial, and business support," said Mr Chivers.
COMBEBusiness was set up in 2011 with over 80 businesses now members, and the organisation became an affiliated member of the Devon Chamber of Commerce in 2016.
Anyone looking for more information about the 'Open For Business' showcase or COMBEBusiness can view:  www.combebusiness.co.uk
Link to Firethought:  www.firethought.net