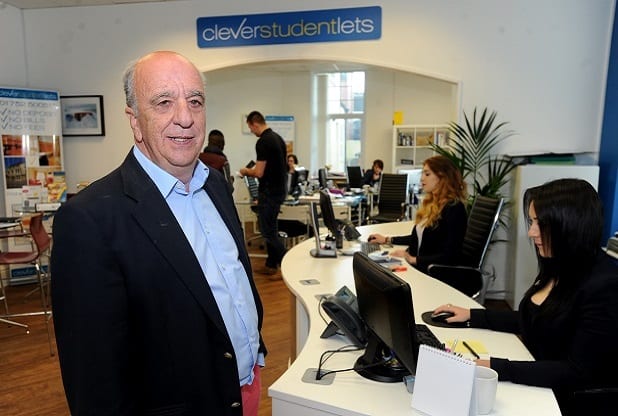 Could Plymouth's student towers become high-rise 'ghettos'?
Could Plymouth's student towers become high-rise 'ghettos'?
By WILLIAM TELFORD, Business Editor, The Herald – EXCLUSIVE
HIGH_RISE PLANS: Clockwise from top left: the Good Companions site, Beckley Court, Crescent Point, Mayflower House site
Plymouth's student skyscrapers could become high-rise "ghettos", a leading city businessman warns.
Henry Hutchins, chief executive of Plymouth's Clever Student Lets, says developers who are creating huge towers are "getting it wrong".
He said students prefer "homely two bedroom flats" to high-rise living.
Mr Hutchins likened the building of student skyscrapers to the UK's post-war council flat tower-block splurge, many of which were later condemned.
He said: "Big developments are not beautiful."
And he added: "Our customers do not want to be crammed into these blocks and in my opinion we are in danger of creating the ghettos of tomorrow."
Mr Hutchins did not name individual projects, but construction work is currently at the halfway point at £29.5 million Becklely Court, in Armada Way.
When completed in Autumn 2017, the 23-storey building will contain 507 student rooms, and will be the tallest building south of Bristol.
In early 2017, nearby Mayflower House is due to be demolished to make way for 17-floors of student flats. 
An application to turn the former Good Companions bar, in Mayflower Street, into a 15-storey student block was submitted to Plymouth City Council in March 2016.
And work has already begun on the £16 million Crescent Point project – headed by Plymouth's Trathen Properties and Shropshire-based J-Ross Developments Ltd – which will reach 14 stories at its highest point, on land behind Plymouth Athenaeum and the Reel Cinema.
FOURTEEN FLOORS: Crescent Point could look like thisMr Hutchins said: "We are back in the 1960s with high-rise developments for students, and we know what happened with the social experiment of high-rise council housing that failed.
"Planners and developers should think again at big student block developments."
Mr Hutchins' firm has become a huge success, and a leading player, in the city's student letting market.
In September 2015 he said CSL's turnover was at £10million and anticipated it would hit £20million.
ALL GOOD?: This block is planned for the Good Companions site
The company was named the UK's best student lettings agency provider at the Sunday Times Lettings Agency Awards in London, in 2016, shortly after expanding into new offices at the historic Sherwell Church, on the campus of Plymouth University.
The company finds homes for students, including a growing number from overseas, and among buildings it looks after are the more low-rise Tamar House and Royal building developments, at St Andrew's Cross, and Gull House, at Mutley.
Mr Hutchins said developments such as these, and lower-rise blocks such as those planned in North Hill and on Mayflower Street's former Comet store, are more student friendly.
LET IT BE: Henry Hutchins is boss at Clever Student Lets
He said modern students should be housed in buildings "with restaurants, gyms, study areas, fast broadband, student communities, and where the welfare of our customers are crucial".
He said: ""As the city's ever changing skyline develops into ever bigger student building blocks, many developers are getting it wrong and what our customers are looking for is homely two bedroom flats.
"It almost feels like deja vu, watching planners rubber stamping development after development and no one listening to the students themselves and what they are telling our marketing and sales teams they want small friendly environments."
ACE BASE: Inside Clever Student Lets' North Hill base
Neil Howells, senior development manager with Threesixty Developments, the student flats specialist which owns the Beckley Court site, last week told The Herald the firm was not fazed by a plethora of other student accommodation built, or being built, around Plymouth.
"There are plans for Plymouth University to expand," Mr Howells said. "And we are confident this building will be very popular.
"Being a landmark building will work in its favour.
"Success increases competition," he added. "When we started this project we were aware of other accommodation available.
"And anyone that has come in after us has assessed the market and seen there is still demand.
"We're confident there is plenty of demand for accommodation.
"And the more that is built, the standards have to rise. You have to be one step ahead."
http://www.plymouthherald.co.uk/could-plymouth-8217-s-student-towers-become-high-rise-8216-ghettos-8217/story-29667341-detail/story.html
(Publicity generated by Dorcas Media)