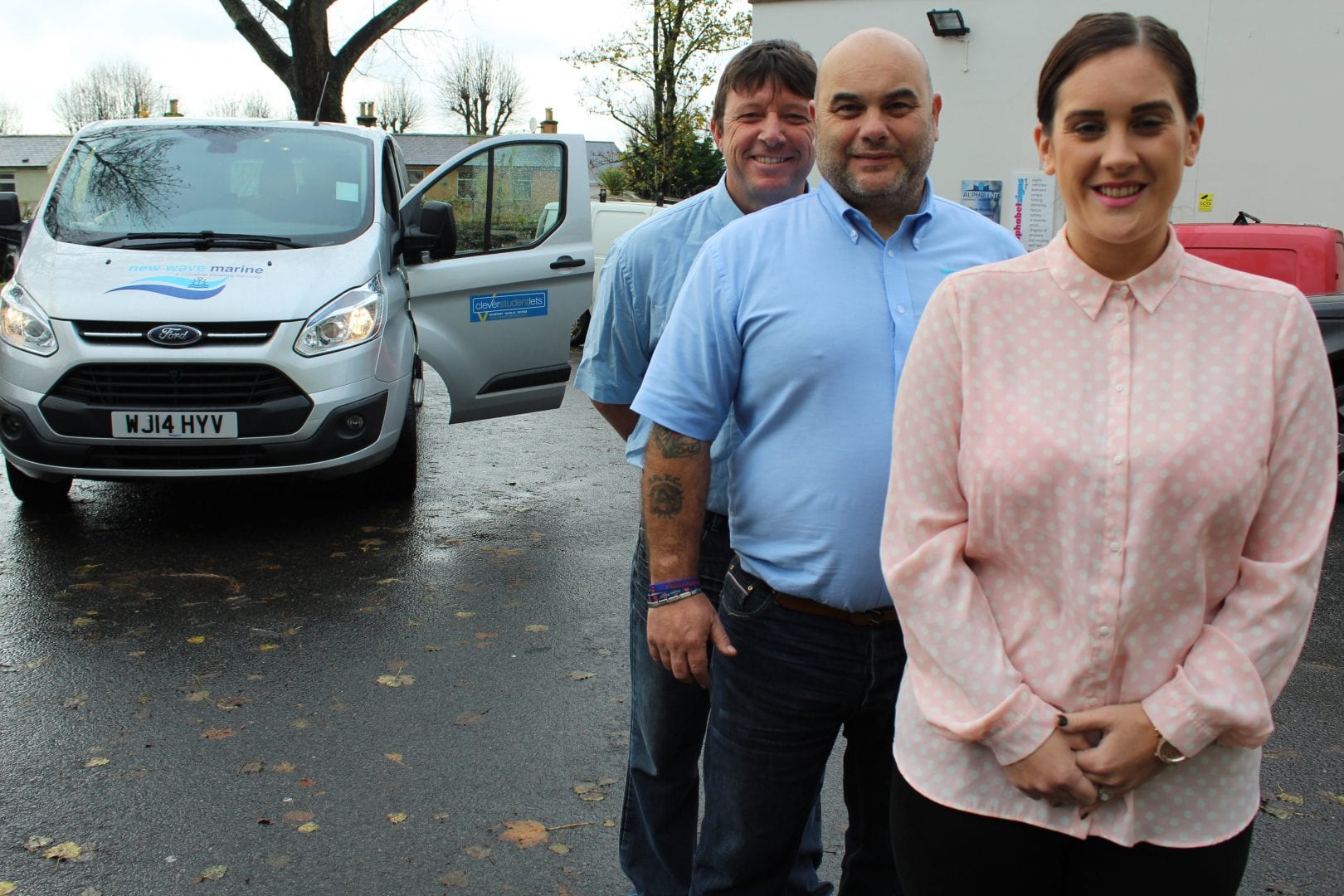 CLEVER NEW WAVE OF BUSINESS GROWTH IN THE CITY
CLEVER NEW WAVE OF BUSINESS GROWTH IN THE CITY
Picture left to right: Stuart Lawson CSL, Jason Parsons, Michaela Parsons, and Darren Negus of New Wave Marine
CITY cleaning specialists New Wave Marine, based at Scott Business Park, has just been awarded its first major domestic cleaning contract with Clever Student Lets.
New Wave Marine's expansion from industrial into domestic cleaning will be looking after 105 of our properties across the city, said Stuart Lawson, maintenance manager at CSL.
New Wave Marine, which provides confined-space tank cleaning services for marine vessels and on-land sites, moved to Plymouth in 2014, after securing a grant of £60,550 from the GAIN Growth Fund towards a £177,230 to help pay for equipment and fund growth plans.
Darren Negus, industrial services manager for New Wave Marine, said: "We are very pleased to have been awarded the contract with Clever Student Lets to deliver its domestic cleaning, and just purchased a new state-of-the-art van to deliver our services."
"We are looking to expand in the domestic cleaning sector and grow our team of staff from 15 at the present."
Meanwhile Clever Student Lets have just invested £15K on a FixFlo maintenance app that makes reporting repairs easy for its customers.
Mr Lawson, said: "The maintenance picture app is so easy to use, and no more confusing and lengthy phone calls."
"Our customers use the mobile, or PC, tablets to report any issues that provides guidance and faster fixes in our properties across the city."
"The FixFlo communication is a first for a student accommodation provider in Plymouth with easy to use features that benefits the thousands of our customers around the city," said Mr Lawson.
Clever Student Lets was awarded the Sunday Times UK's best student lettings agency of the year award in London earlier this year.
 Henry Hutchins, chief executive of CSL, added: "It's been a year of expansion for CSL, who moved into new offices at the Sherwell Church, on the campus of the University of Plymouth."
"We are Plymouth's leading student accommodation provider and launched a new Chinese website that is drawing in new business opportunities from the Far East since the Brexit referendum vote on the 23 June,' said Mr Hutchins.