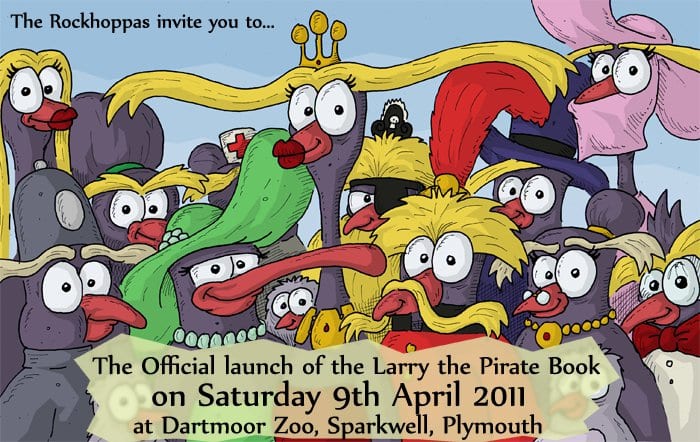 CELEBRATING 8 YEARS OF THE PLYMOUTH ROCKHOPPAS
Angie the chocolate Mermaid                  The Mysterious Drokes
Evil Eric                                                                     Ebeneezer the hunk
Granny Rockhoppas                                                        Juanita 
The Pink Rockhoppas                                          Lady Agnes                       Nelly Rocket 
Larry the Pirate                                            Fingers                                Colonel Pip
Matilda the maid                                                 Posh Aunt Edna
Tommy the sailor                   Queen Alicia                       Mr G the cat 
The Rockhoppas went to Dartmoor Zoo
The Rockhoppas visited Gibraltar                    Queen Alicia on a state visit to the Rock
Grumpy Lighthouse is the eyes and ears of the rockhoppas
CELEBRATING 8 YEARS OF MY CHILDREN'S BOOK THE ROCKHOPPAS
The Rockhoppas have been living in the South Atlantic seas for over half a million years – until the start of global warming.
The colony was rescued on a floating iceberg by the crew of HMS Woof and came to live on Drake's Island near Plymouth.
Queen Alicia comes from the oldest royal dynasty in the world and the leader of the Rockhoppas.
The Rockhoppas were granted a special pardon from the Queen so they can live in Devon until the end of time.
Who is standing in their dastardly way?
Juanita the rat, and her devil alliance of baddies including Evil Eric, Henry the Leopard Seal, and especially Angie the Chocolate Mermaid.
Book written by Kevin Kelway, illustrations by Stuart McGhee 
(The Rockhoppas was serialised in the Plymouth Herald for 2 years).