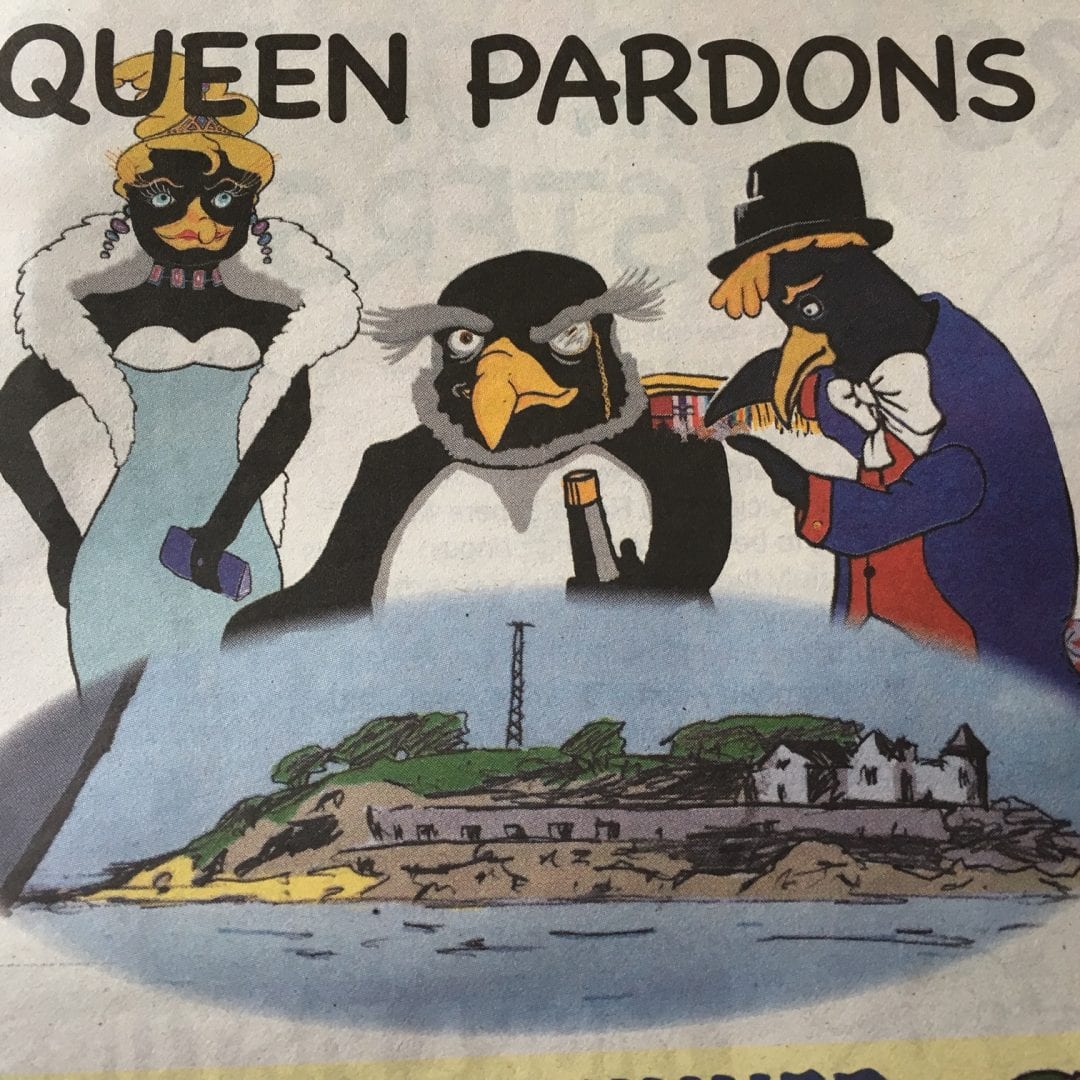 CELEBRATING 45 YEARS OF THE ROCKHOPPAS
 SOME OF THE FIRST EARLY IMAGES OF QUEEN ALICIA
OVER 45 years ago a colony of birds hitched a ride from the South Atlantic aboard a Devonport warship after they were rescued from an iceberg by the Royal Marines.
The creatures' arrival on Drake's Island had ruffled a few feathers on the Devon island – especially Angie the Chocolate Mermaid and the Drokes.
Author Kevin Kelway created the Rockhoppas based on stories he invented as a boy growing up on the historic Barbican.
The characters were serialised in the Herald for 2 years and featured in a book.
 EBENEEZER HUNK AT TINSIDE POOL
Queen Alicia, Posh Edna, Colonel Pip, Fingers, Ethel and the rest of the Rockhoppas were characters from my family and old community on the Barbican growing up, he said.
"Edna is based on my Auntie Edna who could be very aloof with her nose in the air and her shoulders back and always talked to me very sternly.
 Old Lil
"Ethel was based on another auntie who used to drink in the Dolphin pub. Colonel Pip is based on my grandfather who fought in both world wars."
In his youth, Kevin built stories around the Rockhoppas which he used to read to his younger sister, Sarah.
Later he expanded the characters and developed a whole history for the colony, which is led by Queen Alicia and features mischievous babies the Waddling Puffs.
 The mysterious Drokes
The Rockhoppas moved from the South Atlantic because of global warming in the 1970s," said Kevin.
"They were are adrift on an iceberg and was rescued by Royal Marines on HMS Woof.
"The Rockhoppas get their name because they like to hop over rocks and live by the shoreline.
 Agnes the maid
"They come to Plymouth on HMS Woof, a Royal Navy ship, and set up home on Drake's Island, which they rename Rockhoppas' Island."
The penguins' fictional impact on Plymouth is almost matched by their Kevin's own profile in the city over the years.
 Dummy paper created in 2006
He was constantly in the headlines as a campaigner on issues ranging from issues on the Barbican to campaigns to save Drake's Reservoir, Charles Church,  and restoring Tinside Lido.
Mr Kelway set up Dorcas Media 4 years ago with his long term partner Ian Fleming. The independent PR agency works with clients across the globe.
 Royal Pardon
 Early images
The characters were changed from Rockhopper in 2006, to Rockhoppas in 2010, where they later went on to feature in the Plymouth Herald and a book.
The RockhoppasFactory will again be relaunched in the near future.