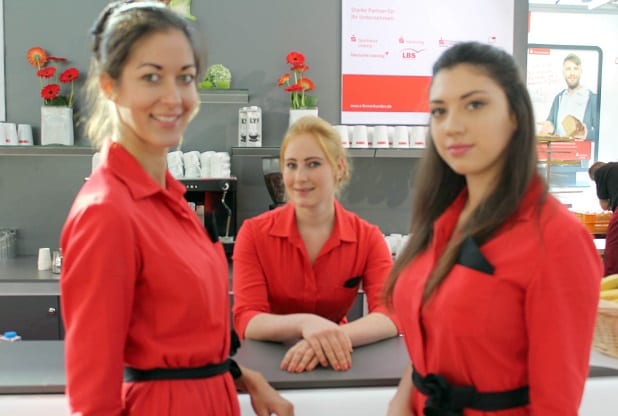 CALLS FOR CLOSER GERMAN LINKS WITH THE SOUTH WEST REGION
Dorcas Media was recently invited to take part in one of Germany's biggest business events at the MUT (Mittelständischer Unternehmertag) in Leipzig.
The trade fair attracted over 4,000 business leaders from across Germany, with over 120 large and small businesses exhibiting at the Leipzig Congress Centre.
Kevin Kelway, director of Dorcas Media, said: "Part of Dorcas Media's business and development plans are to work with partners and clients across Europe, and the MUT Show had an international focus from the UK, Austria, and China."
"Dorcas Media is looking to work with the Devon Chamber of Commerce in developing a German Club and taking a larger business group to Leipzig next year – especially with Brexit looming."
The Plymouth Herald's Business Editor William Telford also took part in the Leipzig show, that included visits to other businesses and organisations, that came two and a half years since the paper was invited by Invest Region Leipzig to report on business growth in the city, a rapidly developing regional industrial centre will many parallels with Plymouth – which was also organised by Dorcas Media.
Kevin Kelway, director of Dorcas Media at the MUT Show
Helen Stohr and Michael Korner of Invest Region Leipzig, looking to develop further links with the SW region 
Dorcas Media was invited to the famous Red Bull Leipzig team stadium for a tour and meet some of the press and marketing team.
Leipzig were only formed in 2009, and have made a meteoric rise through the leagues with energy drink giant Red Bull's backing.
Biotechnology and biomedicine have a high priority in the city of Leipzig. Dorcas Media was invited to 'The BIO CITY'. The area has created an exemplary biotechnology-biomedical centre in which business, science and research live and work with one another.
Basislager Co-working is an exciting new initiative in the centre of Leipzig supporting new startups, business entrepreneurs and freelancers in Leipzig. The venture is run by a German newspaper that is diversifying due to a falling readership.
Businesses enjoy the benefits of a modern, flexible and dynamic communal offices, and network with likeminded business founders. But especially get regular coverage in the local newspaper through designated start up business pages.
Dorcas Media has been working with ICC Sprachinstitut over the last 3 years who have organised two German business delegations to Plymouth.
James Parsons director of ICC Sprachinstitut, and Andre Hemker of Wordcraft Rethink Translation
More info@  https://www.facebook.com/storytellingthruPR/  For a FREE media consultation on how PR can benefit your business give us a call:  Tel 07435 745458 or email  kevin@dorcasmedia.com