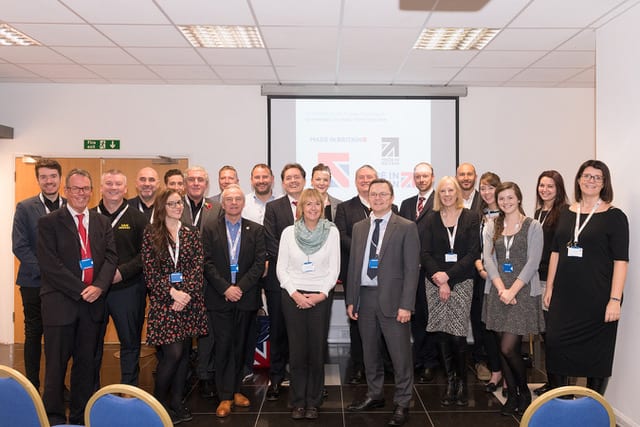 BRITISH CERAMIC TILE: HOSTS MADE IN BRITAIN EVENT
Over 40 local manufacturers attended a first ever workshop event hosted by British Ceramic Tile (BCT) under the Made in Britain banner, at it's Heathfield site near Newton Abbot recently.
The Made in Britain organisation aims to bring together South West and British manufacturers to promote sales, marketing, PR, and especially exporting under its registered marque.
Tony Taylor, chief executive of (BCT) and the UK's biggest manufacturer of glass and ceramic tiles, said: "The Made in Britain organisation is a natural fit with our British heritage and our passion for UK manufacturing."
"Our product portfolio is designed and made in Britain, and it is the grassroots approach that resonates so well with our customers," he said.
"Made in Britain is a fantastic champion for the manufacturing community, and we're delighted we could host an event for other members from across the county."
John Pearce, chief executive, of Made in Britain, said: "Devon is definitely growing on the international stage as companies like (BCT) plan for up to 20% uplift in sales at home and overseas."
"Most of the delegates who attended the workshop sessions were from across Devon from door security systems (Lorient), to premium wood burners (Dean Forge), and exquisite hand finished glassware (Darlington)."
"Our mission is to keep all Made in Britain events focused entirely on sales and hosted by our members," he said.
George Cowcher, chief executive of the Devon Chamber of Commerce, added: "Devon has a lot to be proud of in manufacturing, and now is the perfect time for our local manufacturers to unite with Made in Britain, and turn county manufacturers into national and international successes."
British Ceramic Tile has three sites across the UK including London, Yorkshire, and its Heathfield site near Newton Abbot, and offers design-led wall and floor tiles, and exports to markets in the USA, Canada, Middle East, and around Europe.