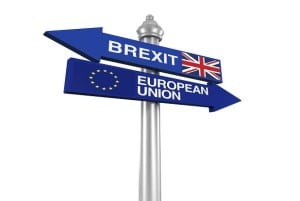 BREXIT BINGO – DEVON WINNERS & LOSERS
SIGN OF THE TIMES: Brexit is causing uncertainty in the Plymouth economy, but some businesses are confident
By William Telford, Business Editor, Herald
The UK's decision to leave the European Union has been blamed for everything from companies going bust to the price of KitKat going up.
But while World War III or global recession have not been triggered, as some people warned, events associated with the June 23 referendum have undoubtedly impacted on the economy.
The main effect has been on sterling, with the pound hitting a 31-year low against the US dollar and a six-year low against the euro, in October 2016.
This has made imports more expansive, but has had the opposite effect on overseas sales.
The other issue facing Plymouth businesses is uncertainty, with many troubled by what sort of Brexit Theresa May's Tory Government will pursue.
Many want to retain access to the European single market, and continue to enjoy freedom of movement for EU workers.
So who is profiting and who is worried since the Brexit vote?
Here is a summary of what firms have said:
Michael Spiers – The Plymouth-headquartered jeweller's managing director Keith White said the business has seen no drop in consumer spending post-referendum. He said the UK has a "bright future" outside the EU.
Suzanne Sparrow Plymouth Language School – Company founder Dr Suzanne Sparrow (above) said the exchange rate had favoured the business, but she is concerned about whether EU funding for European, particularly French, students will be slashed once the UK leaves the union.
Meridian School of English – Leaving the EU would seriously threaten the South West's £77 million English language teaching sector and could even lead to schools closing, Parrish Robinson (above), director of sales at the Plymouth-based firm, said. He said there is already evidence uncertainty caused by the referendum is causing foreign students to head for countries such as Canada, Australia and the Republic of Ireland.
Clever Student Lets – Company boss Henry Hutchins said following the Brexit vote the firm had been asked to find accommodation for 100 Far East students suddenly opting to study in Plymouth due to favourable exchange rates. With students paying up to four months rent in advance, it meant CSL would see an additional £500,000 of income and was considering bringing expansion plans forward from 2018 to 2017.
Curvy Birdie Golf Wear – Golfer Kathy Fox, owner of the Plymouth online clothing retailer, said she was "positive about post-Brexit opportunities" and confident the UK relationships with the EU will settle down and is focusing on developing online retail sales in the North American market.
Audax Global Solutions – The Stonehouse-based digital technology firm (bosses Mike Pitt, left, and Adam Liardet are above) received 772,000 euros from the EU to develop high-tech security scanners just as the referendum took place. But the firm said the UK can still flourish outside the EU and such grants will still be available post-Brexit. It also offered to loan body-worn cameras to foreign-owned businesses so they can record incidents of racial abuse against staff.
(Publicity generated by Dorcas Media)