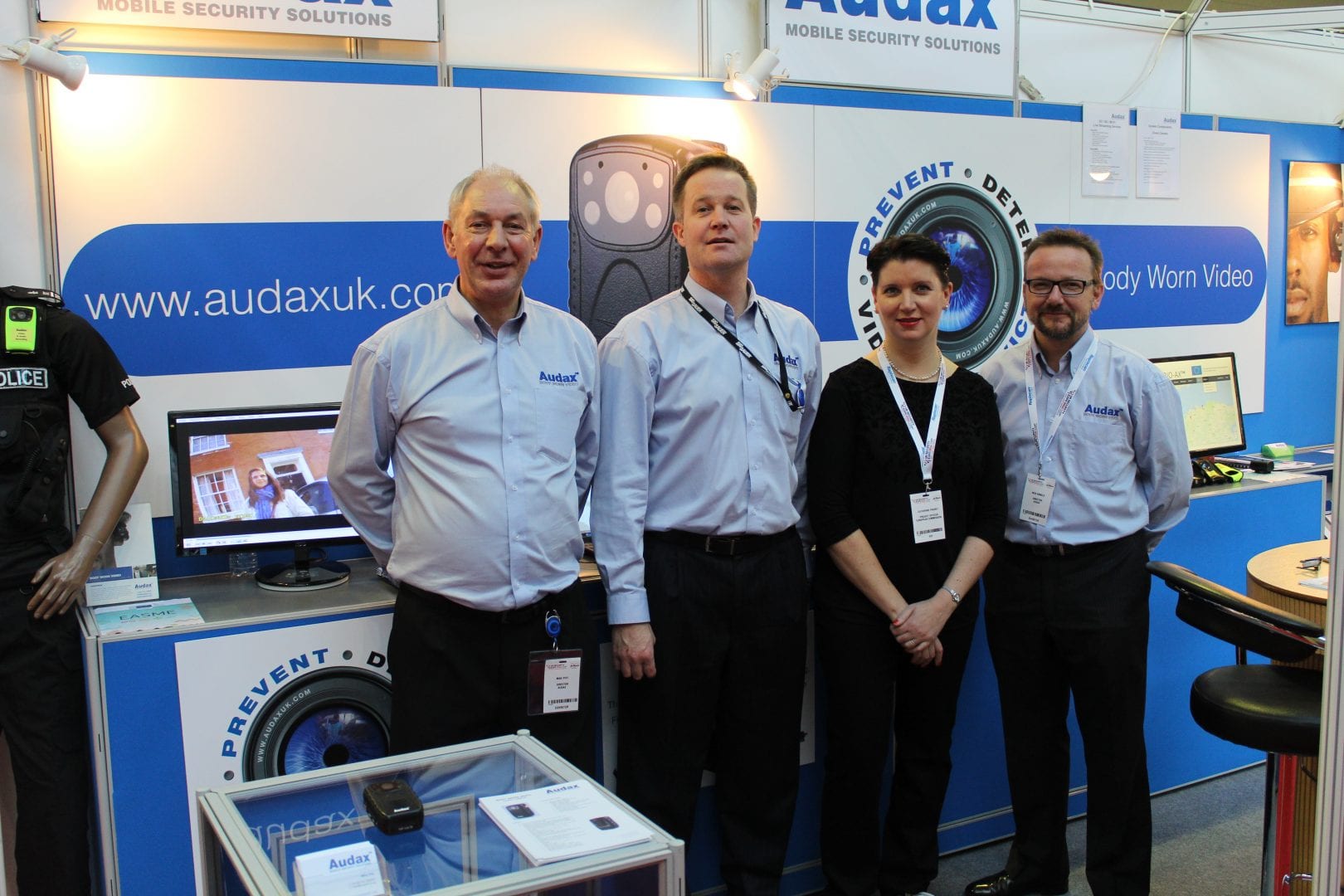 AUDAX ON THE GLOBAL SECURITY STAGE
Picture left to right: Mike Pitt, Adam Liardet, and Nick Arnold
OVER 8,000 people visited Europe's top security expo event at London's Olympia, where Plymouth based Audax Global Solutions showcased its Body Worn Video Cameras, and 'Bio-AX' technology.
Audax recently secured 772,000 euros from the European Union's Horizon 2020 SME Instrument programme to fund innovation to develop a new body worn camera, said Audax Director Adam Liardet.
Mr Liardet, said: "Thousands of global security end users visited the show and it was a very successful two days for Audax."
"Police and security delegations from Argentina, France, Holland, and The UK visited our stand to find out more about our Body Worn Video Cameras, and 'BIO-AX' technology."
"Our devices can be used to check people, baggage, and vehicles at ports and airports, protecting critical infrastructure with live stream video to control rooms," said Mr Liardet.
Catherine Pouret, Project Officer at the EASME (Executive Agency for the SMEs) based at the EU Commission in Brussels, said: "Audax is one of our top EU Security project champions, and we are very pleased with the project progress , and its pioneering technology on show in London."
"Audax is creating a unique, wearable biometric camera for security and law enforcement purposes."
"Its Body Worn Video System can screen people, vehicles and bags with high accuracy and transmit the data to central services via the LTE network used by the emergency services."
"The encrypted and secure recordings can then be used as admissible evidence in court should they be required."
"My job working with Audax includes mentoring and business support, so the Plymouth based company becomes a world class market-leader."
"The SME Instrument is part of the Horizon 2020 programme, and we're investing 26 million euros in 82 security projects that is structured in phases until 2020, and in 2017, we will invest 14,7million euros in 75 projects," said Ms Pouret.
UK Minister for Defence and security Ben Wallace MP opened the UK show, and delivered a keynote address, and visited many of the 200 exhibitors at the Olympia Exhibition Centre.
Admiral Lord West, Chairman of UK security Expo, said: "As the security world grapples with the fallout from Brexit and the intentions of President elect Donald Trump, UK Security provides a forum to debate the key issues in what has arguably been the most volatile 12 months in global politics."
200 businesses exhibited at the London security event that included conferences, presentations, workshops, live demonstrations, and security personnel from across the globe, added Mr Liardet.
Audax Global Solutions was set up in 2004, and at the forefront of digital evidence gathering technology, and working in partnership with the Police, Emergency, and security industry across the world.
Anyone looking for more information can view: www.audaxuk.com or http://audaxsecurity.co.uk
https://www.youtube.com/watch?v=bBzCVvrfLpE   Video interview at the show with Adam Liardet and Catherine Pouret
https://www.youtube.com/watch?v=4mqLQM_LAe8  Video film of the stands at Olympia