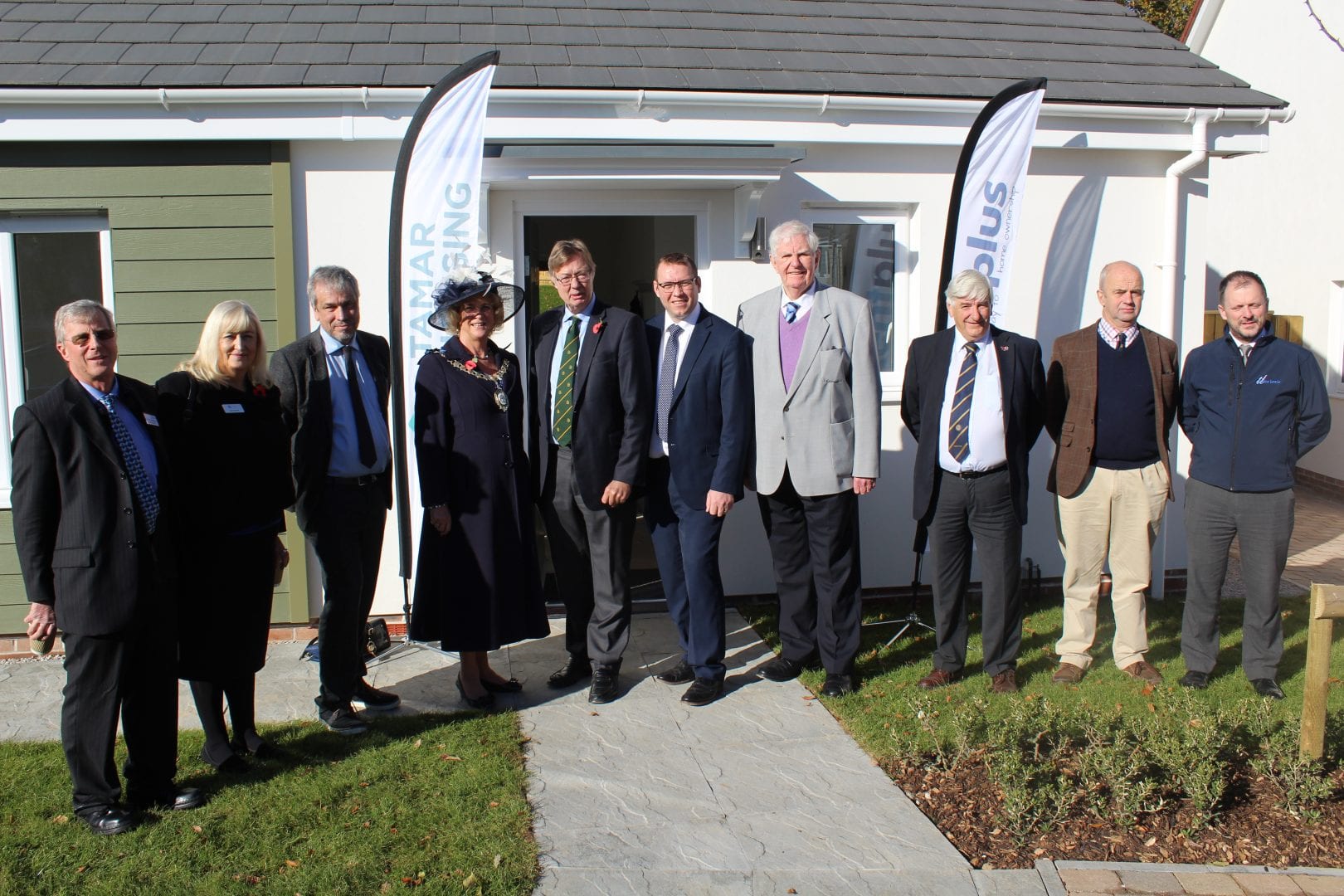 AFFORDABLE HOUSING IN SPARKWELL GETS THE VIP TOUCH
A new Rentplus affordable housing scheme in Sparkwell has been given the VIP seal of approval.
The official opening at Blacklands Close at Fairway Gardens, is on part of the former Welbeck Manor Sparkwell Golf Course, and developed by Blue Cedar Homes in partnership with Classic Builders.
Steve Collins, Chief Executive of Rentplus, said: "Our latest development in the South Hams in partnership with Tamar Housing, Sparkwell Parish and South Hams District Councils – underlines the local need for affordable homes in Plymouth and across the South West region," he said.
The new homes comprise a mix of properties, and marks Rentplus' second scheme in the South Hams. This latest development is part of our ambitious plans in delivering our unique housing model of over 5000 affordable homes across the country by 2020, said Mr Collins.
Eleven, of the twenty-three new properties in Sparkwell are affordable homes that includes houses and bungalows and 12 private sale homes.
The first Tamar Housing residents have been given their keys with the first Rentplus homes due to be occupied later this month, said Mr Collins.
25-year-old, single Mum Jessica Collins and her 4-month old baby are one of the first residents to move into Fairway Gardens.
Miss Collins, said: "I was born and brought up in the area and very excited that I'm getting the chance to rent in my own affordable home, and this is a dream come true – and I still can't believe it," she said.
Councillor Robert Steer, Chairman of the Development Management Committee at South Hams District Council, said: "I have three sons and two had to move away because of the lack of affordable housing in the area."
"The Fairway Gardens scheme is a showcase development that has attracted much interest from local authorities. If we are to keep our communities vibrant and sustain our local economy, we've got to support our youngsters in building more affordable homes like the Rentplus and Tamar Housing development in Sparkwell," he said.
Chief Executive of Tamar Housing, Julie Barnett, said: "Tamar Housing is delighted by this very high-quality housing scheme in Sparkwell. I was immensely proud of some of the new residents who attended the official launch at Fairway Gardens, and they got the chance to speak to council chiefs about the opportunity and need for more affordable housing across the South West region," she said.
Gary Streeter MP, said: "I was thrilled to attend the latest Rentplus and Tamar Housing development in Sparkwell that is spacious and beautiful. These affordable homes are giving young people the chance to live in communities they have grown up in. I'm looking forward in seeing more of these Rentplus projects rolled out across the country,' he said.
Guests attending the VIP launch included Conservative MP Gary Streeter, local councillors and officials from Sparkwell and South Hams District Councils, the Chair of Devon County Council Caroline Chugg, developers from Blue Cedar Homes, Rentplus and Tamar Housing bosses, and some of the new residents in Fairway Gardens scheme.