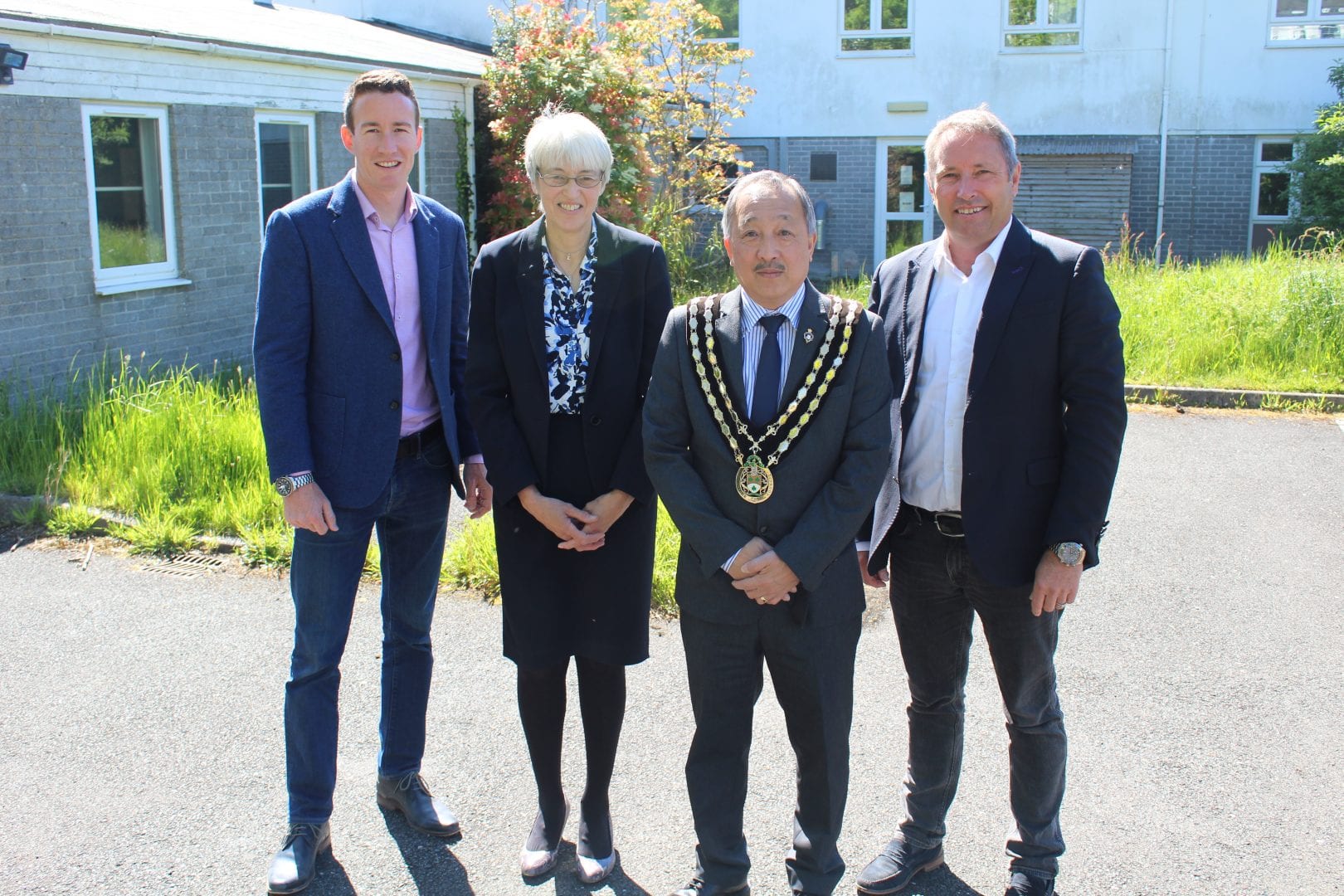 A DEVON HOUSING MODEL WITH A DIFFERENCE
Picture:  Craig Robinson, Lesley Hughes, Anthony Khong, and Richard Pillar
A visionary scheme to transform a derelict site in the heart of Ivybridge, at the former Butterpark care home, into a new 'intergenerational living model', is a first for the Devon town, and could be replicated in other parts of the UK, says property developer Richard Pillar.
Mr Pillar, of Pillar Land Securities, and founding director of Rentplus, said: "We are looking to deliver a new range of housing solutions at Butterpark that is an 'intergenerational living model' for young aspiring families and individuals who want to own their own home, and an older population looking to down-size and realise equity. Part of the site will be redeveloped and handed back to the Town Council, and will cater for young adults with modest learning difficulties looking to live independently." 
"This pioneering development will see affordable rent-to-buy housing from Rentplus for those local families struggling to get on the housing ladder without a deposit, but also tackling the important social issues of an ageing population – and dealing directly with loneliness and isolation."
  Richard Pillar of Pillar Land Securities
 "We are delighted to be working with Ivybridge Town Council in bringing together this ambitious and innovative housing strategy that could be replicated in other areas of the UK," said Mr Pillar.
 "Over the next few months we will be working up our plans, and then engaging with the local community through a public consultation process – to showcase the scheme for local people to make comments."
"None of this would have been possible without the energy and support of local councillors and staff, and making sure this development can serve the wider community in Ivybridge."
"In particular we'd like to thank Lesley Hughes, the town clerk, whose resolute determination to secure the site for the council has been unrelenting" added Mr Pillar.
Ivybridge town council bought the Butterpark Care Home last year from Devon County Council, with local council officers spending months in discussions with other local community organisations including the Dove Project and Brook Housing, said town clerk, Lesley Hughes. 
Mrs Lesley Hughes, said: "Town councillors were determined to continue a public service role for Butterpark also, and it had become clear that accommodation for people with learning disabilities was a local concern for families."
"The proposals from Pillar Land Securities and Rentplus, means vulnerable people will be accommodated in safe housing with secure tenancies, with excellent access to transport and services. We also welcomed the incorporation of the innovative rent-to-buy properties to help families get on the housing ladder in the town," she said.
Councillor Anthony Khong, and the Mayor of Ivybridge, said: "We are delighted that after a comprehensive procurement process that Pillar Land Securities has been appointed to develop the Butterpark site."
"The town council approved the bid unanimously and looking forward in working with the scheme developers."
"Butterpark was a local authority home that provided accommodation for our older residents', and it will once again from this project – be providing much needed homes in our community," said Councillor Khong. 
County councillor Roger Croad, added: "I believe that the Butterpark scheme represents the very best in partnership working with the county, district and town councils coming together with the third sector and private businesses, and creating a unique model and facility for Ivybridge," he said. 
Craig Robinson head of development for Pillar Land Securities, said: "We are very pleased to be selected as the developer for the redevelopment of Butterpark. Our proposal has been designed to provide an integrated mixed tenure development providing social care units, affordable rent-to-buy and build-to-rent homes. We look forward to working collaboratively with Ivybridge Town Council, key stakeholders, and the local community prior to submission of a planning application."
Steve Collins, chief executive of Rentplus, said: "We are delighted to be able to play our part in the delivery of this exciting 'intergenerational living model' development."
"Supporting local families into homeownership where they can rent at a discounted market rent for a period of time, and then purchase with the support of a gifted deposit – is ideally suited to a town such as Ivybridge."
"This will build on the hugely successful schemes recently delivered in the South Hams, including those at Wembury and those under construction at Sparkwell."
"We congratulate Debbie Holloway and Craig Robinson for another fine example of place-making by the Pillar Land Securities team," said Mr Collins.
Julie Barnett, chief executive of Tamar Housing, and the housing association founder partner of Rentplus, said: "Ivybridge is a perfect town to demonstrate why Rentplus has such an important role to play in the delivery of affordable rent to buy housing that is currently being rolled out across the Country."