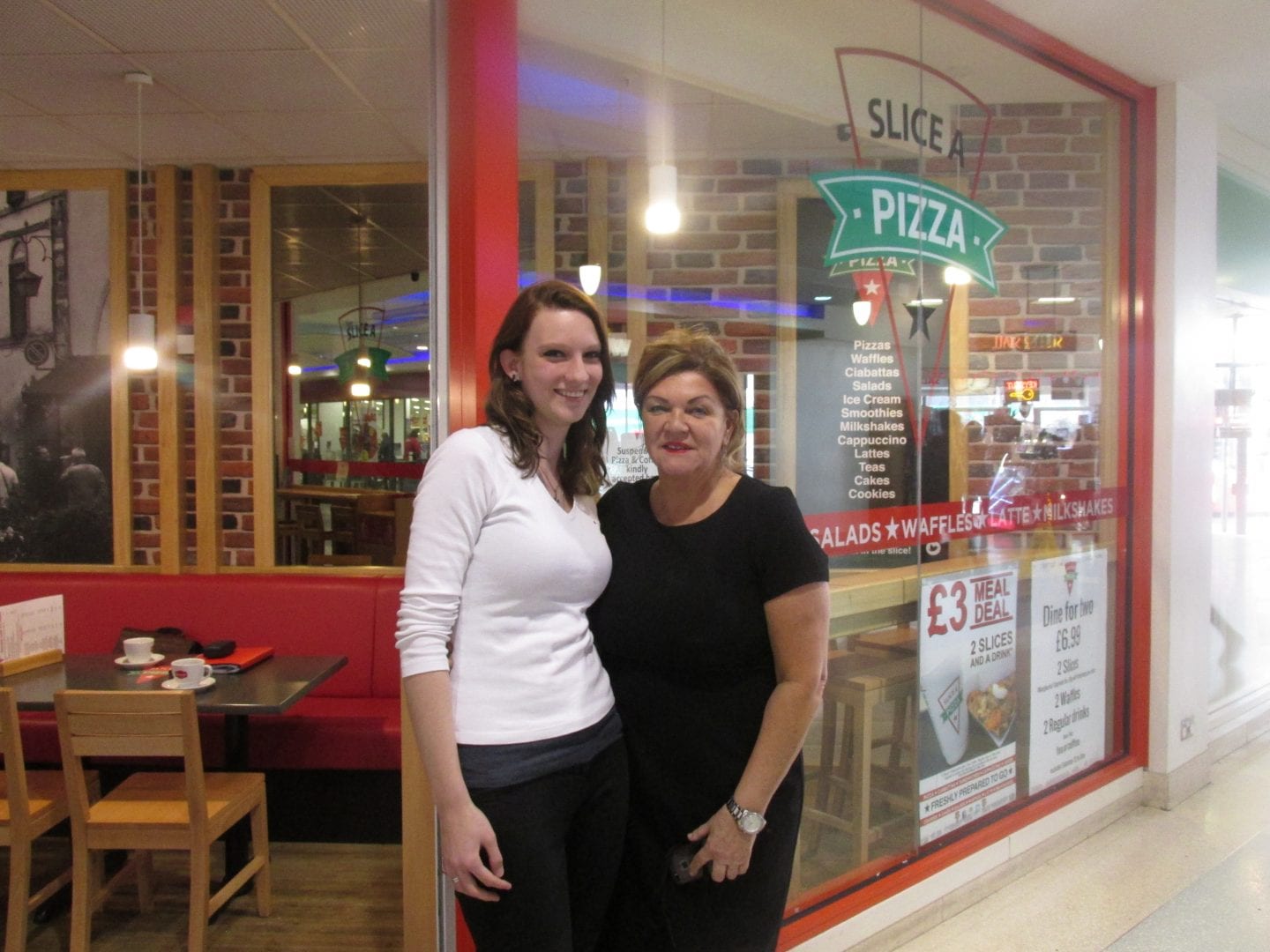 A BIG BITE OF SUCCESS AT SLICE A PIZZA
Plymouth businesswoman Lesley Bunce with Tellus College student Kristin Geike
CITY entrepreneur Lesley Bunce is celebrating a year in business and the success of 'Slice A Pizza' – that has taken a big slice out of the city's pizza market.
The restaurant is based in Plymouth's Armada centre, and fitted out in an Italian-American style, with red seats and a long bar, and the perfect Tellus College work experience, says German student 19-year-old Kristin Geike.
Ms Geike, said: "I have really enjoyed my four-week work placement at Slice A Pizza where I've worked front and back of the business."
"But I especially liked supporting the online marketing activities and making pizzas."
Lesley Bunce, said: "We have enjoyed having Kristin working with us and intend to develop a long-term relationship with Tellus College, and giving more interns the chance to work in our successful businesses."
Tellus College delivers work placement opportunities for international students learning English language courses under the EU's 14.7 billion-euro Erasmus+ programme.
Slice A Pizza have a choice of up to 12 different pizzas at any one time, with the pizza dough made by an Italian couple Barbara and Roberto of the Il Cappricio restaurant in Frankfort Gate.
The pizzas are cooked in electric ovens by Italian-trained staff, with some special topping ingredients being imported from Italy.
The restaurant offers ciabatta, boxed salads, waffles on a stick, ice cream, smoothies, hot and cold drinks, cakes, popcorn, fresh fruit and a Coke fountain.
Lesley Bunce says her other company Oggy Oggy will be moving into a prime town centre site very soon, and giving more opportunities for Tellus College interns to gain work placement opportunities – and support their English language and British cultural experiences."
Ms Bunce, added: "We believe in putting something back in the city and supporting local charities with our Suspended Pizza and Coffee and lay on meals at our tables."
Anyone interested can hashtag 'suspendedpizza' on social media and become one of our Slice A Pizza champions, said Ms Bunce.
Tellus Education Group has been successfully providing quality educational services in Plymouth and Portsmouth since 2003, and through the Meridian School of English since 1979.
Some of the many varieties of pizzas on offer
Supporting local charities at the heart of the city business ethos
Tellus College working with over 300 employers across the city