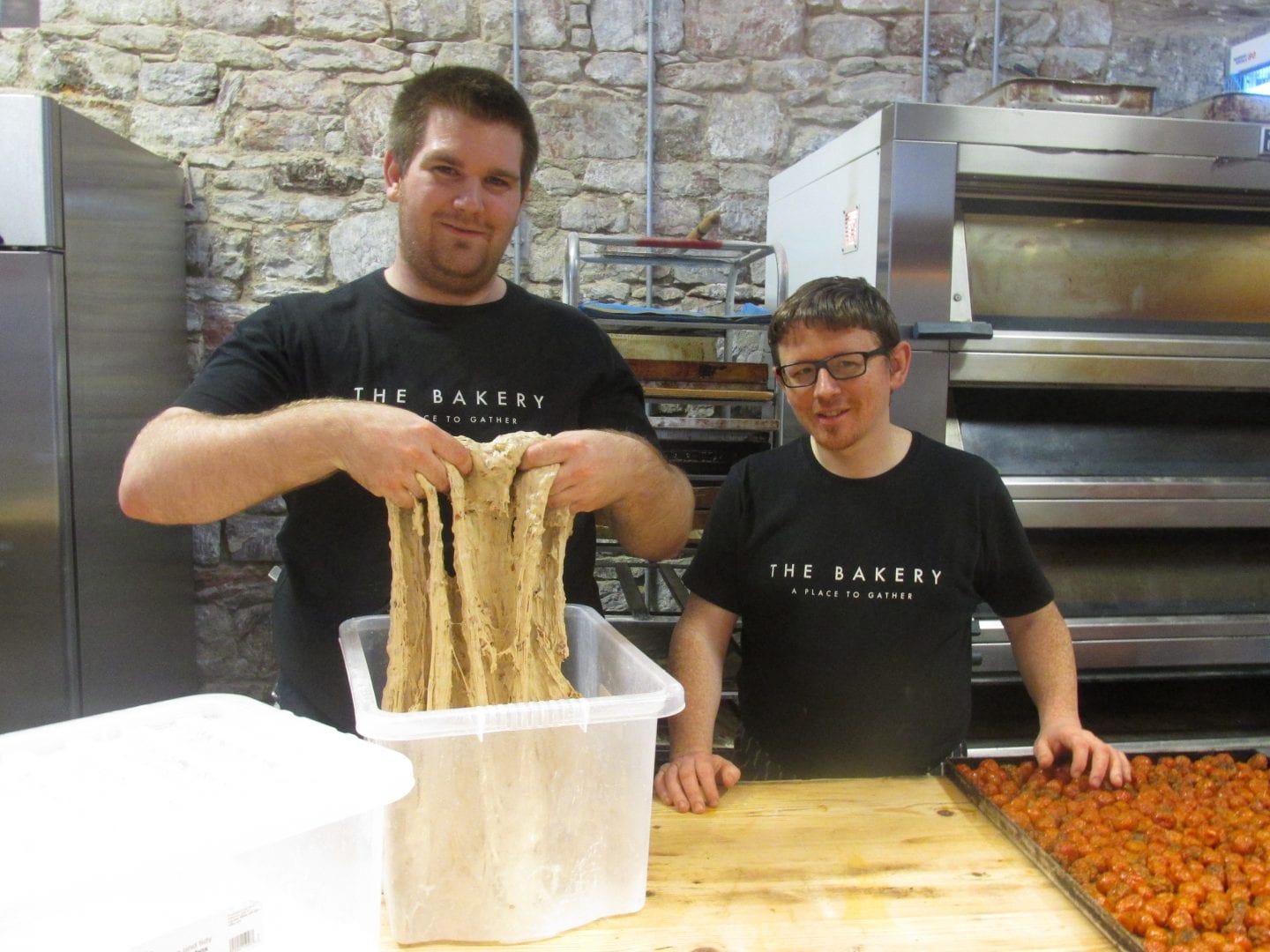 A BAKERY WITH A DIFFERENCE
25-year-old Craig Fellows the manager at Royal William Bakery showing a team member how to make bread
WHAT better experience for international students on work placement than to learn how to make bread – at one of the UK's magnificent industrial monuments at the Royal William Yard in Plymouth.
The Royal William Bakery is an artisan bakery tucked away in the old Slaughterhouse, at the Grade 1 listed Royal William Yard, in Stonehouse.
The yard was a major depot for the Royal Navy and was built in 1826, and occupies over 16 acres.
The historic yard was closed in 1992, and converted into up-market mixed use developments by Urban Splash.
25-year-old Craig Fellows the manager at Royal William Bakery, said: "We have been hosting European learners on work placements, and teaching them about our distinct brands, breads pastries, take-away produce, along with a variety of other products."
"We've been taking work placements from Tellus College for a while and our secret is great quality food, and focusing on excellent customer services."
"With communal tables, our bakery is made up of five brands including; breakfast, lunch, coffee beans and ground coffee that are blended and roasted exclusively for us at the Dorset Coffee Company, and our shop that sells a variety of regional products."
The students, mostly aged between 19 and 22, are learning under the 14.7billion-euro European Union-funded Erasmus+ programme.
Mr Fellows, said: "We've had some excellent students from Tellus College and we like the on-going support, check ups, clear lines of communications that supports our work placements and business while we host Euro students in our bakery."
The owners of Royal William Bakery are Town Mill Bakery that was set up in Lyme Regis over a decade ago with five bakeries across the region.
Tellus Education Group has been providing educational services since 2003, and through Meridian School of English since 1979