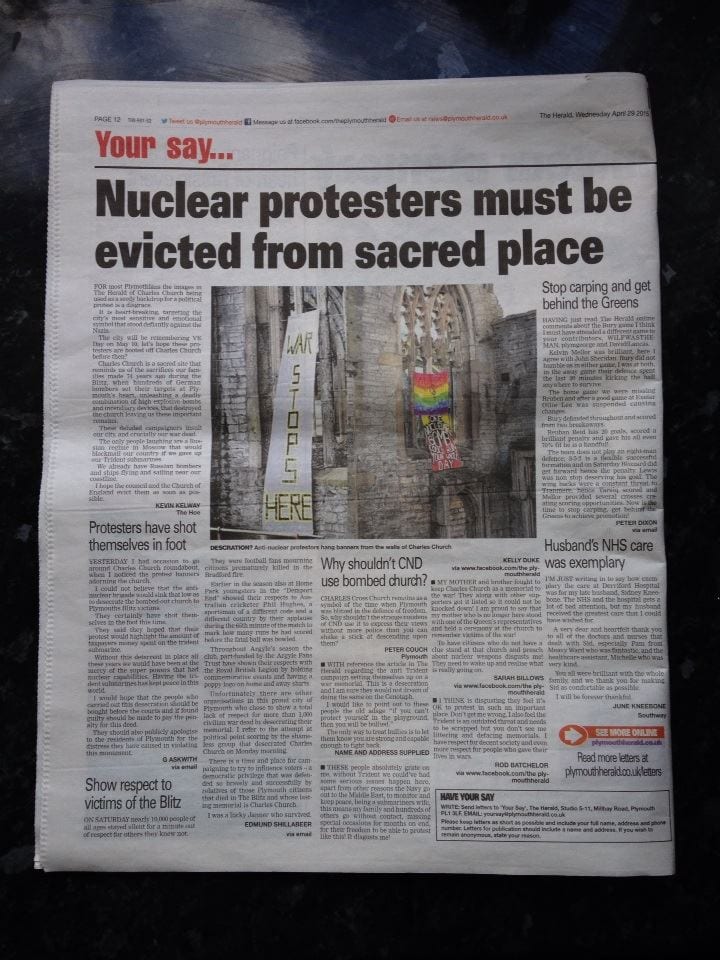 NUCLEAR PROTESTERS MUST BE EVICTED FROM SACRED PLACE
NUCLEAR PROTESTERS MUST BE EVICTED FROM SACRED PLACE
FOR most Plymothians the images in the Plymouth Herald of Charles Church being used has a seedy backdrop for a political protest is a disgrace.
It is heart breaking, targeting the city's most sensitive and emotional symbol that stood defiantly against the Nazis.
The city will be remembering VE Day on May 10th, lets hope these protesters are booted off Charles Church before then?
Charles Church is a sacred site that reminds us of the sacrifices our families made 74-years ago during the Blitz, where hundreds of German bombers set their targets at Plymouth's heart, unleashing a deadly combination of high explosive bombs and incendiary devices, that destroyed the Church leaving us these important remains.
These deluded campaigners insult our city, and crucially our war dead.
The only people laughing are a Russian regime in Moscow that would blackmail our country if we gave up our Trident submarines. We already have Russian bombers and ships flying and sailing near our coastline.
I hope the Council and the Church of England evict them as soon as possible.