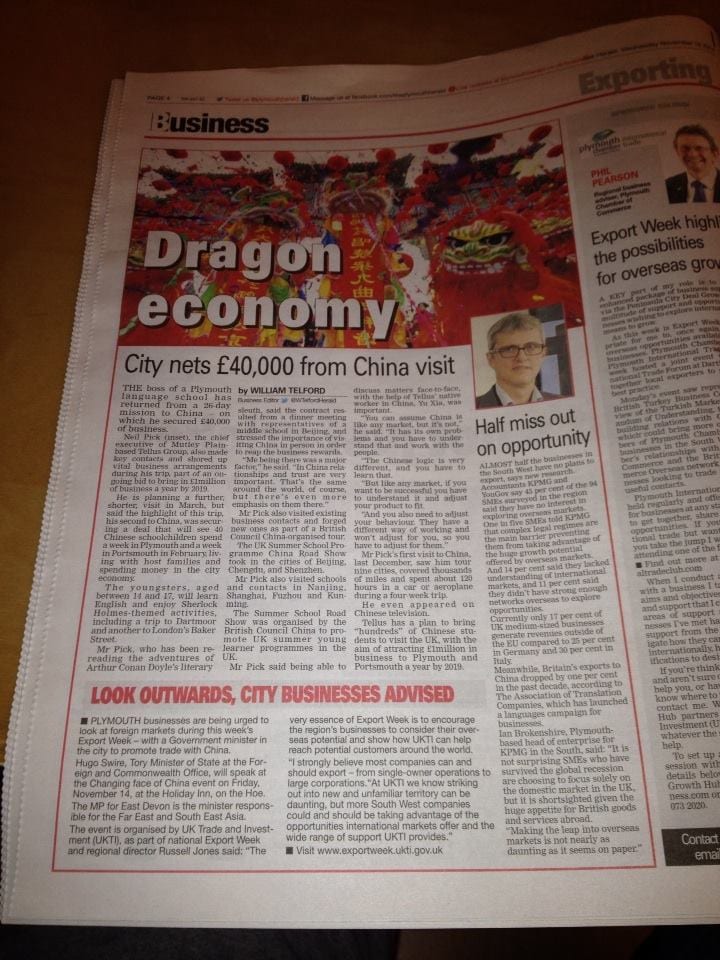 TELLUS GROUP NETS £40K OF CHINESE BUSINESS
Neil Pick, chief executive of Tellus Group
TELLUS GROUP NETS £40K OF NEW CHINESE BUSINESS
Tellus Group chief executive, Neil Pick will be a guest speaker at an export event at the Plymouth Holiday Inn this Friday where Foreign Office Minister Hugo Swire will be attending. The Minister will speak at the changing face of China, were trading links and potential business opportunities will be discussed. The showcase is being organised by the UK Trade and Investment (UKTI), as part of national Export Week.
Mr Pick recently visited China on a 26-day mission – on which he secured £40,000 of new business opportunities, and also made key contacts and shored up vital business arrangements during his successful trip, and part of an ongoing bid to bring in £1 million of new business a year by 2019, and featured in the Plymouth Herald today.
Neil Pick, said: "You can assume China is like any market, but its not. It has its own problems and you have to understand that and work on the ground with people. The Chinese logic is very different, and you have to learn that. But like any market, if you want to be successful you have to understand it and adjust your product to fit."
Tellus Group has been successfully providing quality educational services since 2003, and through Meridian School of English since 1979.
Mr Pick, added: "Tellus has a plan to bring hundreds of Chinese students to visit the UK, with the aim of attracting £1 million in business to Plymouth and Portsmouth a year by 2019."
For more details about Friday's event visit: www.exportweek.ukti.gov.uk
(Publicity generated by Dorcas Media).