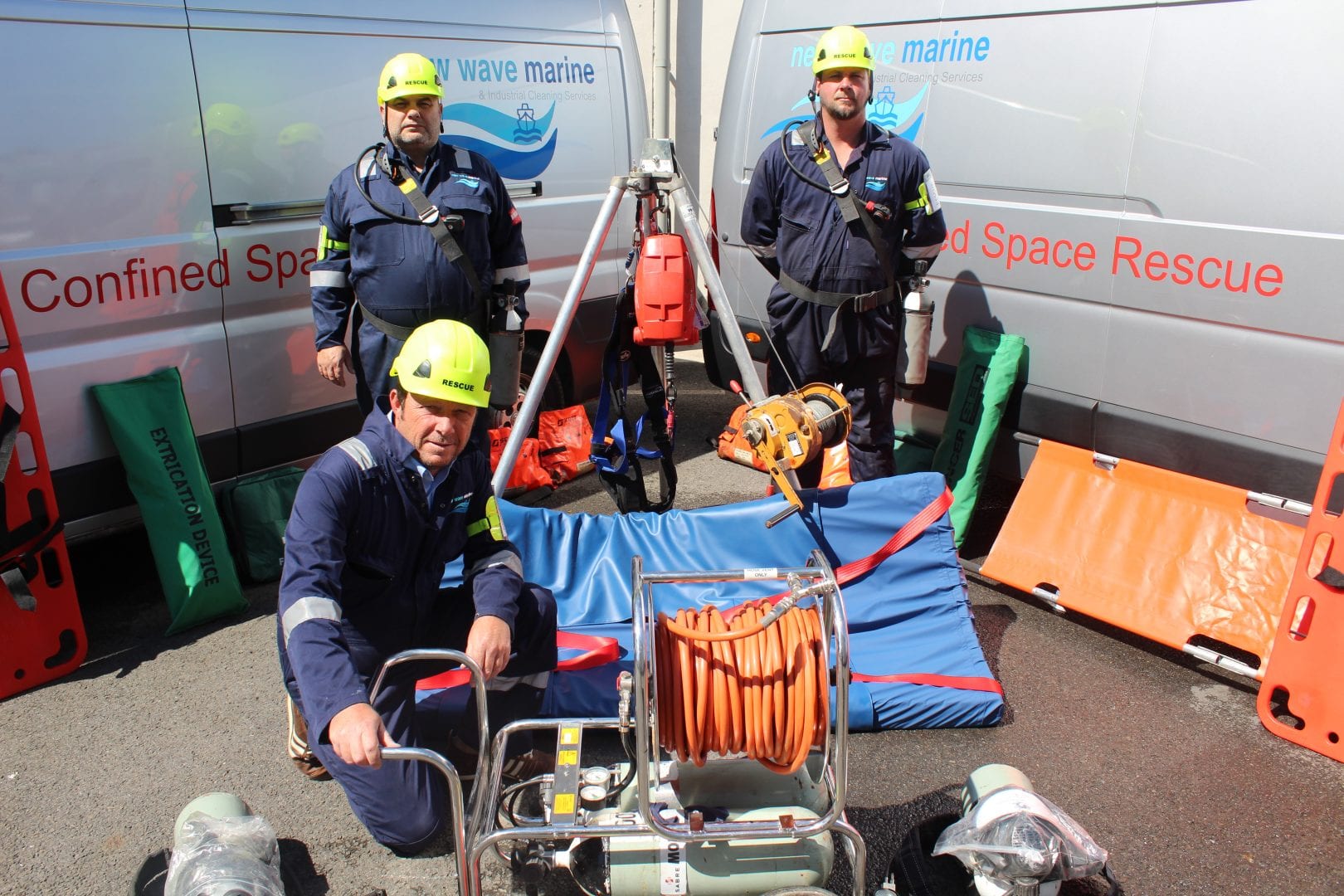 INTERNATIONAL LAUNCH – FOR NEW WAVE'S CONFINED SPACE UNIT
FAMILY business New Wave Marine Limited is going global – with it's new 'International Confined Space Rescue Unit' that is on call 24/7.
The team of 8 professionals are advanced trained and can work in any hostile environments, said Darren Negus, operations manager at New Wave Marine.
Mr Negus, said: "Our rescue team can work in many scenarios from evacuation of casualties using stretchers, searching and rigging of hauling systems, rescue from storage tanks above and below ground, sewers."
"Our team is trained to work in technically confined spaces and dangerous atmospheres that involves the rescue and recovery of victims trapped in a confined space or, in a place only accessible through confined spaces, such as underground vaults, storage silos, storage tanks," he said.
Jason Parsons, managing director of New Wave Marine Limited, said: "We are particularly interested in expanding (NWM) services across Europe and especially our International Confined Space Rescue services."
"Our company is growing and in negotiations at moving to a bigger site in Plymouth that will house our fleet of vehicles, domestic, waste management, and marine services teams," he said.
Meanwhile, the team at New Wave Marine are celebrating after winning the South & South West business of the Year Award 'People's Choice Award' in central London recently.
Over 200 family businesses of all sizes and sectors from across the UK attended the event, at the Mayfair Hotel in the heart of London.
Paul Andrews, founder and managing director of family Business United, said: "we are delighted to celebrate the vital contribution that family businesses make in the South West and contribute to the local economy."
"We had a diverse selection of entries from around the country, and the innovation, investment, passion, and pride are evident and was on show at the London award ceremony."
"Family firms have much to celebrate and that it continues to support many families and the communities in which they operate," said Mr Andrews. 
Anyone looking for more info about New Wave Marine can view its online web portal: www.newwavemarine.co.uk