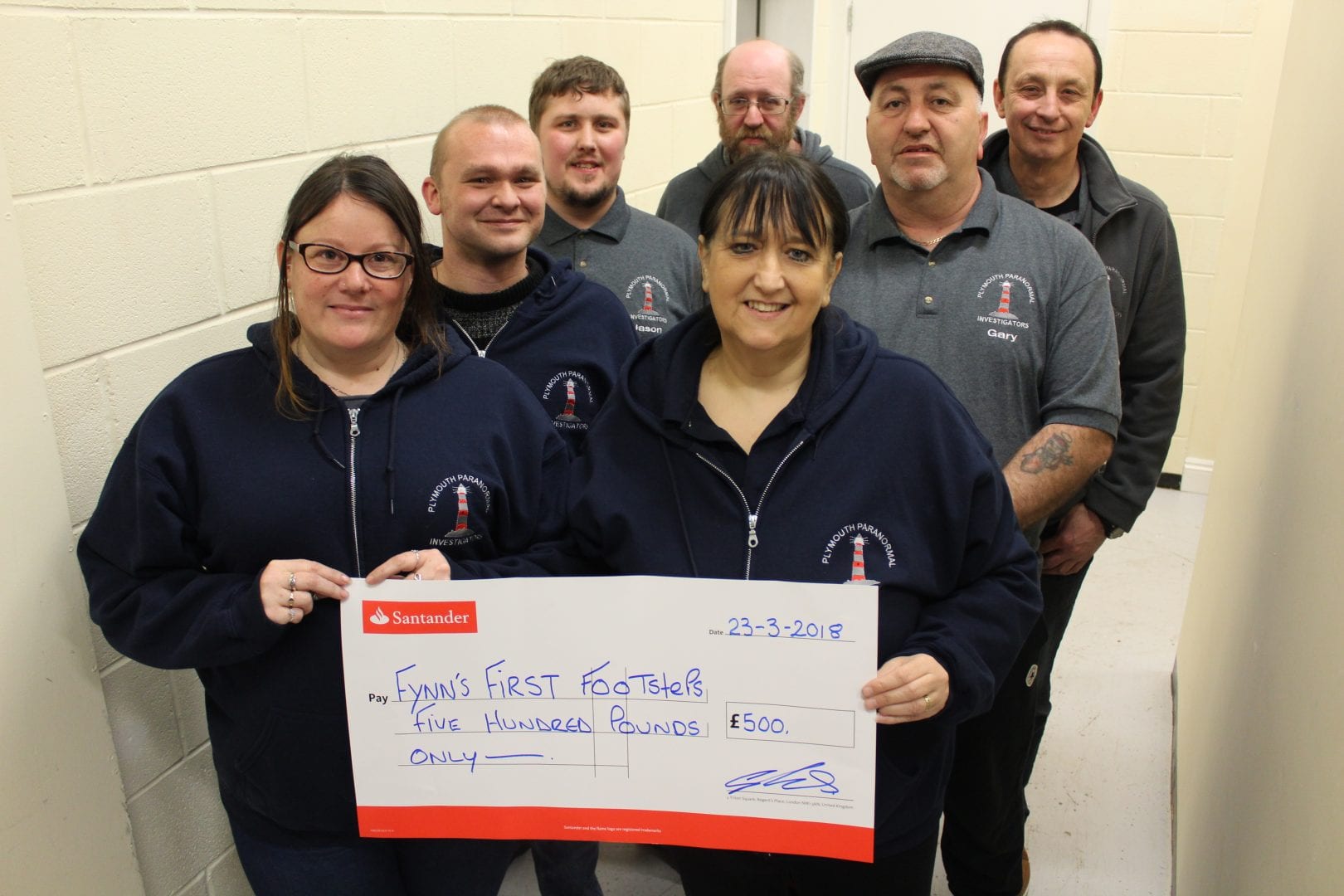 PLYMOUTH GHOST HUNTERS RAISE £500 FOR FYNN CAMPAIGN
The team at Plymouth Paranormal Investigators raise £500 for Fynn Fleming
PLYMOUTH'S paranormal ghost hunters have raised £500 after spending an evening hunting for dead spirits at Bodmin Jail – to raise cash for three-year-old Fynn Fleming.
Fynn has cerebral palsy and needs a selective dorsal rhizotomy (SDR) operation, which will effectively cauterise the nerves leading from his brain to his limbs, helping stop muscle spasms, and allowing him to walk properly.
His surgery is not available on the NHS – and will cost £38,000, said paranormal investigator Gary Parsons.
    Fynn, Katie, and twin brother Leo Fleming
Mr Parsons, said: "We raised the cash by taking a group of 16 people to one of Britain's most haunted venues, at the 18th century Bodmin Prison, where 55 grisly executions took place."
Amanda Oriana, said: "We took our Huff Wonder Box, a portal device that captures all sorts of noises and energies, eerie voices, and unexplained orb lights, and it was a deadly night to remember."
Since being built in 1779, the historic Cornish prison – now a visitor attraction – has been the scene of 55 gruesome executions, including that of desperate Mother Selina Wadge, added Wenda Parsons.
Selina drowned her disabled son in a well when her new lover said he would only take her without a child. Her ghost is said to wander the prison begging women, especially pregnant ones to forgive her," she said.
Technical ghost expert Robert Bryant, said: "We have over 20 years of collective experience and interest in the field of 'paranormal disturbances' and our recent tour of Bodmin Jail was rich in paranormal activity."
    Bodmin Jail in Cornwall
The Plymouth Paranormal Investigators (PPI) conduct regular tours across the South West and UK, and the next visit is to Potheridge House in Okehampton, where General George Monck served in the English Civil war under Oliver Cromwell.
Monck returned to Devon in the 1660s, and built a house in the heart of Devon, that caught fire in the 1730s, but the historic Great Barn and parts of the old house still remain, and used for historical re-enactments.
    General George Monck
Anyone looking for more information about the (PPI) can view: www.facebook.com/PlymouthParanormalInvestigators