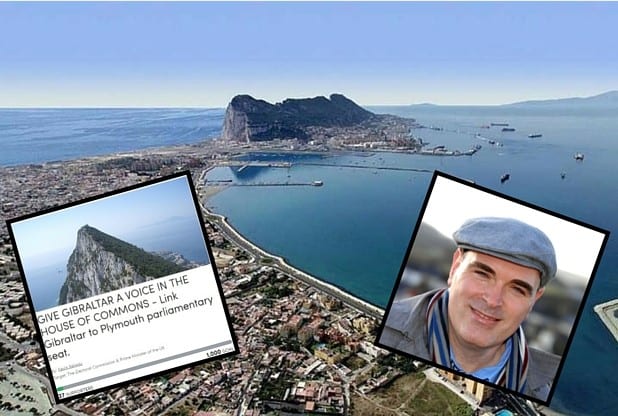 CAMPAIGN TO LINK PLYMOUTH WITH GIBRALTAR
CAMPAIGN TO LINK SW PARLIAMENTARY SEAT WITH GIB POST-BREXIT
THE campaign to keep a Gibraltar linked to the South West region is stepping up a gear. The region has been partnered with the British overseas territory for the last 26 years, and part of the EU parliamentary constituency which will be lost post-Brexit says campaigners.
Public relations director Kevin Kelway, who has dedicated nearly three decades supporting Gibraltar, is leading the campaign to link up the Rock with the SW in a parliamentary seat representation.
Mr Kelway, said: "We're trying to raise 1,000 signatures to give to the electoral commission and to the British Government."
"In 2019/20 we are going to lose the South West European Parliament constituency, so we're calling for a link with Plymouth Sutton and Devonport.
"Plymouth has historic links with Gibraltar, and 313 years of history with the Royal Marines, and proud to be linked with the Rock."
Back in the 1990s Mr Kelway's petition to 'Keep the rock British' attracted 32,000 signatures. And successfully led the campaign to link the Rock in the EU parliamentary constituency.
Plymouth Herald story:
http://www.plymouthherald.co.uk/plymouth-should-take-control-of-gibraltar-following-brexit-vote/story-29511691-detail/story.html
Sign the petition to link Gibraltar with the South west region:
http://www.thepetitionsite.com/339/185/353/give-gibraltar-a-voice-in-the-house-of-commons-link-gibraltar-to-plymouth-parliamentary-seat./